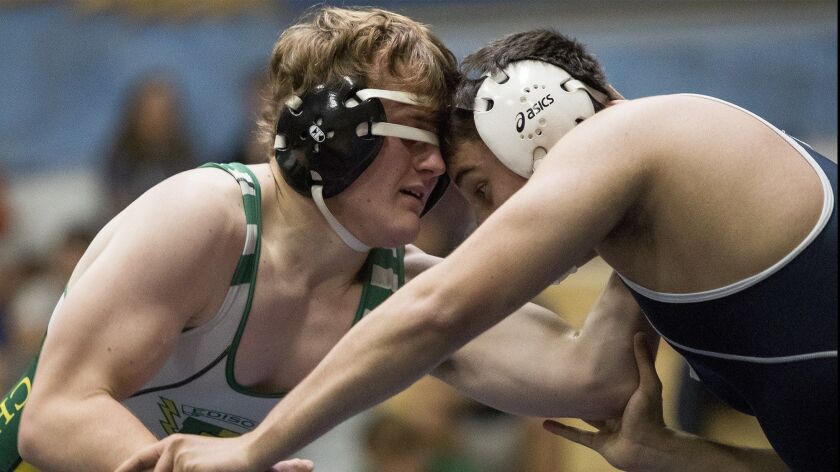 The Newport Harbor High wrestling team won three dual meets Tuesday to capture the Newport-Mesa district championship at Corona del Mar High.
The Sailors beat Costa Mesa 51-24 and Estancia 66-9, and edged rival Corona del Mar 38-36.
Newport Harbor had four individual champions, including Santino Panasitti at 138 pounds, Miguel Licona (182), Austin Osumi (220) and JJ Perez (heavyweight).
GIRLS' SOCCER
Edison 4, Canyon 0: Rachelle Elve scored two goals for the host Chargers in the nonleague match on Tuesday.
Cecellia Roghair and Brenna Cerri also scored for the Chargers (5-2), who play at Newport Harbor on Dec. 18 in a Sunset Conference crossover match.
Costa Mesa 5, Orange 0: Rayleen Chavez scored twice for the Mustangs in their Orange Coast League opener on the road Tuesday.
Costa Mesa improved to 7-1 overall.
Sage Hill 3, Saddleback Valley Christian 0: Olivia Lowe had a goal and an assist for the host Lightning in Tuesday's San Joaquin League opener.
Sydney McCord and Anisha Punia also scored for the Lightning (3-1-1, 1-0 in league). Lexi van den Bosch and Sofia Lowe had assists.
Goalkeepers Nicole Motherway and Lainey Cauffman each made one save for Sage Hill, which hosts Costa Mesa in a nonleague match at 5 p.m. Friday.
BOYS' BASKETBALL
Edison 76, University 59: Kaden Headington finished with 28 points, helping the Chargers win their pool in the Gary Raya SoCal Elite Tournament at Woodbridge High on Tuesday.
The Chargers, who are 2-0 in the tournament, advanced to Friday's semifinals.
Aiden Garnett had 20 points for Edison (8-4).
Ocean View 60, Santiago 51: Vincent Caiazzo led the Seahawks with 24 points and 10 rebounds in Tuesday's Loara Tournament opener at Godinez High.
Carson Nguyen contributed 14 points and seven assists for Ocean View (5-5), while Slater Miller had 10 rebounds.
The Seahawks resume tournament play on Wednesday against Anaheim at 6 p.m.
Mission Viejo 59, Fountain Valley 42: The Barons dropped to 6-5 after Tuesday's opener in the Capistrano Valley Christian Tournament.
Fountain Valley plays San Juan Hills in the tournament on Thursday at 3:30 p.m.
GIRLS' WATER POLO
Estancia 12, El Modena 6: Sydni White had six goals and two assists for the Eagles in Tuesday's nonleague match at home.
Gidget Brestel had a goal and six assists and Giannina Bauer made eight saves for Estancia (4-5), which hosts Los Amigos at 3:15 p.m. Thursday.
Newport Harbor 20, El Toro 8: The Sailors won their nonleague home opener Tuesday at Newport Harbor High.
Newport Harbor (2-1), ranked No. 17 in CIF Southern Section Division 1 and 2, hosts No. 12 San Clemente on Thursday at 3:15 p.m.
GIRLS' BASKETBALL
Pacifica Christian Orange County 45, Orange County Christian 14: Anna Eddy scored 18 points for the Tritons in Tuesday's Western League game at home.
Hailey MacKay added 12 points for Pacifica Christian (7-1, 5-0 in league), ranked No. 15 in CIF Southern Section Division 5A, and Annika Bahnsen scored eight.
Godinez 44, Newport Harbor 36: Willa Rath had 14 points and 15 rebounds for the Sailors in Tuesday's nonleague game at home.
Reese Vickers scored eight points and Emma Fults added seven points for Newport Harbor (7-6).
BOYS' SOCCER
Costa Mesa 1, Pacifica 0: Cooper Steck scored the goal for the host Mustangs, who ended a four-match winless streak on Tuesday.
Arnulfo Bravo and Wally Olmedo each made three saves in the shutout for Costa Mesa (3-3-1).
The Mustangs start Orange Coast League play at home against Orange on Wednesday at 5 p.m.
::
Twitter: @DailyPilotSport
To report scores or newsworthy items, contact the sports staff listed below:
David Carrillo Peñaloza, Sports Editor
(714) 966-4612, david.carrillo@latimes.com
Twitter: @ByDCP
Fall: football, girls' golf
Winter: boys' basketball, boys' soccer
Spring: baseball, boys' golf
::
Matt Szabo, Sports Reporter
(714) 966-4614, matthew.szabo@latimes.com
Twitter: @mjszabo
Fall: boys' water polo, girls' tennis
Winter: girls' soccer, girls' water polo
Spring: boys' tennis, swimming, lacrosse
::
Andrew Turner, Sports Reporter
(714) 966-4611, andrew.turner@latimes.com
Twitter: @ProfessorTurner
Fall: girls' volleyball, cross-country, field hockey
Winter: girls' basketball, wrestling
Spring: boys' volleyball, track and field, softball
---