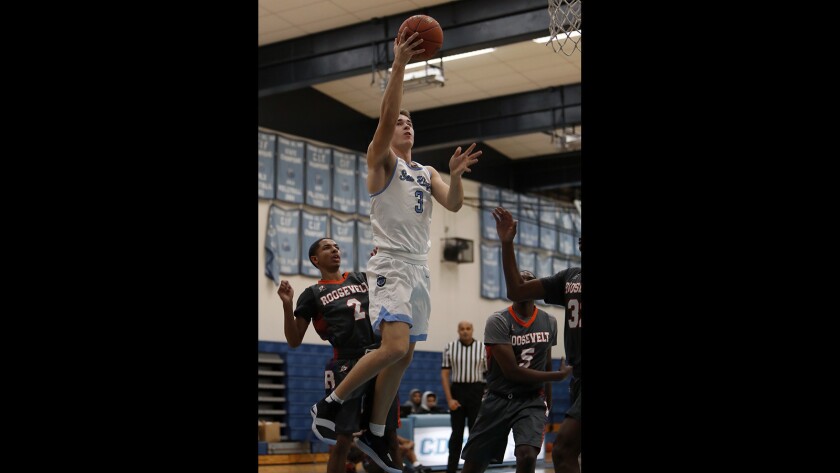 Junior John Humphreys finished with 20 points, and the Corona del Mar High boys' basketball team opened the Santa Barbara Holiday Classic with a 60-49 win over King's of Seattle, Wash., at Santa Barbara High on Wednesday.
Jack Garza contributed 14 points for the Sea Kings (11-5), who play Ventura Buena on Thursday at 3 p.m.
CdM's Jack Stone had 10 points and Jake Hamilton added nine.
Newport Harbor 66, Brea Olinda 43: Dayne Chalmers had a team-high 17 points to lead the Sailors in a first-round game at the Century Tournament on Wednesday.
Sam Barela added nine points and 10 assists for Newport Harbor (15-1), which is tied for 16th in the CIF Southern Section Division 2AA poll.
Laguna Beach 52, Ramona 44: Nolan Naess led the Breakers with 24 points in Wednesday's game in the Torrey Pines Classic at Carlsbad Sage Creek High.
Lucas Kravitz had 11 points, and Fletcher Zimmerman added nine points for Laguna Beach (5-10), ranked No. 16 in CIF Southern Section Division 2A.
Panorama City St. Genevieve 72, Costa Mesa 70: Osman Hefner had 22 points for the Mustangs in a Santa Barbara Holiday Classic opener at Santa Barbara High on Wednesday.
Gio Quero had 19 points for Costa Mesa (6-8), which resumes tournament play on Friday at 4:30 p.m. Tre Villalpando added 16 points.
GIRLS' BASKETBALL
Huntington Beach 61, Katella 18: Bella Serrano had a team-high 16 points to lead the Oilers in the Garden Grove Classic on Wednesday.
Marisa Tanga added 13 points, and Meghan McIntyre also had 10 points and eight steals.
Huntington Beach (9-4) will play Whittier La Serna on Thursday at 6 p.m.
Kennedy 48, Sage Hill 40: Emily Elliott had 13 points and 16 rebounds for the Lightning in their opening game of the Buena Park/Savanna Tournament on Wednesday.
Nadia Akbari added 11 points and eight rebounds for Sage Hill (7-4).
Segerstrom 79, Newport Harbor 42: Chloe Swanson had 12 points and 13 rebounds in the Sailors' opener at the Larry Doyle/Dan Wiley Tournament on Wednesday.
Cydney Jover added 11 points and three assists for Newport Harbor (8-9), and Willa Rath chipped in with eight points and seven rebounds.
Cypress 52, Marina 30: The host Vikings dropped Wednesday's opener in the Larry Doyle/Dan Wiley Tournament at Edison High.
Marina fell to 10-6 overall for the season.
BOYS' SOCCER
Estancia 2, Whittier California 1: Marcos Arreola recorded a goal and assisted on another in the Eagles' second match at the North Orange County Challenge at Valencia High on Wednesday.
Arreola also scored in Estancia's first match of the day, a 3-2 win over La Habra. Miguel Pena produced two goals.
Omar Martinez had a goal against California.
The Eagles (6-4-1) play Walnut in the tournament on Thursday at 9:20 a.m.
::
Twitter: @DailyPilotSport
To report scores or newsworthy items, contact the sports staff listed below:
David Carrillo Peñaloza, Sports Editor
(714) 966-4612, david.carrillo@latimes.com
Twitter: @ByDCP
Fall: football, girls' golf
Winter: boys' basketball, boys' soccer
Spring: baseball, boys' golf
::
Matt Szabo, Sports Reporter
(714) 966-4614, matthew.szabo@latimes.com
Twitter: @mjszabo
Fall: boys' water polo, girls' tennis
Winter: girls' soccer, girls' water polo
Spring: boys' tennis, swimming, lacrosse
::
Andrew Turner, Sports Reporter
(714) 966-4611, andrew.turner@latimes.com
Twitter: @ProfessorTurner
Fall: girls' volleyball, cross-country, field hockey
Winter: girls' basketball, wrestling
Spring: boys' volleyball, track and field, softball
---