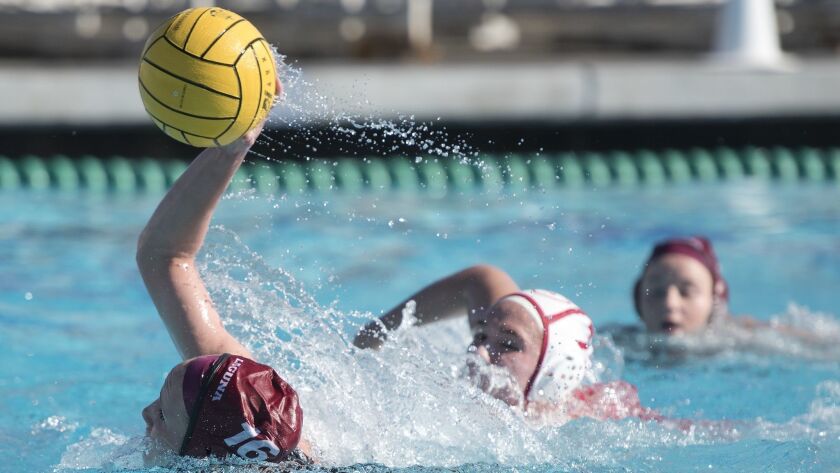 Nicole Struss and Grace Houlahan each scored three goals as the Laguna Beach High girls' water polo team defeated Newport Harbor 11-7 in a Surf League opener at Corona del Mar High Tuesday.
Morgan Van Alphen, Emma Lineback, Molly Renner, Claire Kelly and Tea Poljak also scored for Laguna Beach, which improved to 12-0 overall and is ranked No. 1 in the CIF Southern Section Division 1 and 2 poll.
Annie Rankin led Newport Harbor (5-4) with three goals.
Corona del Mar 6, Los Alamitos 3: Sophie Wallace had two goals and four steals for the Sea Kings in their Surf League opener Tuesday at home.
Megan Peterson made five steals and Maya Avital had 11 saves for CdM, which is 7-2 overall.
GIRLS' SOCCER
Edison 2, Fountain Valley 1: Chloe Helenihi scored twice for the host Chargers in Tuesday's Sunset Conference crossover match.
Cecilia Roghair assisted both goals for Edison (11-4-1), which hosts Corona del Mar in its Surf League opener Thursday at 5 p.m.
Fountain Valley fell to 6-6-3.
Newport Harbor 1, Huntington Beach 1: Gabby Rizzo scored a late equalizer for the Oilers in Tuesday's Sunset Conference crossover match at home.
Mackenzee Blaser scored for the Sailors (11-2-5), who host Laguna Beach on Thursday at 5 p.m. in their Wave League opener.
Huntington Beach (11-5-4) begins Surf League play at Los Alamitos on Thursday at 5 p.m.
Corona del Mar 2, Marina 1: Natalie Hueston and Megan Chelf each scored for the visiting Sea Kings in Tuesday's Sunset Conference crossover match.
Emily Mickelsen had an assist for the Sea Kings (10-1-3), who play at Edison Thursday to begin Surf League play.
Marina (6-6-5) hosts Fountain Valley on Thursday in a Wave League opener.
Ocean View 2, Garden Grove 0: Alex Santiago and Leah Marsh scored for the host Seahawks in Tuesday's Garden Grove League match.
Ocean View improved to 6-4-1 overall and 2-0 in the league.
WRESTLING
Fountain Valley 55, Los Alamitos 18: The host Barons took sole possession of first place in the Surf League on Tuesday.
The Barons (9-1, 2-0 in league) have won seven consecutive league titles. Fountain Valley will finish out its league dual meet schedule at Marina next Wednesday.
Against the Griffins, Kade Ayres (106 pounds), Sean Solis (120), Max Wilner (160), Kyle Conde (182), Raja Jackson (195) and Christian Zeglinski (heavyweight) won their matches by pin.
GIRLS' BASKETBALL
Corona del Mar 57, Marina 33: Samantha Uehara had a team-high 15 points and three steals for the Sea Kings in Tuesday's Sunset Conference crossover road game.
Alara Ersu added 12 points and 12 rebounds, and Tatiana Bruening had 10 points and five blocked shots for CdM (13-9).
Katie Nguyen had 15 points, 11 rebounds, three assists and three steals for the Vikings (13-8). Emily Sakamoto added 12 points and five rebounds.
Huntington Beach 71, Newport Harbor 24: Meghan McIntyre had a career-high 27 points to lead the host Oilers in Tuesday's Sunset Conference crossover game.
Andie Payne added 14 points and 10 rebounds, and Marisa Tanga contributed 10 points for Huntington Beach (14-5).
Chloe Swanson had seven points and 11 rebounds for Newport Harbor (10-12).
Pacifica Christian Orange County 40, Tarbut V'Torah 18: Hailey MacKay had a team-high 13 points for the Tritons in Tuesday's nonleague home game.
Anna Eddy added 10 points for Pacifica Christian (8-3), and Mikaela Sesler had six points.
::
Twitter: @DailyPilotSport
To report scores or newsworthy items, contact the sports staff listed below:
David Carrillo Peñaloza, Sports Editor
(714) 966-4612, david.carrillo@latimes.com
Twitter: @ByDCP
Fall: football, girls' golf
Winter: boys' basketball, boys' soccer
Spring: baseball, boys' golf
::
Matt Szabo, Sports Reporter
(714) 966-4614, matthew.szabo@latimes.com
Twitter: @mjszabo
Fall: boys' water polo, girls' tennis
Winter: girls' soccer, girls' water polo
Spring: boys' tennis, swimming, lacrosse
::
Andrew Turner, Sports Reporter
(714) 966-4611, andrew.turner@latimes.com
Twitter: @ProfessorTurner
Fall: girls' volleyball, cross-country, field hockey
Winter: girls' basketball, wrestling
Spring: boys' volleyball, track and field, softball
---