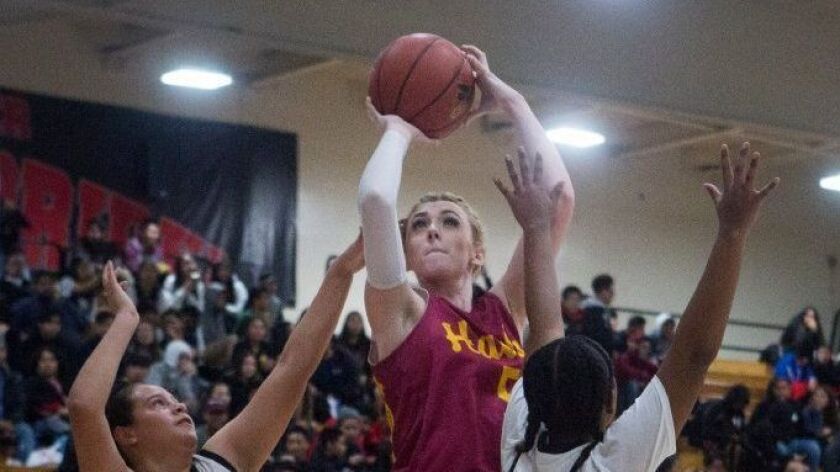 Senior center Helen Reynolds scored a career-high 43 points with 18 rebounds to lead the Ocean View High girls' basketball team to a 65-43 win at Western on Friday night in a Golden West League game.
Emma Beard added six points for the Seahawks (12-12, 3-3 in league), while Bella Caiazzo, Michaela Fernando and Kasey Torres each had four points. Eva Hernandez contributed four rebounds and four steals.
Ocean View returns to the court on Wednesday, when they play at league frontrunner Segerstrom (15-6, 6-0).
BOYS' SOCCER
Edison 1, Los Alamitos 0: Bryan Corona scored in the 72nd minute to lift the host Chargers in Friday's Surf League match.
Bennett Flory turned aside two shots for the shutout.
Edison (12-4-4, 3-0 in league) swept the first half of league.
Los Alamitos (11-9-3, 1-2) is one match behind Corona del Mar (13-3, 2-1) for second place and the league's final automatic bid into the CIF Southern Section playoffs.
Marina 1, Laguna Beach 0: The Vikings came up with a shutout on the road Friday to move into a tie for first place in the Wave League.
Marina is 7-11-2 overall and 2-1 in the league.
Huntington Beach 3, Fountain Valley 0: The Oilers upset the visiting Barons in Friday's Wave League match.
Huntington Beach improved to 6-13-3 overall and 2-1 in the league. The Oilers are tied with Fountain Valley (12-5, 2-1) and Marina for first.
BOYS' BASKETBALL
Costa Mesa 83, Calvary Chapel 60: Senior guard Nico Dasca scored a season-high 38 points for the Mustangs in an Orange Coast League game on the road Friday.
Senior guard Osman Hefner added 32 points for the Mustangs (10-11, 5-1 in league), who remained tied for first in the league with Estancia.
Estancia 40, Saddleback 34: The Eagles improved to 14-10 overall and 5-1 in the Orange Coast League on Friday.
Marina 64, Laguna Beach 54: Jakob Alamudun scored 23 points for the Vikings in Friday's Wave League game on the road.
Dean Keeler added 16 points for Marina (13-11, 2-1 in league), which moved into a first-place tie in the league with Laguna Beach (9-14, 2-1).
Nolan Naess led the Breakers with 21 points.
Los Alamitos 61, Edison 57: The Chargers suffered their first Surf League loss Friday.
Edison (17-8, 2-1 in league) dropped into a first-place tie in the league with Corona del Mar.
GIRLS' SOCCER
Sage Hill 6, Saddleback Valley Christian 1: Sofia Lowe scored twice for the Lightning in Friday's San Joaquin League match on the road.
Anisha Punia, Grace Robinson-Dorn, Lexi Van den Bosch and Ava Cooper all added goals for Sage Hill (5-3-2, 3-2 in league), which hosts Pacifica Christian Orange County on Thursday at 5 p.m.
GIRLS' WATER POLO
America's Finest City Invitational: Huntington Beach won twice Friday at San Diego Del Norte High to advance to the tournament quarterfinals.
The Oilers beat San Diego Mt Carmel 20-1, and San Diego Torrey Pines 16-5.
Huntington Beach plays San Diego Cathedral Catholic in a quarterfinal match Saturday at 10 a.m. at Coronado High.
::
Twitter: @DailyPilotSport
To report scores or newsworthy items, contact the sports staff listed below:
David Carrillo Peñaloza, Sports Editor
(714) 966-4612, david.carrillo@latimes.com
Twitter: @ByDCP
Matt Szabo, Sports Reporter
(714) 966-4614, matthew.szabo@latimes.com
Twitter: @mjszabo
Andrew Turner, Sports Reporter
(714) 966-4611, andrew.turner@latimes.com
Twitter: @ProfessorTurner
---