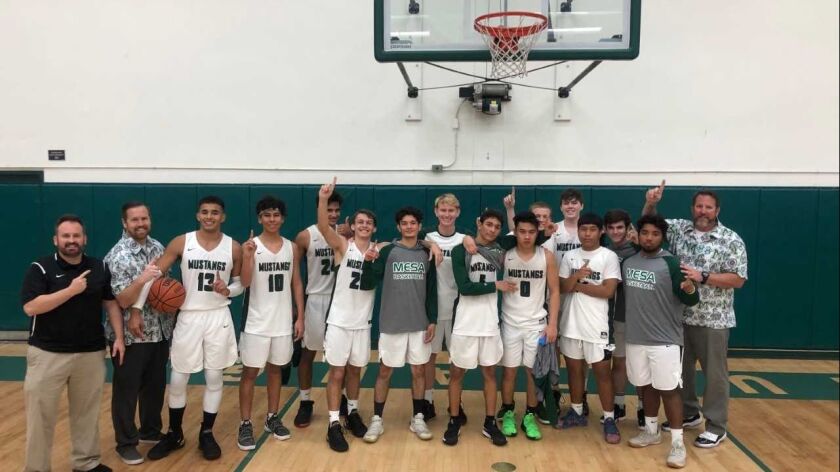 Senior guard Osman Hefner scored 27 points as the Costa Mesa High boys' basketball team beat Santa Ana 75-64 in an Orange Coast League game at home Tuesday night, clinching the first outright league title in program history.
Tre Villalpando added 21 points for Costa Mesa (14-11, 8-1 in league), which took a two-game lead in the league over Santa Ana (6-3 in league) with just a game remaining. Ethan Elliott scored 11 points for the Mustangs.
Costa Mesa won its third league title overall, and first since 2005-06.
Costa Mesa closes out league play when it hosts rival Estancia on Thursday at 7 p.m.
Sage Hill 60, Rowland Heights Southlands Christian 58: Johnny King scored 20 points for the Lightning in Tuesday's Academy League road game.
Cooper Green added 16 points for Sage Hill (17-10, 6-1 in league).
The Lightning host rival St. Margaret's (6-1 in league) for the outright league title on Thursday at 7:30 p.m.
GIRLS' SOCCER
Corona del Mar 2, Huntington Beach 1: Natalie Hueston scored a penalty-kick goal and Avery Doherty scored on a free kick as the Sea Kings clinched second place in the Surf League Tuesday at home.
Megan Chelf drew the penalty kick for CdM (13-3-4, 3-2-1 in league).
Alex Lotter scored for third-place Huntington Beach (11-7-8, 0-2-4), which will have to apply for an at-large berth into the CIF Southern Section Division 1 playoffs.
Newport Harbor 2, Marina 0: Sadie Pitchess had a goal and an assist as the host Sailors finished off an undefeated Wave League campaign Tuesday.
Mackenzee Blaser scored and Emily Johnson had an assist for Newport Harbor (16-2-6, 5-0-1 in league).
Los Alamitos 3, Edison 0: The Chargers fell 12-7-4 overall and 0-3-3 in the Surf League after Tuesday's match at home.
Edison finished fourth in the league and will have to apply for an at-large berth into the CIF Southern Section Division 1 playoffs.
GIRLS' BASKETBALL
Fountain Valley 73, Laguna Beach 15: Iris Hasegawa had a game-high 17 points for the host Barons in Tuesday's Wave League game.
Melissa Rivera added 13 points for Fountain Valley, while Megan Lai and Zoe Ziegler each contributed nine points.
Fountain Valley (14-14, 4-2) will enter the CIF Southern Section Division 4AA playoffs as the second-place team out of the league.
Marina 49, Newport Harbor 22: Katie Nguyen had 27 points on seven three-pointers, helping the visiting Vikings cap an undefeated Wave League title on Tuesday.
Emily Sakamoto added 10 points, 10 rebounds and four steals for Marina (19-9, 6-0 in league). The Vikings will learn Sunday of their opponent in the CIF Southern Division 3A playoffs.
Godinez 27, Ocean View 22: The Golden West League loss on Tuesday eliminates the visiting Seahawks' chances to achieve a .500 overall record this season, dealing a blow to their hopes for a CIF Southern Section Division 3AA at-large bid for the postseason.
Ocean View dropped to 12-15 overall and 3-6 in the league.
GIRLS' WATER POLO
Newport Harbor 5, Los Alamitos 3: Annie Rankin scored twice for the Sailors in Tuesday's Surf League finale at home.
Linnea Kelly, Brooke Banta and Olivia Giolas also scored for Newport Harbor (14-11, 2-4 in league), which finished third in the league. Erin Ross made seven saves.
Edison 9, Marina 0: Kaitlyn Van Buren, Tatianna Monzon and Delaney Lewellyn all scored two goals for the Chargers in Tuesday's Wave League finale at Newport Harbor High.
Edison (11-16, 4-2 in league) finished in second place in the league.
BOYS' SOCCER
Estancia 2, Calvary Chapel 0: Miguel Pena scored twice to help the visiting Eagles clinch third place in the Orange Coast League on Tuesday.
Chapin Camberos and Omar Martinez assisted on the goals.
Estancia (12-6-4, 5-2-2 in league) will conclude the regular season at Costa Mesa in Thursday's Battle for the Bell rivalry at 5 p.m.
::
Twitter: @DailyPilotSport
To report scores or newsworthy items, contact the sports staff listed below:
David Carrillo Peñaloza, Sports Editor
(714) 966-4612, david.carrillo@latimes.com
Twitter: @ByDCP
Matt Szabo, Sports Reporter
(714) 966-4614, matthew.szabo@latimes.com
Twitter: @mjszabo
Andrew Turner, Sports Reporter
(714) 966-4611, andrew.turner@latimes.com
Twitter: @ProfessorTurner
---