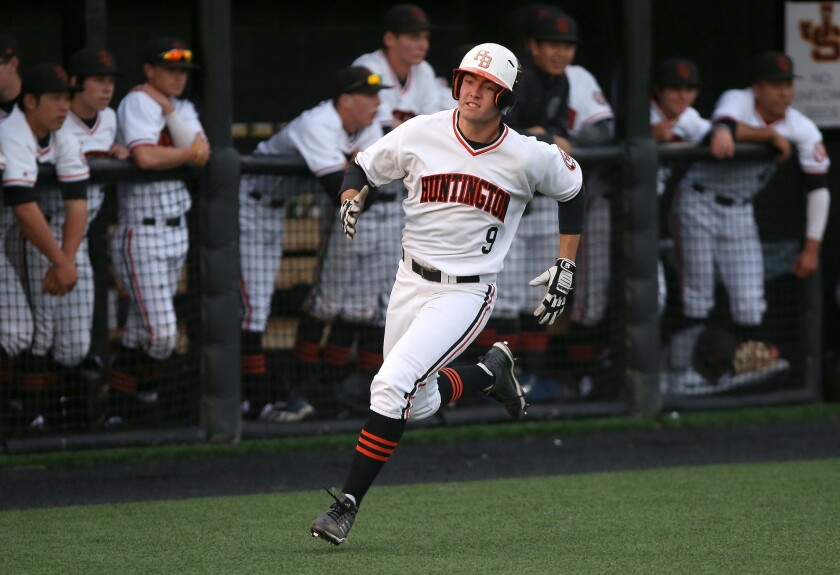 Sophomore Shane Stafford hit a grand slam, and the Huntington Beach High baseball team defeated Riverside Poly 12-1 in Wednesday's nonleague game at home.
Josh Hahn and Brett Barrera each had two hits, a home run and two runs batted in for the Oilers (6-1), ranked No. 6 in the CIF Southern Section Division 1 preseason poll.
Huntington Beach's Dylan Ramirez struck out four and allowed one run on one hit in four innings.
The Oilers host Laguna Beach in a Sunset Conference crossover game on Friday at 3 p.m.
Marina 3, Tustin 1: Chase Hennessey and Matt Wilson combined on a one-hitter for the Vikings in Wednesday's nonleague game at home.
Hennessey improved to 2-1 for Marina (4-2), allowing one hit in 5 1/3 innings. He struck out five and walked three, while Wilson earned his second save.
Braden Wylde had two doubles and drove in all three runs for the Vikings, ranked No. 2 in CIF Southern Section Division 3.
BOYS' TENNIS
Sage Hill 15, Santa Margarita 3: Emin Torlic swept three singles sets for the host Lightning in the nonleague match Wednesday.
Robert Gerschultz and Adam Hung, as well as Jerry Fu and Brian Yu, each swept three doubles sets for Sage Hill (2-0).
Fountain Valley 13, San Clemente 5: The Barons improved to 4-0 after sweeping all nine doubles sets in Wednesday's nonleague match at home.
The winners were Vivek Savsani and Jaden Nguyen, Kai Rodriguez and Ninh Nguyen, as well as Brian Le and Nathan Dang.
Segerstrom 12, Costa Mesa 6: Ethan Votran and Hritik Ronvelia each swept in singles for the Mustangs in Wednesday's nonleague match on the road.
Costa Mesa is 2-2.
BOYS' GOLF
Fountain Valley 193, Long Beach Millikan 229: The Barons improved to 2-0 with Wednesday's nonleague win at El Dorado Park Golf Course in Long Beach.
Fountain Valley senior captain Josh Vo was the medalist after shooting an even-par 36.
::
Twitter: @DailyPilotSport
To report scores or newsworthy items, contact the sports staff listed below:
David Carrillo Peñaloza, Sports Editor
(714) 966-4612, david.carrillo@latimes.com
Twitter: @ByDCP
Matt Szabo, Sports Reporter
(714) 966-4614, matthew.szabo@latimes.com
Twitter: @mjszabo
Andrew Turner, Sports Reporter
(714) 966-4611, andrew.turner@latimes.com
Twitter: @ProfessorTurner
---