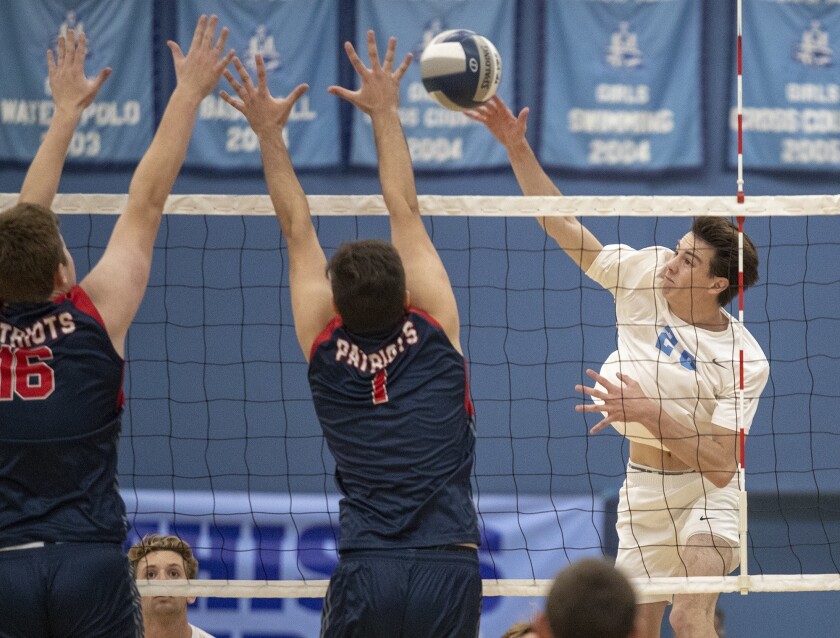 Corona del Mar High and Newport Harbor met in the finals of the Orange County Championships last boys' volleyball season, and the Back Bay rivals went undefeated on the first day of the tournament on Friday at Edison High.
The Sea Kings (4-0) defeated Claremont 25-16, 25-9 in a best-of-three pool-play match, behind nine kills from Adam Flood. CdM also beat University 25-13, 25-20, led by nine kills from Matt Olson and four kills from Glen Linden.
Newport Harbor beat Aliso Niguel 25-16, 25-20, before going on to defeat Woodbridge 25-15, 25-15. Dane Carroll provided nine kills for the Sailors (10-0) against the Warriors.
Pool-play action wraps up Saturday, with CdM against Edison, Newport Harbor against Lakewood and Huntington Beach against Los Alamitos. Those pool-play matches are set for 10 a.m. at Edison. The playoffs will follow, with the Gold Division final to be around 4 p.m.
Pacifica Christian Orange County 3, Samueli Academy 1: Senior middle blocker Isaiah Seward had a team-high 10 kills for the host Tritons, who won Friday's season opener 20-25, 25-16, 25-15, 25-21.
Freshman libero Bennett Penticuff provided a 2.0 passing performance for Pacifica Christian, and junior setter Caleb Snider handed out 32 assists.
Katella 3, Fountain Valley 2: Justin Loy had a team-high 14 kills for the visiting Barons in Friday's nonleague match that the Knights won 25-21, 25-14, 24-26, 15-25, 15-13.
Marcelo Ponce added eight kills for Fountain Valley
Anaheim 3, Estancia 0: The host Eagles dropped to 2-11 overall after the Colonists won 25-19, 25-20, 25-17 in a nonleague match on Friday.
BASEBALL
Costa Mesa 16, Saddleback 0: Cameron Chapman was three for three with a double, triple and three runs batted in during Friday's Orange Coast League opener at home.
Miguel Rodriguez had three hits, including two doubles, and four RBIs for Costa Mesa (3-3). Daniel Gonzalez also collected three hits and drove in two.
Tyler Corkhill got the win for Costa Mesa, which hosts Santa Ana on Tuesday at 3 p.m.
Estancia 4, Orange 0: Jake Covey threw a complete-game, three-hit shutout for the host Eagles in Friday's Orange Coast League opener.
Covey improved to 2-0, striking out 11 for the Eagles.
Justin Wood was two for three with a run scored and an RBI for Estancia (4-3), while Troy Huber also was two for three with a pair of RBIs.
Los Alamitos 3, Marina 2: Zane Parmeter and Rocco Peppi each had two hits for the visiting Vikings in Friday's Sunset Conference crossover game.
Peppi drove in two for Marina (4-3), but the Griffins scored twice in the bottom of the seventh for the victory.
SOFTBALL
Laguna Beach 15, Saddleback Valley Christian 5: Emily Thomas had four strikeouts in a complete game for the visiting Breakers (2-0) in Friday's nonleague game.
Eastvale Roosevelt 2, Edison 1: The Chargers dropped their home opener in Friday's nonleague contest.
Edison (1-2) loaded the bases before being turned away in the seventh inning.
Alyssa Reynolds had two hits, and Hailie Benko drove in the lone run for the Chargers.
Jenna Bloom struck out nine over seven innings in the loss.
Estancia 6, University 6: The host Eagles pounded out 13 hits, but Friday's nonleague game had to be called due to darkness.
Dillon Morgan went three for four with a triple, and Dylann Douglass went three for four with a pair of doubles for Estancia (1-3-1).
::
Twitter: @DailyPilotSport
To report scores or newsworthy items, contact the sports staff listed below:
David Carrillo Peñaloza, Sports Editor
(714) 966-4612, david.carrillo@latimes.com
Twitter: @ByDCP
Matt Szabo, Sports Reporter
(714) 966-4614, matthew.szabo@latimes.com
Twitter: @mjszabo
Andrew Turner, Sports Reporter
(714) 966-4611, andrew.turner@latimes.com
Twitter: @ProfessorTurner
---