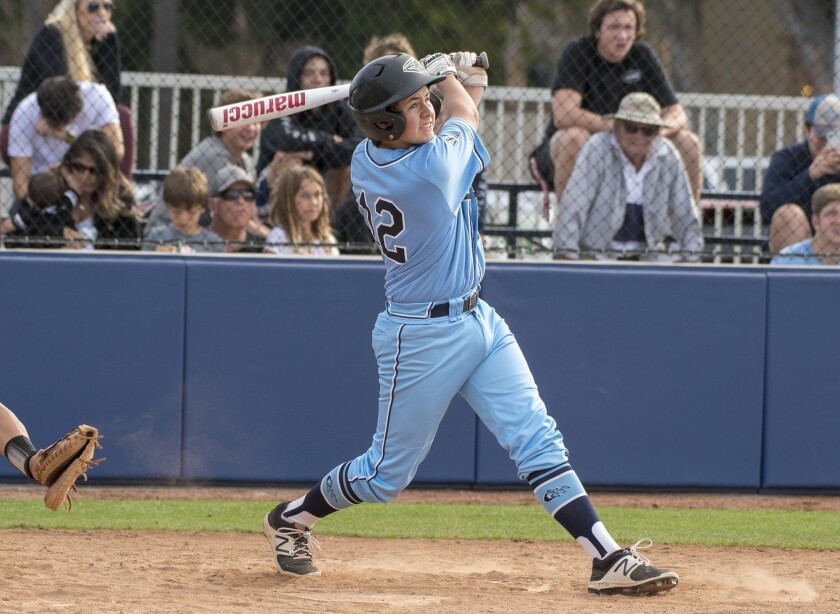 Jarrett Thompson threw 6 2/3 shutout innings in relief as the Corona del Mar High baseball team rallied to defeat Esperanza 6-5 on Tuesday in a nonleague game at home.
Thompson allowed five hits and struck out eight for CdM (6-1-1). Kieran Sidebotham drove in Luc Stuka with a single in the bottom of the seventh as CdM earned the walk-off victory after trailing 5-0 in the first inning.
Nick Rottler was two for three, including a game-tying home run in the sixth for the Sea Kings.
Fountain Valley 3, Laguna Beach 2: Connor Bennett had two hits and two runs scored for the host Barons in Tuesday's Sunset Conference crossover game.
Ryan Sullivan was one for two with a double for the Barons (4-5).
Kolton Freeman and Cutter Clawson each had a hit and run scored for Laguna Beach (7-3).
Costa Mesa 5, Santa Ana 4: Kyle Anderson was two for three with a two-run double for the Mustangs in Tuesday's Orange Coast League game at home.
Omar Munoz also had two hits for Costa Mesa (4-3, 2-0 in league), and Benny Rodriguez added a double. Munoz got the win in relief.
Estancia 1, Calvary Chapel 0: Justin Wood and Brandon Peck combined on the Eagles' no-hitter in Monday's Orange Coast League home game.
Wood struck out eight in six innings and Peck pitched the seventh.
Estancia improved to 5-3 overall and 2-0 in the league.
Ocean View 6, Godinez 0: Tristen Kennedy threw a complete-game three-hitter, striking out eight and walking one in the Seahawks' Golden West League game at home Monday.
Joshua Ocampo was two for three with two runs batted in and a double for Ocean View (6-5, 2-0 in league).
BOYS' VOLLEYBALL
Costa Mesa 3, Los Amigos 0: Osman Hefner had 10 kills and five service aces for the host Mustangs in Tuesday's nonleague match.
Zach Fletcher had six kills and five blocks for Costa Mesa (4-4), while Joe Paxson had 16 assists and four blocks.
Pacifica Christian Orange County 3, Capistrano Valley Christian 0: Jackson Baugh had eight kills and two aces for the Tritons in Tuesday's nonconference road match.
Caleb Snider had 28 assists and Bennett Penticuff tallied nine digs for Pacifica Christian.
Fountain Valley 3, Claremont 1: Justin Loy led the visiting Barons with 11 kills in a nonleague match Tuesday.
Marcelo Ponce had 10 kills for Fountain Valley (6-4), which totaled 11 aces.
BOYS' TENNIS
Sage Hill 18, St. Margaret's 0: Steven Ferry didn't drop a game in three singles sets for the Lightning in Tuesday's Academy League opener at home.
All three doubles teams — Robert Gerschultz and Adam Hung, Jerry Fu and Brian Yu, as well as Matthew Strok and Alan Wang — swept for Sage Hill (4-0).
On Monday, the Lightning defeated visiting Newport Harbor 16-2. Emin Torlic and Steven Ferry swept in singles play.
Mater Dei 16, Costa Mesa 2: Ethan Votran won twice in singles for the host Mustangs (3-3) in Tuesday's nonleague match.
Laguna Beach 10, San Juan Hills 8: Behind doubles sweeps by Kyle Herkins and Diego Tellez, as well as Mo Berri and Scott Yoder, the host Breakers improved to 4-3 after Monday's nonleague match.
SOFTBALL
Corona del Mar 6, Savanna 4: Makena Tomlinson had a home run and four runs batted in for the Sea Kings in Tuesday's Savanna Tournament game on the road.
Trasara Alexander got the win for CdM (3-2), striking out two. Alexander is 2-1 this season.
On Monday, CdM lost 11-0 to El Toro in the tournament. Alexander had a double.
Newport Harbor 5, Century 4: McKayla Cotton struck out four and allowed one hit in 4 1/3 innings for the Sailors in Tuesday's Savanna Tournament game.
Kendall Kelly homered and had two RBIs, while Alexis Amaro and Dru Stinson each doubled and drove in a run for Newport Harbor (6-2).
BOYS' GOLF
Ocean View 234, Costa Mesa 273: Nathan Santy fired a six-over-par 41 to lead the Seahawks in Tuesday's nonleague match at Costa Mesa Country Club.
Reilly Kells shot a 43 for Ocean View (4-1).
Edison 185, St. Margaret's 218: Tiger Tahvildari was the medalist with a one-under-par 34 in the visiting Chargers' season opener Tuesday at Marbella Country Club in San Juan Capistrano.
Fountain Valley 203, Long Beach Poly 225: Kevin Hinh shot an even-par 37 for the Barons in Monday's nonleague match at Cypress' Navy Golf Course.
GIRLS' LACROSSE
Edison 12, Mission Viejo 2: Annie Cavener led the Chargers (4-1) with five goals in a nonleague match on the road Tuesday.
Trabuco Hills 16, Corona del Mar 7: Caroline Brewster scored four goals for the Sea Kings (0-2) in Tuesday's nonleague home game.
::
Twitter: @DailyPilotSport
To report scores or newsworthy items, contact the sports staff listed below:
David Carrillo Peñaloza, Sports Editor
(714) 966-4612, david.carrillo@latimes.com
Twitter: @ByDCP
Matt Szabo, Sports Reporter
(714) 966-4614, matthew.szabo@latimes.com
Twitter: @mjszabo
Andrew Turner, Sports Reporter
(714) 966-4611, andrew.turner@latimes.com
Twitter: @ProfessorTurner
---