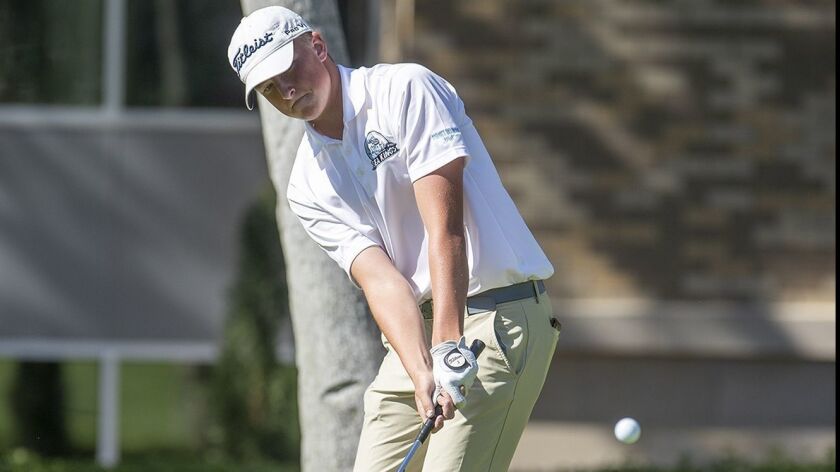 Corona del Mar High's T.J. Jenkins was the individual medalist at two-under-par 34 as the Sea Kings beat Huntington Beach 188-207 in a Surf League boys' golf match Wednesday at SeaCliff Country Club, clinching at least a share of the league title.
Guy Clauss (37), John Tipton (38), Calder Overfelt (39), Ryan Shih and Colin Huang (40) also scored for CdM (11-1, 4-1 in league).
Huntington Beach fell to 11-7 overall and 2-3 in the league.
CdM can clinch the outright title by beating the Oilers again in the teams' league finale Thursday at 2:30 p.m. at Newport Beach Country Club.
Costa Mesa 203, Orange 273: Cristopher Rodriguez was the medalist at even-par 35 for the Mustangs in Wednesday's Orange Coast League match at Costa Mesa Country Club's Mesa Linda course.
The Mustangs finished 3-3 in league play and will compete at the league finals at Skylinks in Long Beach on Monday.
BOYS' TENNIS
Orange Coast League tournament: All three Costa Mesa boys' tennis doubles teams advanced to the tournament semifinals Wednesday at Costa Mesa Tennis Center.
The Mustangs' No. 1 team of Eli Weiss-Hung and Hartley Tran will play teammates Jared Alonzo and Kaden Inskeep, the No. 3 team, in the semifinals. The other semifinal will have Costa Mesa's No. 2 team of Devon Chavero and Devon Rogan against the top-seeded team from Santa Ana.
In singles, Costa Mesa's Ethan Votran will play Orange's John Louie Anderson in one semifinal, while the other semifinal matches Estanca's Jake Hastings and Shane Iranpour of Orange.
The tournament continues Thursday at 2 p.m. at Costa Mesa Tennis Center.
SOFTBALL
Costa Mesa 14, Santa Ana 1: Valeria Contreras and Stephanie Herrera each had three hits to lead the host Mustangs in Wednesday's Orange Coast League finale.
Haley Wolf, Katie Belmontes and Vanessa Rodriguez had two hits apiece, and Alexis Litvak did not allow an earned run in four innings pitched.
Costa Mesa (11-12, 8-2 in league) finishes the regular season in second place in the league. The Mustangs will find out their draw for the CIF Southern Section Division 6 playoffs on Monday.
Calvary Chapel 12, Estancia 0: Estancia finished in third place in the Orange Coast League at 5-5 after Wednesday's home game.
Estancia qualified for the CIF Southern Section Division 6 playoffs.
::
To report scores, breaking news or newsworthy items, contact the sports staff listed below:
David Carrillo Peñaloza, Sports Editor
(714) 966-4612, david.carrillo@latimes.com
Twitter: @ByDCP
Matt Szabo, Sports Reporter
(714) 966-4614, matthew.szabo@latimes.com
Twitter: @mjszabo
Andrew Turner, Sports Reporter
(714) 966-4611, andrew.turner@latimes.com
Twitter: @ProfessorTurner
::
Support our sports coverage by becoming a digital subscriber.
For more sports stories, visit latimes.com/socal/daily-pilot/sports or follow us on Twitter @DailyPilotSport.
---