Former Angels pitcher Jim Abbott provides inspiration at Newport library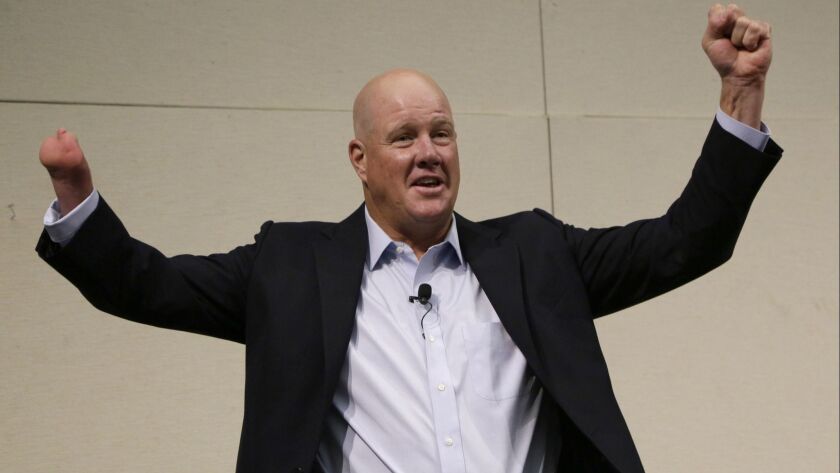 Jim Abbott was born without a right hand, but clearly not without a sense of humor or gift of public speaking.
The former Major League Baseball pitcher exhibited the latter two traits Thursday night as he spoke at Newport Beach Central Library.
Abbott, a Newport Beach resident and former University of Michigan star, helped Team USA win gold at the 1988 Seoul Olympics before going on to play 10 seasons in the majors. That included six with the then-California Angels, now known as the Los Angeles Angels. He was invited to speak as part of the central library's 25th anniversary celebration.
During his 50-minute speech, Abbott told the more than 200 people in attendance about three pillars that have defined his life: creativity, determination and belief.
"They were the pillars of what I used when things were going well, and they were the pillars of what I used when things weren't going so well," he said. "I'm awful thankful for the career that I had. I wouldn't trade it for anything. If you look at the back at that baseball card, you wouldn't see a career that will take me to the Hall of Fame, but I wouldn't change a moment of it."
People lined up for the speech as early as 5 p.m., two hours early. One of them was Newport Beach resident Deb Johnson, who was rewarded with a front-row seat. She said she had never seen Abbott speak but was a big fan of his during his playing days.
"You have no major league pitchers that have done what he's done," Johnson said. "Not only did he play baseball, he overcame everything. Remember, he's got to move up in the league. They don't give you a chance because you're handicapped. He had to be successful. He proved himself to be just as good as everyone else with one hand, and that's amazing."
Despite his unique style brought on due to having just one hand, he joked that he was able to duck out of the way just like everyone else. Abbott said he was only hit hard once in his career, in the upper leg by Frank "The Big Hurt" Thomas.
"I threw a fastball on the outside part of the plate, and Frank hit a line drive that I heard, then I felt," said Abbott, 51. "He looked at me and he said, 'Are you OK?' I said, 'Yeah.' He said, 'I hit that as hard as I could.'"
Abbott also detailed how he threw a no-hitter against the Cleveland Indians in 1993, as a member of the New York Yankees. In his start before the no-hitter, the Indians had hit Abbott hard.
Abbott said he left that game in the third inning after giving up five runs, and then left the stadium entirely to go running. He missed his team's rally for a comeback, and then-Yankees manager Buck Showalter wasn't happy with him. He learned a lesson that day.
"I would argue to you that so much comes back to strength," Abbott said. "Even in the face of uncertainty and doubt, call upon what it is that you do best. Trust it. Believe it."
Fittingly enough for a speech at a library, Abbott told the crowd his favorite book, which is "All the Pretty Horses" by Cormac McCarthy.
He said it contains a quote that rings true to him: "Those who have endured some misfortune will always be set apart, but it is just that misfortune which is their gift, and which is their strength."
Abbott stuck around after his speech to take a few questions from the crowd and sign copies of his book, "Imperfect: An Improbable Life."
Despite his challenges, it didn't seem that Abbott would change a thing. His older daughter Maddy (Sage Hill) recently completed a four-year volleyball career at Michigan, while his younger daughter Ella (CdM) is also headed to the Wolverines this fall to play water polo.
"Just because you do it differently doesn't mean you can't do it just as well," he said.
::
Support our sports coverage by becoming a digital subscriber.
For more sports stories, visit latimes.com/socal/daily-pilot/sports or follow us on Twitter @DailyPilotSport.
Twitter: @mjszabo
---
All the latest on Orange County from Orange County.
Get our free TimesOC newsletter.
You may occasionally receive promotional content from the Daily Pilot.