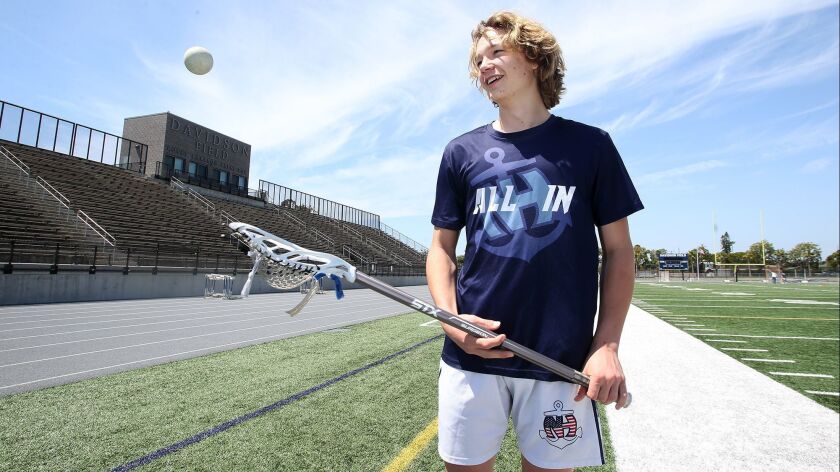 In three years at Newport Harbor High, junior Aidan Goltz said he had never beaten rival Corona del Mar at any level.
This can weigh on a competitive person such as Goltz.
"As long as I've been here, every game that I've played against CdM, we've never won until now," Goltz said. "It felt nice to win a game."
The boys' lacrosse Battle of the Bay on April 3 wasn't just any win for the Sailors (10-6). Goltz had a goal and an assist as they defended their home turf, winning the Sunset League game 5-4 to snap a 13-year winless streak against their rivals across the bay.
Goltz went crazy two nights later, matching a season-high with six goals as the Sailors won at Los Alamitos 12-9 to clinch the outright title, their fifth in the past six years.
Lacrosse is the sport that Goltz has shined in the longest. Sailors coach Mark Todd remembers when he first started playing, switching from his travel-league baseball team, where Goltz played catcher.
The leadership ability soon became evident to Todd, and not just because of Goltz's athleticism. The midfielder leads Newport Harbor with 45 goals this season, and also has 12 assists.
"I've coached many kids over the years," said Todd, who is in his ninth year leading the Sailors and coached CdM for six years before that. "He's a captain's captain kind of guy. He's always saying and doing the right things, and I'm super-proud of him."
The one thing Goltz didn't know was that he would also pick up football as a junior. He had played a bit of freshman football for Newport Harbor, as a cornerback. Before that, he hadn't played the sport since flag football in elementary school.
"After freshman year, I just didn't think I wanted to play football," Goltz said. "[But] I've always liked to watch football, and just go out in the backyard and throw the football around with my friends."
Todd encouraged his players to pick up another sport in the lacrosse offseason. He's developed a good relationship with Newport Harbor football coach Peter Lofthouse, who will be entering his second season this fall. Some of the Sailors football players are out for lacrosse this spring, like linebacker and team captain Brian Bailey.
Goltz was one of a handful of lacrosse players who went out for football last fall. He signed up to play receiver, and all he did was make plays in an offense that featured a revolving quarterback door early in the season. Goltz was a second-team Daily Pilot Dream Team selection after finishing with 66 catches for 883 yards and three touchdowns.
He set the tone in his first game on varsity, catching four passes for 112 yards and two touchdowns in a 30-13 win over Redwood City Sequoia.
"He's got tremendous athleticism," Lofthouse said. "He's not just a great lacrosse player, but he's also a great football player too. He's taken a lot of pride in being a really good football player. I think next year, he has the potential to be one of the best receivers in the league, for sure. He's worked hard with the receiver coaches, he's worked with coach [Kevin] Emerson, our offensive coordinator. He's one of those kids who just fully buys in to whatever he's doing.
"Having good athleticism, good size, good strength, great speed and phenomenal hands, he's able to be very competitive in all sports."
Goltz, whose older sister Emily played soccer at Newport Harbor before graduating in 2016, has a leadership role in both sports. On the lacrosse team, he's one of four team captains, along with junior attacker Rhett Farmer, senior defender Will Vasquez and junior goalkeeper Garrett Rovazzini.
The idea is to have a leader in each area of the field, Todd said. Goltz fills that role in the midfield position along with the other two starters there, fellow juniors Michael Morrison and Hutton Wooters.
"We are all over the place most of the time, just running up and down the field a lot," Goltz said. "In our offense, at least, we're in charge of starting the entire offensive scheme. I'd say that's our biggest responsibility."
Farmer capped the win off with a memorable game-winning goal with 3:34 remaining in the contest. It was definitely one that Goltz could appreciate.
But most of all, Goltz appreciated the opportunity to finally beat Corona del Mar. It was a long time coming.
"The game itself was just so fun, just to be with my friends on my team as well," he said. "Just for us to come together and win, especially beating CdM, I'd say that's the best part of the entire thing. It was just being with my teammates during a game."
::
Aidan Goltz
Born: May 24, 2002
Hometown: Newport Beach
Height: 6 feet 1
Weight: 200 pounds
Sport: Lacrosse
Year: Junior
Coach: Mark Todd
Favorite food: Pizza
Favorite movie: "Despicable Me"
Favorite athletic moment: Beating rival Corona del Mar in lacrosse this year.
Week in review: Goltz had a goal and an assist as the Sailors beat rival CdM 5-4 on April 3, then a team-high six goals as Newport Harbor wrapped up the Sunset League title two nights later with a 12-9 victory at Los Alamitos.
Twitter: @mjszabo
---