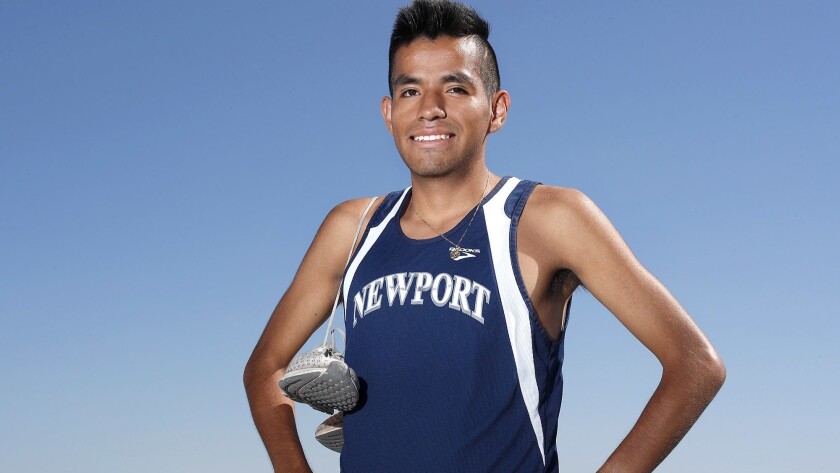 A lightning storm had rolled through the night before.
Matt Bell, the cross-country coach at Foothill High and meet director of the Orange County Championships, thought that he would have to cancel the meet due to continuing rain overnight.
When he went out to inspect the Oak Canyon Park course in the early hours of Oct. 13, he came to the conclusion that the course was still in good enough shape to run on.
Runners of this year's Orange County Championships were treated to the true nature of cross-country, braving all of the elements set before them. When Newport Harbor senior ace Alexis Garcia crossed the finish line, he looked down at his feet and examined his shoes.
"They were dirty and muddy and wet," Garcia said. "I don't like to wear wet socks. It feels uncomfortable."
The wet conditions accounted for Garcia feeling about as uncomfortable as he ever has around a race setting, a rarity for the Mexico City native who seems to have been born to run. Even in such a state, he triumphed, earning his place in county lore by winning the boys' sweepstakes race in 14 minutes 53.6 seconds.
In his sophomore year, Garcia had surfaced on the radar of many cross-country enthusiasts when he finished as the runner-up in the Orange County Championships. Last season as a junior, he felt that a seventh-place showing at the meet marked his one sub-par performance of the year. That assessment is indicative of the expectations that have been levied on Garcia as an elite runner.
"I was thinking about [unfinished business] because of last year's result," Garcia said. "I wanted revenge. I wasn't thinking about 'the meet is going to be cancelled,' or 'it's going to be too muddy.' I was just focused on doing my best and trying to win."
Garcia expected to be in the hunt once again. He did not have to face the 2017 county champion in JSerra's Anthony Grover, who decided to take the week off ahead of the Mt. SAC Invitational. The new race favorite was Dana Hills senior Simon Fuller, who had already posted a big win in his hometown Dana Hills Invitational.
With 400 meters to go, Garcia pulled up alongside Fuller. He saw the Dana Hills senior laboring, and he had the killer instinct to push forward, winning the race by four seconds.
Sailors coach Nowell Kay said that race instincts are something that Garcia has had all along. In one of his first races as a freshman, he won a true five-kilometer grade-level race in the Pacific Grove Invitational.
Kay recollected that Garcia did not make an appearance at summer training before his freshman year. That added to the impressive nature of that first victory.
"After the race, I remember talking to him, and he was just like, 'Yeah, easy-peasy,'" Kay said. "That's what we say every time he's going to win a race. 'Yeah, easy-peasy.'
"Watching him do that, that's when we knew we had something special. There was no way he was in shape, really, from a cross-country standpoint, to be winning a 5K like that."
As a freshman, Garcia got to watch then junior Ben Wilson become an individual Sunset League champion. Kay recognizes a similar work ethic in Garcia, and he is now the head of the herd.
"He's a leader by example," Kay said. "If he says something, the kids are going to listen. They know how talented he is, and not only the talent level, but he works really hard, so he gets a ton of respect from the team."
Junior Will Debassio, a second-year varsity runner for the Sailors, said that Garcia never seems to be afraid of the moment.
"He definitely gives a lot of good advice before races because he never gets nervous, so he helps a lot of guys with nerves," Debassio said. "He gives advice on the big races.
"It's definitely pretty cool to have someone that fast on your team. It definitely helps out with team scoring and everything. It's just cool to have someone at that level on your team."
With a county title to his credit, Garcia has other potential conquests ahead. He will look to become a three-time individual league champion at the Sunset Conference finals on Friday at Central Park.
Down the road, he could also become a three-time qualifier for the state meet.
::
Alexis Garcia
Born: April 3, 2001
Hometown: Mexico City
Height: 5 feet 8
Weight: 135 pounds
Sport: Cross-country
Year: Senior
Coach: Nowell Kay
Favorite food: Enchiladas de mole
Favorite movie: "Captain America: Civil War"
Favorite athletic moment: Winning the boys' sweepstakes race of the Orange County Championships is Garcia's new favorite athletic moment. He felt he had unfinished business after placing second and seventh in the race the previous two years.
Week in review: Garcia clocked in at 14 minutes 53.6 seconds to win the boys' sweepstakes race of the Orange County Championships on Oct. 13 at Oak Canyon Park in Silverado. He beat Dana Hills senior Simon Fuller by four seconds.
Twitter: @ProfessorTurner
---