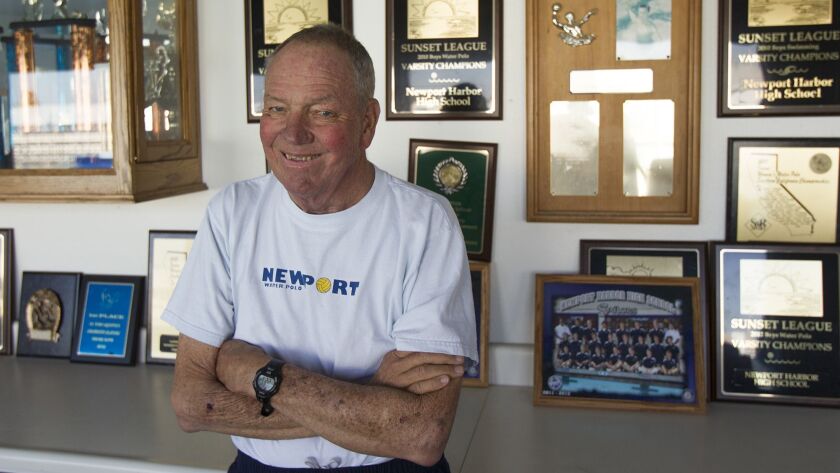 Longtime Newport Harbor High water polo coach Bill Barnett died Monday at his home in Laguna Beach after a brief battle with acute leukemia, his wife, Marcia, said Wednesday.
Barnett, also a two-time U.S. men's water polo Olympic coach, was 76. He was hospitalized last week and had been receiving hospice care since being released on Saturday, Marcia Barnett said, adding that he died peacefully.
Bill Barnett was one of the most recognizable coaches in water polo before retiring in 2015. During a 49-year coaching career at Newport Harbor, he led the Newport Harbor boys to 10 of their 12 CIF Southern Section titles. He coached the Sailors girls to five CIF titles, most recently in 2012.
He didn't really care for trophies, rings, accolades. That's pretty well how he lived his life … He would say, 'You can't take accolades to Albertsons.'
Marcia Barnett
Presley Pender, the team captain on the 2012 team who went on to play at the University of Michigan, said that Barnett was "incredible as a coach, a mentor, a friend."
"He touched my life in such a special way," Pender said. "When I look back and think about the impact he's made, I think about how he taught me so much about tradition, about Newport Harbor, how to be a teammate and a leader."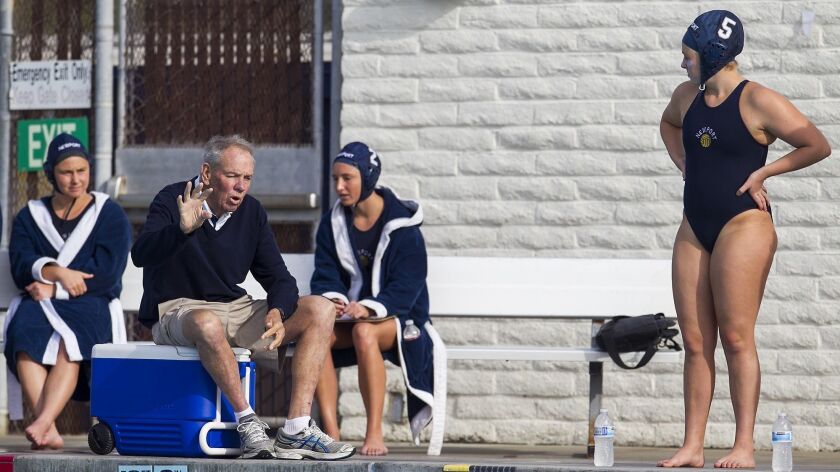 Barnett became the U.S. men's national team coach in 1984 and led Team USA to silver in the 1988 Olympics in Seoul. He also coached the 1992 team, which placed fourth in Barcelona. He took on the national team responsibilities while still coaching at Newport Harbor, in addition to teaching math. Later, he would serve as the national team video/scout coach.
"He set the bar for our school, as far as what you can achieve in athletics," said former Sailors coach Brian Melstrom, an assistant to Barnett for the final 12 years of his career who took over for three seasons after Barnett retired. "He's that coaching legend who set the tone for what Newport strives to be in every sport."
Barnett was hired at Newport Harbor in 1966 out of college at Long Beach State, where he graduated with a degree in physical education. He is in the Long Beach State athletics Hall of Fame and the USA Water Polo Hall of Fame.
Known for being short and to the point with his verbal instructions during his later years coaching the girls, Barnett nevertheless prepared meticulously for each opponent.
"The thing that sticks with me the most is the preparation he put into everything," said current Newport Harbor boys' and girls' water polo coach Ross Sinclair, who played for Barnett as a freshman in 1999. "He would watch film just nonstop … and he stressed fundamentals so much."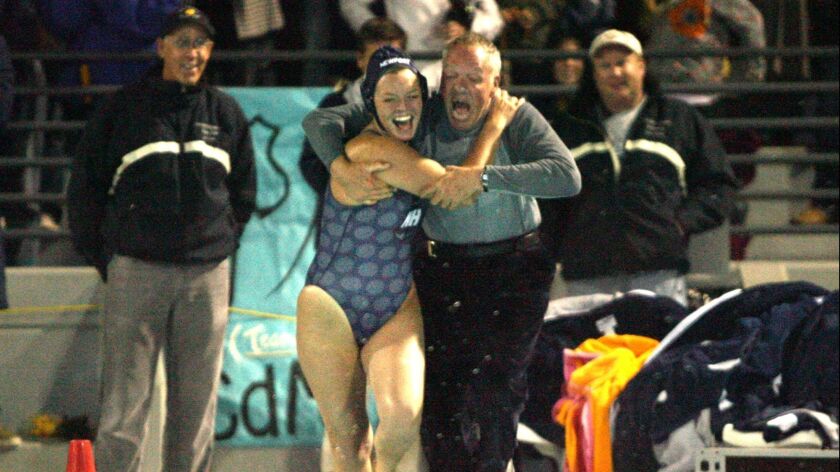 Barnett ended up staying with the Sailors for nearly five decades.
"From the time I knew him at age 18 or 19, I knew that whatever he would do, he would do it to his very best," Marcia Barnett said. "He would research it, talk to other people, like he did with coaching. It wasn't just water polo coaches. He talked with football coaches, basketball, all coaches at all levels."
Barnett is survived by his wife of 52 years, as well as his daughter, Meagan, son, Tyler, and four grandchildren.
Marcia said there will be neither a memorial service nor a funeral for Bill Barnett. His ashes will be spread at sea, per his request.
"He believed that the proof is in the pudding," Marcia Barnett said. "The results speak for themselves. He didn't really care for trophies, rings, accolades. That's pretty well how he lived his life … He would say, 'You can't take accolades to Albertsons.' A lot of the parents praised him, but you can't take praise to pay the bills."
Twitter: @mjszabo
---