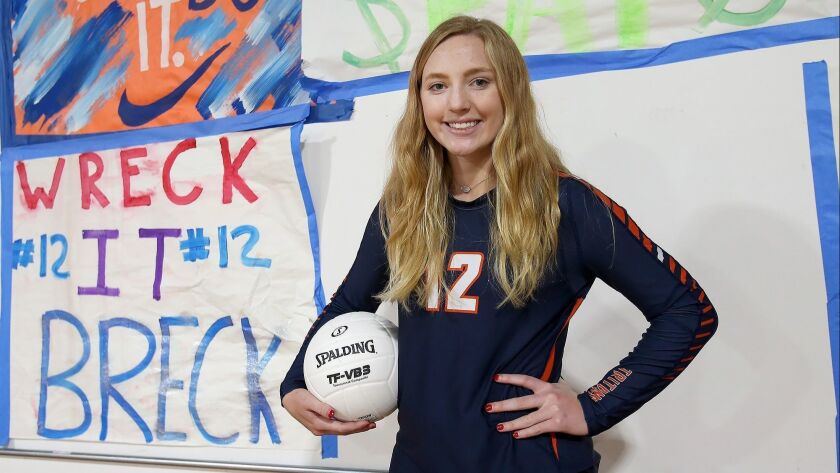 Pacifica Christian Orange County High is one of the newest schools around.
Established in 2015, Pacifica Christian has put together an athletic program by taking aspiring athletes from all kinds of backgrounds.
Breck Burwell served as a valued member of the Tritons' girls' volleyball team over the past two seasons, but one would be amazed to find out just how far she has come.
As a junior transfer from Mater Dei, Burwell did not bring an infusion of experience in volleyball. She had never played for a club or school team before. Most of the time that she had spent engaging in volleyball activities revolved around her passing the ball around with her dad.
"My dad had always wanted me to try volleyball because we would play out in our alley in back of our house," Burwell said. "He always thought that I was pretty good at it. I knew how to pass, so that was a good thing."
A motivation for Burwell to join the team was that childhood friends Emma Hammond and Sydney Penticuff were already on the roster. It was comforting for the self-proclaimed introvert, although the school sped up her growth socially, too.
Burwell said that the average class size at Pacifica Christian is between 10 and 15 students. Her classes have been taught using the Socratic Method, initiating discussions that a reserved individual might otherwise not participate in.
It would be difficult to tell that Burwell is introverted now, as she professes that communication and a sense of community are two of the most important things she has learned in her two years at the school.
Burwell established relationships with her teammates, and she became close enough with them that she was voted a captain.
"It's like a quiet leadership in her," Tritons coach Kimberly Adams said. "I saw her exemplify that on the court and off the court, so I saw those qualities in her and how her teammates really looked up to her and respected her. I got to see that last season, so it was very clear to me that I wanted her to be a captain. I let our team vote on it, and it was very unanimous. Her and Allyson [Scharrer] were voted the captains.
"The two girls that I would have chosen, the team also chose, which is awesome, because then you're seeing the same thing."
In just its third year as a volleyball program, Pacifica Christian advanced to the CIF Southern Section Division 9 final at Cerritos College in Norwalk on Nov. 3. Third-seeded La Puente defeated No. 4 Pacifica Christian 23-25, 25-17, 25-15, 21-25, 15-4, but Burwell played a strong fourth set. She recorded five of her team-high 11 kills to help the Tritons extend the match.
"That was really cool to see how I could be able to bring our team back from how we started that set," said Burwell, who also helped the Tritons (15-10) reach the first round of the CIF State Southern California Regional Division V playoffs, where it lost at Cudahy Elizabeth on Tuesday. "I really enjoyed being that part [of] the team that could switch the momentum that fast."
One thing that Burwell brought with her to Pacifica Christian was school spirit. She had been on the cheer squad at Mater Dei, and she particularly enjoyed being part of the stunt team.
Volleyball came about because Pacifica Christian did not have a cheerleading team, but Burwell found another way to show her school spirit in joining ASB.
"I definitely have to say building the community that we've built," Burwell said when asked what the most rewarding part of joining ASB has been. "When people come out to the games, obviously, they support us. Even after that, we'll go out to dinner as a huge group of us."
In helping to build school spirit, the school showed up in force for the championship match. Burwell said that "The Wedge Committee," which is part of Associated Students on campus, helps promote the school's sports.
"They do a great job of making tons and posters and signs and hanging them all over school to let people know when things are happening," Burwell said.
On the court, Burwell made a position change from middle blocker to outside hitter this season. She still provided the consistent performance her teammates have come to expect from her.
"If I had to describe Breck's volleyball season in one word, it would be 'consistent,'" Scharrer said. "Over the year, she has grown in her abilities as both an accurate passer and a hitter, creating a strong and dependable presence on the team.
"She is beyond amazing at passing both accurately and consistently, which as a setter, is a dream come true."
::
Breck Burwell
Born: July 17, 2001
Hometown: Newport Beach
Height: 5 feet 8
Weight: 150 pounds
Sport: Volleyball
Year: Senior
Coach: Kimberly Adams
Favorite food: Pancakes
Favorite movie: "Elf"
Favorite athletic moment: Burwell took pride in representing Pacifica Christian Orange County in its first CIF Southern Section girls' volleyball championship match in program history.
Week in review: The senior outside hitter provided a team-high 11 kills and 18 digs in Pacifica Christian's CIF Southern Section Division 9 final on Nov. 3 at Cerritos College. The No. 4-seeded Tritons lost in five sets to No. 3 La Puente.
Twitter: @ProfessorTurner
---