Outsiders will look at Ethan Garbers' record-setting performance for Corona del Mar High last Friday as the moment he officially arrived as one of Orange County's top quarterbacks.
The junior, in his first season as the starter, threw for 476 yards and six touchdowns, both CdM single-game records, and rushed for a score in a 49-21 win over Fountain Valley in a Sunset League game at Newport Harbor High.
Garbers tied his own passing touchdown mark, which he shares with his older brother, Chase Garbers, now a redshirt freshman at Cal. As for the passing yards record, Ethan surpassed Chase's total of 414, set as a senior in 2016.
But those within the Sea Kings' program point to a different moment that led to Ethan Garbers earning the respect of his teammates in the locker room and trust of the coaching staff.
It was in CdM's season opener on the road against Trinity League opponent JSerra. Garbers, making his first varsity start, had no time in the pocket as his offensive line struggled to keep the quicker and more physical Lions' defensive front at bay. The 6-foot-3, 195 pound Garbers stood tall in the pocket, taking hit after hit, while trying to navigate his team downfield.
He did not have a lot of time and took a ton of shots, but he never stopped competing. He earned the respect of the team ...
Kevin Hettig, Corona del Mar High offensive coordinator
But instead of folding and asking to come out of a blowout loss, Garbers kept getting back up and rallying his guys in the huddle. The Sea Kings suffered their most lopsided setback in 15 years that night, losing 49-7. But everyone came away knowing that Garbers was the guy.
"That was a tough night," said Kevin Hettig, CdM's associate head coach and offensive coordinator. "He did not have a lot of time and took a ton of shots, but he never stopped competing. He earned the respect of the team and answered any questions about who the quarterback of this team was."
Since losing to JSerra on Aug. 17, Garbers has played lights-out football.
He has led the Sea Kings to six straight wins, and they will try to keep their winning streak alive on Friday. The Sea Kings (6-1, 2-0 in league), ranked No. 2 in the CIF Southern Section Division 4 poll, face defending league champion Los Alamitos (6-1, 2-0), No. 6 in Division 2, at Cerritos College at 7 p.m.
The winner will most likely go on and win the league championship. Garbers and the Sea Kings are ready for the challenge on the road.
Garbers has put up colossal numbers this season, completing 64.5% of his throws for 2,304 yards and 25 touchdowns, with only three interceptions.
Garbers said one of the main reasons why he's settled in so comfortably into the starting quarterback role has been a combination of working on his football mind and his body.
"What clicked the most was working getting the offense and timing down with my receivers," he said. "I got in the weight room with my trainer, Karif Byrd, and our strength coach, Tony Thornton. I just got better and improved at my craft."
While his recent success might lead those same outsiders to believe that Garbers was handed the keys to the CdM offense because of his brother or natural ability, that couldn't be further from the truth.
Garbers had to earn his keep.
He split time at quarterback on the freshman team with now varsity receiver Simon Hall, and last season, he was relegated mostly to the sideline behind talented dual-threat senior quarterback Nathaniel Espinoza.
"Freshman and sophomore year I was kind of in a slump," Garbers said. "I was trying to get used to the position and the varsity level."
This past offseason is when he really buckled down and developed all of the tools he is showing this season. Everything began to click for Garbers.
"I'm good, our team is good, we can play with anybody," Garbers said. "I just have a lot more confidence."
One of the biggest beneficiaries of Garbers' increased confidence is junior receiver John Humphreys.
Garbers hooked up with Humphreys 11 times last week, and Humphreys finished with a CdM single-game record 279 receiving yards.
Humphreys started noticing his quarterback taking his game to another level during seven-on-seven passing tournaments over the summer.
"Not many people really knew about him, but he would go [many] series where he wouldn't miss a throw," said Humphreys, who has 57 receptions for 1,046 yards and 18 touchdowns this season. "He's the real deal. We always knew he could sling it, so it wasn't really a surprise for us."
College coaches are now starting to notice what Garbers is capable of, too.
The Sea Kings have hosted countless number of colleges over the last year as they file in to get looks at 6-5, 205-pound Humphreys and 6-6, 230-pound tight end Mark Redman. Both Humphreys and Redman have multiple offers from Pac-12 Conference schools.
And while the guy throwing to Humphreys and Redman during those workouts was kind of an afterthought, the attention is starting to turn to Garbers.
Garbers said he has one offer from San Jose State and he's been hearing from Arizona, Washington State, Washington, Utah and Oregon State.
"There's no doubt in my mind he's a Pac-12 quarterback," Hettig said. "A lot of college coaches have noticed his arm, but they've been so enamored with Mark and John. Now that everyone has seen those guys, when they come back through, that conversation will turn to Ethan."
Byrd, who has trained the Garbers brothers since their youth football days, took it a step further.
"That kid is going to light up on Saturdays," Byrd said. "There's going to be a lot of people not happy that they didn't come after him. I think he's as good of a quarterback as there is in his class."
For now, Garbers is trying to keep his newfound hype and increased college interest on the back burner as he tries to win football games. But when asked if the recent attention has been fun, Garbers smiled.
"It has been a little bit," he said. "But I'm trying to keep it low key. I'm enjoying it."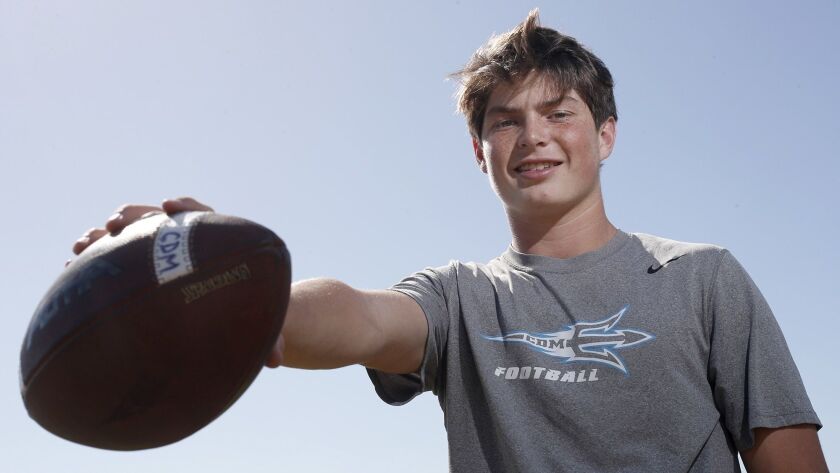 Ethan Garbers
Born: July 28, 2002
Hometown: Newport Beach
Height: 6 feet 3
Weight: 195 pounds
Sport: Football
Year: Junior
Coach: Dan O'Shea
Favorite food: Steak
Favorite movie: "Star Wars: Episode V - The Empire Strikes Back"
Favorite athletic moment: Throwing the game-winning touchdown pass with 11 seconds left to beat San Clemente 21-20 on Sept. 14.
Week in review: Garbers threw for 476 yards and six touchdowns, both Corona del Mar single-game records, and rushed for a score in a 49-21 win over Fountain Valley at Newport Harbor High on Oct. 5. He completed 24 of 30 passes.
DEVIN UGLAND is a contributor to Times Community News. Follow him on Twitter: @Devin_Ugland
---