Kevin Hettig played quarterback for the Yucca Valley High football team before graduating in 2000.
Yucca Valley is a long way from Newport Beach, and the plays that Hettig calls as the offensive coordinator and associate head coach for Corona del Mar are a long way from what he ran during his own high school days.
"I was a dive option quarterback in high school, and we ran the ball 99% of the time," Hettig said. "[Our players] make fun of me all the time for it. What we're doing with these guys now is everything I wanted to do when I was a player."
CdM's high-flying offensive attack has led the top-seeded Sea Kings (11-1-1) into Saturday's CIF Southern Section Division 4 title game. The Sea Kings play No. 3 Simi Valley Grace Brethren (11-2) at 7 p.m. at Simi Valley Royal High.
The Sea Kings, trying for their first CIF title since 2013, come in averaging 36.7 points per game. Take away a 7-7 Sunset League tie against Los Alamitos on Oct. 13, a game that was not completed after being suspended late in the first quarter, and CdM's average bumps up to 39.2 per contest. CdM, which runs a spread offense, has scored exactly 49 points in each of its three playoff games so far against Redondo Union, Yorba Linda and Camarillo.
"I knew that we definitely had potential," said junior quarterback Ethan Garbers, who has completed 259 of 384 passes for 3,853 yards, 54 touchdowns and six interceptions. "I knew that we would be able to score some points. Running into JSerra [in a 49-7 season-opening loss] was a challenge, but we overcame it and really stepped up. Really, these last couple of weeks has probably been our best production the whole year."
Garbers split time as a freshman quarterback with Simon Hall, now a receiver. Last year, he was behind Daily Pilot Football Dream Team Player of the Year Nathaniel Espinoza at the position. But he's making his junior year count; his completions and touchdowns are CdM single-season records. He is just 43 yards away from breaking the single-season passing yardage mark set by his older brother Chase, now a redshirt freshman at Cal, in 2016.
In the past, we would try to control every drive ... be almost too meticulous with it. Now we're kind of just letting Ethan sling it.
Kevin Hettig, Corona del Mar High offensive coordinator
Garbers also ranks No. 2 when it comes to single-season touchdown passes in Orange County history. He trails Mater Dei's JT Daniels, who threw for 67 touchdowns in 2016. Daniels is now a freshman quarterback at USC.
Heavily recruited junior wide receiver John Humphreys has 98 catches for 1,728 yards and 28 touchdowns, and each mark is easily a CdM single-season record. His single-season touchdown catches rank No. 1 in county history, as do his 46 career touchdown receptions.
But Garbers also has several other dangerous receiving options including junior receivers Bradley Schlom and Simon Hall, and junior tight end Mark Redman, another top recruit.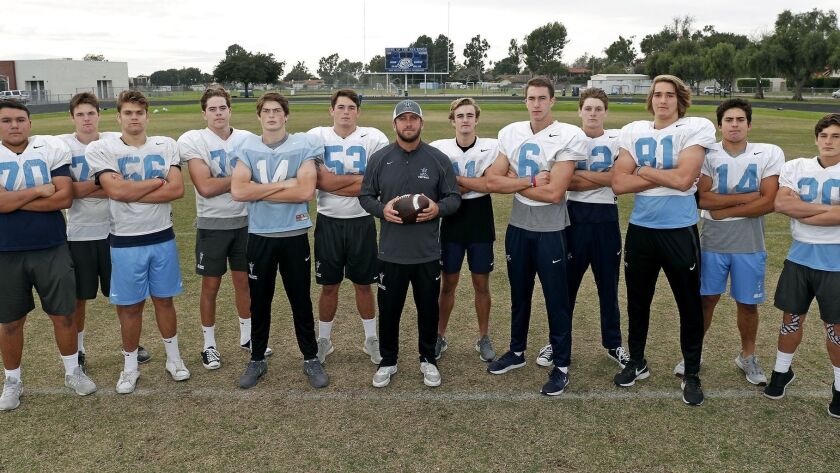 "It's a special group of guys," said Humphreys, who is five receiving yards away from breaking the county single-season record and nine catches away from breaking the county single-season record. "We're all super-close outside of football, and we love putting in work together in football, too."
Yes, every player mentioned so far is a junior. The Sea Kings have just one senior starter on offense, and his role also is important. Sean Owens, the center, is a three-year starter on the offensive line and leads a group that also includes sophomore left tackle Thomas Bouda, junior left guard Tanner Tomlinson, sophomore right guard Hunter Schimmelpfennig and junior right tackle Vinny Provenza. They provide Garbers time to pass and also open holes for sophomore running back Jason Vicencio.
Owens played left guard in 2016, when the Sea Kings made the final before losing to Chatsworth Sierra Canyon 36-35 in double overtime at Granada Hills High.
"I've been waiting three years for this, ever since Sierra Canyon," Owens said. "That's been motivating me ever since, pushing me to work harder. That's definitely going to fire me up for Saturday."
The Sea Kings had a high-powered attack under Chase Garbers, too, but never in the eight years that Hettig and head coach Dan O'Shea have been with the program were there as many big weapons as these. They air it out early and often. And the offense is why the Sea Kings didn't fret when they fumbled the opening kickoff at Camarillo last week and quickly went down a touchdown.
"I don't think anyone blinked at all," Humphreys said. "We know what we're capable of doing. We knew we could score on these guys."
Hettig is quick to point out that CdM's defense is doing well turning the ball over to the offense quickly, leading to more CdM possessions per game. That will be tested against Grace Brethren, which features a big offensive line and a run-heavy attack that can use a lot of clock.
The clash of styles should make for an entertaining game. The Sea Kings have confidence in their aerial attack.
"We're giving our guys chances to go make plays," Hettig said. "In the past, we would try to control every drive and where the ball was going all the time, be almost too meticulous with it. Now we're kind of just letting Ethan sling it. It's a little bit of a mentality change. I mean, we've never run our four verticals concept as much as we do now. It's our No. 1 play call right now. We're throwing it all the time … and our guys are running around and making plays and scoring touchdowns.
"It's freaky. It's video game stuff. It's weird, but we've kind of started to accept what we are a little bit."
Twitter: @mjszabo
---