No shortage of excitement awaits the Corona del Mar High football program this fall, as the Sea Kings begin their first season in the always-competitive Sunset League.
CdM arrives from the Pacific Coast League, where it had won six straight league titles and 30 straight league games. During the impressive run since 2012, the Sea Kings made the CIF Southern Section final three times, winning the title twice, and they won a CIF State crown.
The move to the Sunset League will undoubtedly add more competition to the Sea Kings' plate for the 2018 season, a change the program is ready for.
"We're excited about the challenge," said Sea Kings coach Dan O'Shea, whose team is ranked No. 4 in the CIF Southern Section Division 4 preseason poll and No. 6 in the Orange County preseason poll. "There [are] no weeks off. It'll be great for us as a program. We had to shift our mindset a little bit ... Every week in the Sunset League is a war. It's not just Edison and Los [Alamitos], it's everybody."
In their debut season in the Sunset League, the Sea Kings are the favorites to win it.
Headlining a talented CdM roster is the best junior class under O'Shea, who enters his fourth season at the helm. The start to O'Shea's latest campaign will be like last year's, kicking off the season against JSerra, a Trinity League school. The Sea Kings play at JSerra, ranked No. 9 in Division 1, on Friday at 7 p.m.
O'Shea has two big and talented juniors to lean on — John Humphreys, a 6-foot-5, 209-pound wide receiver and free safety, and Mark Redman, a 6-6, 242-pound tight end and outside linebacker.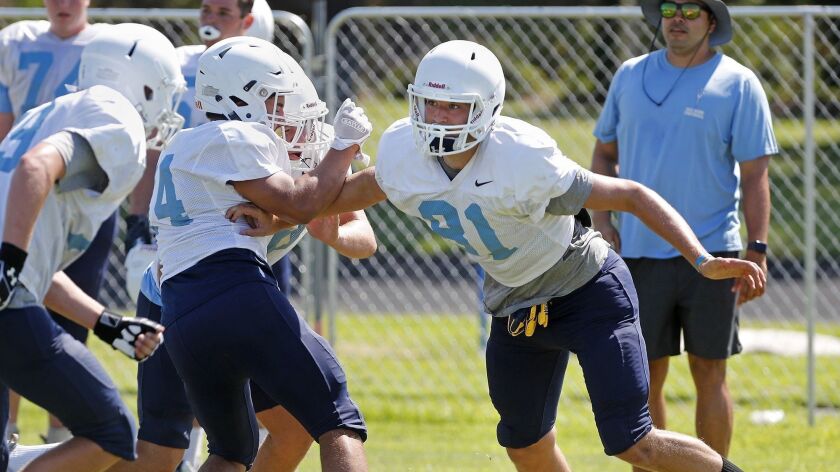 Both Humphreys and Redman have received offers from multiple Pac-12 Conference schools already, and they will only continue to pour in over the course of this season and next season. Humphreys will see significant action on both sides of the ball, while Redman, who also has an offer from Michigan, will be rotated in on defense.
Humphreys and Redman are hardly the only Sea Kings to keep an eye on from the 2020 class. CdM also has a rising star under center in junior quarterback Ethan Garbers. He's the younger brother of Chase Garbers, who started at quarterback at CdM from 2014-16 and is now a redshirt freshman competing for the starting job at Cal.
The younger Garbers is entering his first season as the Sea Kings' starting signal-caller. Last year, he was one of three backups to Nathaniel Espinoza, who earned the Daily Pilot Dream Team Player of the Year award after leading CdM to the Division 4 quarterfinals as a senior.
There [are] no weeks off. ... Every week in the Sunset League is a war. It's not just Edison and Los [Alamitos], it's everybody.
Dan O'Shea, Corona del Mar High coach
Garbers has already picked up an offer from San Jose State. His coaches point to his accuracy and ability to play off the defense as his greatest strengths, and he has already evolved into a threat. The 6-2 Garbers helped the Sea Kings win the San Juan Hills seven-on-seven passing tournament, beating Edison in the final in mid-May. Two months later, Garbers led CdM to the Redondo Union passing tournament title.
"His growth from freshman year to now is just crazy," said Humphreys, who shared the Dream Team All-Purpose Player of the Year award last season after finishing with 55 catches for 1,100 yards and 16 touchdowns, to go with 72 tackles, one tackle for loss, two interceptions and five passes defensed. "He's one of the best [quarterbacks] I've ever caught for, and I love playing with him. His arm strength is pretty eye-opening. In the mental side of the game, like in the film room and stuff, he's really grown too. I think he's the best quarterback in the county."
Enhancing the passing game is another pair of juniors. Simon Hall (6-3, 195 pounds) is a lacrosse standout that will see significant action, while Bradley Schlom (6-0, 170), a transfer from Mater Dei, is a slot receiver that the CdM coaches cannot wait to see on the field this fall.
The coaching staff believes Schlom is a scholarship wide receiver.
"Unreal," CdM offensive coordinator Kevin Hettig said of Schlom. "Probably the fastest guy we've had in the program."
The backfield will feature a pair of players coming off of injuries that will be counted on to make an impact. Senior linebacker Luke Fisher is coming off a broken ankle, and is expected to receive a sizable chunk of carries, as is junior Luke Sullivan. Sullivan was cleared to play in the past month after suffering a torn ACL against rival Newport Harbor last season.
Sophomore Jason Vicencio is also expected to receive carries.
One of the greatest question marks for the Sea Kings entering the fall was the offensive line, a group that has taken notable strides since practice began.
"A bunch of people question our O-line, but I have faith in those guys," Humphreys said. "They're a little undersized, but they're some of the toughest guys I've ever seen. I see them grind every day in practice, so I'm not worried about that at all."
A large part of this is standout center Sean Owens, a senior leader on this young CdM team. Owens made the Dream Team first team in 2017.
"He plays hard, physical and fast," Garbers said of Owens.
The Sea Kings also boast a wealth of talent on defense, with several key players coming back. Outside of Humphreys and Fisher, the team has returning starters in senior defensive end Ethan Jajonie, senior linebacker Franz Froehlich and senior defensive back Jack Elliott. Redman is also expected to see increased playing time at outside linebacker.
"I never knew if I was going to play last year on defense," said Redman, a first-team Dream Team selection last year. "Now I am. It's something we confirmed and talked about."
As CdM begins its tenure in the Sunset League, it will not be without significant challenges — regardless of the incoming flow of talented athletes at the school. The most notable obstacle is lower enrollment than other schools in the league, something that comes particularly into play in the trenches.
"We're fortunate with the program numbers, but you are drawing from a pool of 1,600 less kids than some of these other schools, which makes it tough," Hettig said. "We do have an awesome percentage of our athletes that are playing sports, and that's great. But it's an uphill fight to just get big bodies. We just don't have a lot of big bodies walking around campus. That's not to say Humphreys or Redman aren't huge, because obviously they are freaks, but we are talking about at the line of scrimmage. In the trenches. That's where games are won and lost."
Corona del Mar Sea Kings
CIF Southern Section Division: 4
Coach: Dan O'Shea (fourth year)
Staff: Kevin Hettig (associate head coach/offensive coordinator), Brian Pearsall (defensive coordinator/defensive line), Tony Thornton (secondary/strength), Jake Morado (tight ends/wide receivers), Mark Cunningham (secondary), Ryan Ketcham (receivers), JB Torsy (inside linebackers), Chris Anderson (offensive line), Eric Asaro (defensive line), Clay Kennedy (offensive line), Teddy Barber (outside linebackers), Jaydin Moses (running back), Jack O'Shea (defensive scout team coordinator), Bob Hettig (offensive scout team coordinator), Cassidy Filpi (trainer)
2017 season: 10-2 overall, 5-0 in the Pacific Coast League (first place), lost 49-42 to Downey in the quarterfinals of the CIF Southern Section Division 4 playoffs
Offensive scheme: No-huddle, spread option
Defensive scheme: 4-3
Returning offensive starters: Four
Returning defensive starters: Six
Returning with honors: Jr. WR/SS John Humphreys; Sr. C Sean Owens; Jr. TE/OLB Mark Redman; Sr. DB Jack Elliott, Sr. LB Franz Froehlich
SCHEDULE
August
17 — at JSerra
23 — vs. Palos Verdes at Newport Harbor High
31 — vs. El Toro at Newport Harbor High
September
7 — at Lakewood
14 — at San Clemente
21 — Bye
27 — vs. Edison* at Huntington Beach High
October
5 — vs. Fountain Valley* at Newport Harbor High
12 — vs. Los Alamitos* at Cerritos College
19 — vs. Newport Harbor* at Newport Harbor High
26 — vs. Huntington Beach* at Newport Harbor High
*denotes league game
All games 7 p.m.
JOSH CRISWELL is a contributor to Times Community News. Follow him on Twitter: @joshccriswell
---