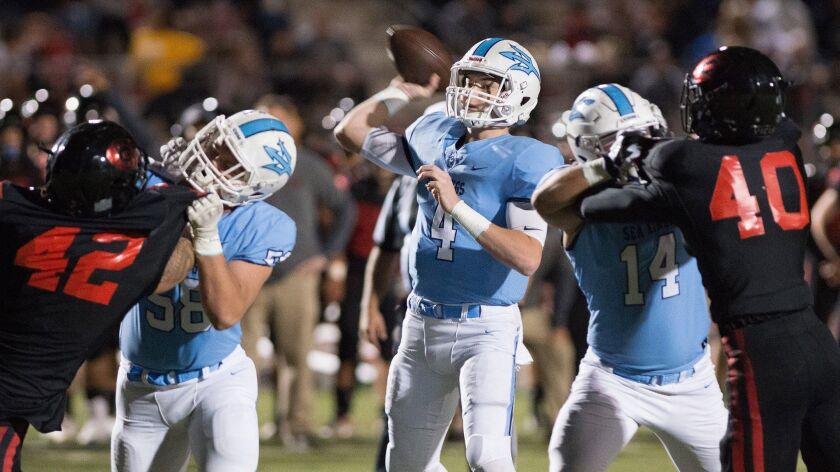 Reporting from Simi Valley —
Most of the Corona del Mar High football players kept their helmets on during the championship plaque ceremony.
Inside of them, pained expressions were worn by the faces of the players, many of them fighting a losing battle with their tears.
So much had gone right for the Sea Kings, who had not lost a game since their opener against JSerra.
On Saturday night, however, CdM met its match in the form of its polar opposite. Simi Valley Grace Brethren imposed its will in a very physical manner, and the No. 3-seeded Lancers defeated the No. 1 Sea Kings 26-14 in the CIF Southern Section Division 4 championship game at Simi Valley Royal High.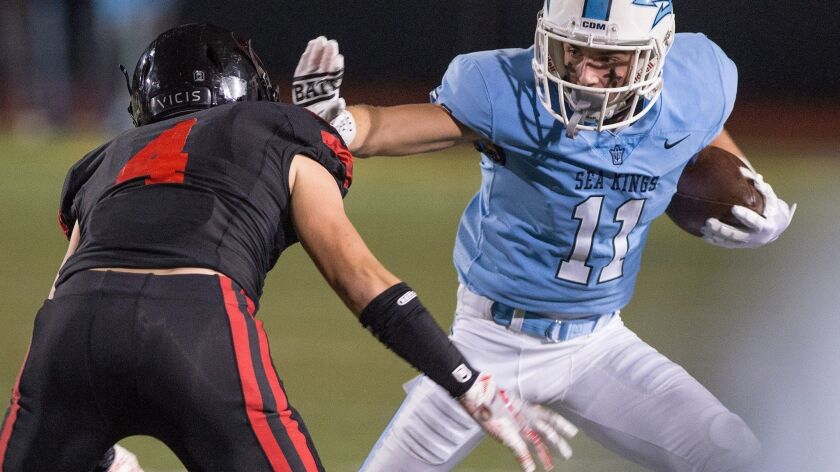 For those who have played at least three years at the varsity level for CdM, the feeling of defeat on a championship stage is a sickening but familiar one. In 2016, the Sea Kings lost to Chatsworth Sierra Canyon 36-35 in a double-overtime game on the road.
Still, there is something to be said for a program that has regularly found itself in position to contend for CIF titles. The Sea Kings have played in five section championship games in the last eight seasons, and with the players that they have coming back, they are poised to keep this run going.
The kids played their butts off. It wasn't our night, and we'll be back at it next year.
Dan O'Shea, Corona del Mar High coach
John Humphreys, the Sea Kings' coveted 6-foot-5, 210-pound junior wide receiver, first began to make his mark in the playoffs during his freshman year. After watching his team lose a title game in the fourth quarter or later for the second time in three years, Humphreys said that he and the rest of the returners will be hungry to wash the bad taste out of their mouths.
"I'm for sure going to remember this feeling," Humphreys said. "This feeling is going to stick, honestly, until we're back here next year. Every time in the weight room, it's for sure going to stick with all of us.
"I'm really sad for all of the seniors. These guys put in a lot of time, a lot of sweat. They gave it their all tonight, and we're going to remember this feeling."
Humphreys reeled in 28 touchdown receptions from junior quarterback Ethan Garbers this season. As of last week, Humphreys held the Orange County record for touchdown catches in a season. Western's Caine Savage caught four touchdowns on Friday night, as the Pioneers defeated Palos Verdes Peninsula 49-21 in the Division 11 championship. Savage surpassed Humphreys with 29 touchdown receptions for the season.
Sea Kings coach Dan O'Shea said that he anticipates that his team will move up to Division 2 or 3 next season, but CdM should still be considered a contender with all of its skill players returning on the offensive side of the ball.
Garbers had a hand in just about everything that CdM did offensively. He was responsible for 61 of his team's 65 touchdowns (93.8%).
Mark Redman, a 6-6, 250-pound tight end, had one of his bigger nights as a receiver with the Lancers (12-2) choosing to play blanket coverage on Humphreys. Redman had six catches for 69 yards and a touchdown.
The heavily recruited tight end prospect said that the experience of this season will be invaluable.
"At the start, it was kind of scratchy, but every practice, every single day, we got better and better," Redman said. "I couldn't be happier with where I got."
The Sea Kings will also return Bradley Schlom, who had seven catches for 77 yards, and Simon Hall, who had four catches for 63 yards.
All six players to make a catch for the Sea Kings, including sophomore running back Jason Vicencio and junior tight end Max Farzine, will all return next season.
Standouts returning on the defensive side include juniors Jack Rottler and Chase Zanck. Rottler made a third-down stop in the first half, and he teamed with Humphreys to prevent a two-point conversion in the second half, while Zanck recorded CdM's lone sack.
"I'm so proud of our kids," said O'Shea, whose team finished 11-2-1 overall and shared the Sunset League title by going 4-0-1. "The kids played their butts off. It wasn't our night, and we'll be back at it next year.
"It's an exciting group to be a part of, but more importantly, it's an exciting community to be a part of at CdM."
Twitter: @ProfessorTurner
---