High School Female Athlete of the Week: Sophie Wallace has helped CdM water polo return to CIF final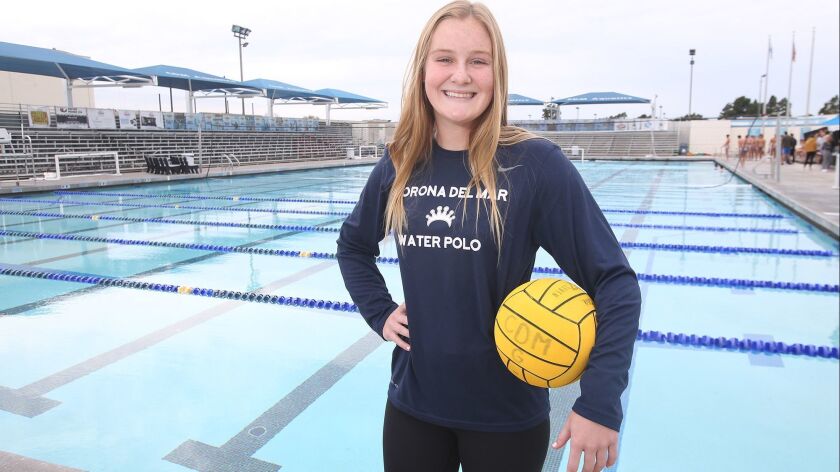 One could say that Corona del Mar High senior Sophie Wallace has been building up to this moment for nearly a decade, ever since she started playing water polo at the age of 8.
Back then, Wallace played for a 10-and-under team for Anteater Water Polo Club, now called Back Bay. She was the only girl on the team, playing alongside current CdM boys' water polo seniors like Cole Fisher, Shane Papa and Caden Strauss.
"It was really cool jumping in and seeing how the boys play," Wallace said. "I think that's definitely helped me in my career, starting out with the physicality of playing with boys, even at such a young age."
Still, it took Wallace time to develop a hard shot. Her go-to shot in her freshman and sophomore years at CdM was a change of pace, the lob shot. She still uses it a lot, but she has gained confidence in her traditional shot as well.
Hard work has paid off for Wallace, who is headed to Stanford. Still, despite a standout career with the Sea Kings, her postseason has always been full of disappointment. CdM lost in the CIF Southern Section Division 1 quarterfinals when she was a freshman, sophomore and junior.
Now, the culmination of almost 10 years of hard work has helped Wallace reach its first Division 1 final since 2003, when the program won its only Division 1 title.
She had her fingerprints all over the wins that have gotten CdM (19-7) to this point. The Sea Kings will play top-seeded Laguna Beach (28-1) for the title Saturday at 5:30 p.m. at Irvine's Woollett Aquatics Center.
The Sea Kings are 0-3 against the Breakers this season, but each match has been close, either a one- or two-goal loss. Wallace said she believes the Sea Kings can earn the crown.
CdM has momentum after coming into the postseason ranked No. 6 in Division 1, a disappointment for a team that had been ranked as high as second during the season. But Wallace wasn't going to let disappointment define her season again.
She's a really smart athlete, and she can play any position in the pool well. She just understands what is happening in the game ...
— Justin Papa, Corona del Mar High coach
She scored a team-best three goals, including the go-ahead goal in the fourth quarter, as the Sea Kings upset No. 3-seeded Goleta Dos Pueblos 7-5 on the road in a quarterfinal match on Feb. 7.
"The last thing we said on the wall before playing that quarterfinal game was that whatever happens, we stay together as a team," she said. "I think just never stopping the fight, even when we were tied in the fourth quarter, I think that's what really helped us pull through and get the win."
Then, in her first Division 1 semifinal appearance Wednesday night, Wallace again came up huge.
After getting a key field block on defense in the final two minutes, she scored the game-winning goal off a post-up with 45 seconds left. The goal helped CdM score another upset victory, 8-7 over No. 2 Orange Lutheran.
Wallace's game is multi-faceted. She was actually recruited to Stanford as a two-meter defender, though junior Megan Peterson plays that role for CdM.
"Sophie is one of those players who knows water polo really well," CdM coach Justin Papa said. "She's a really smart athlete, and she can play any position in the pool well. She just understands what is happening in the game, so she's able to put herself in good positions.
"She doesn't post up every time just because that's what her coaches tell her to do. She posts up when she sees an advantage, and that's what she's really good at. That's what makes her such a special player. I'm able to just let her play, and I'm confident that she's making smart decisions."
Wallace, who had 53 goals, 19 assists and 31 steals in the regular season, has contributed for CdM for four years. As a freshman, she was first off the bench, though she was cast into a starting role in the postseason when then-senior Bridgett Storm was sidelined by sickness.
She has been a valuable player on the "one-two" side of the pool, sharing that task the last three years with Chloe Harbilas, who graduated and now plays at Stanford. This year, Wallace shares that side of the pool with sophomore Grace Myers.
She said that sometimes playing as a defender has helped with her communication. Though Michigan-bound seniors Carter Britt and Ella Abbott are the team captains, Wallace undoubtedly still plays a leadership role.
"I think we've had a really strong season overall," Wallace said. "There have definitely been some ups and downs with rankings and games we should have won, but overall I think we continue to fight for that one goal, which is winning a CIF championship. Throughout all the ups and downs, we've had that goal in mind and we just keep working hard for it. I think we all see that it's super-possible this year.
"I think we've actually benefited from those losses. It keeps it in mind that nothing's ever for sure. Rankings are never for sure. Having a blowout great game is never for sure. That's been the idea of our season."
The idea now is that the Sea Kings are a win away from the CIF championship. Papa has made sure his team realizes the significance of that.
"I've told this to the girls and I stand behind it," he said. "CIF Southern Section Division 1, whoever wins it is the best high school team in the country, for sure. It's a lot like playing for a national championship."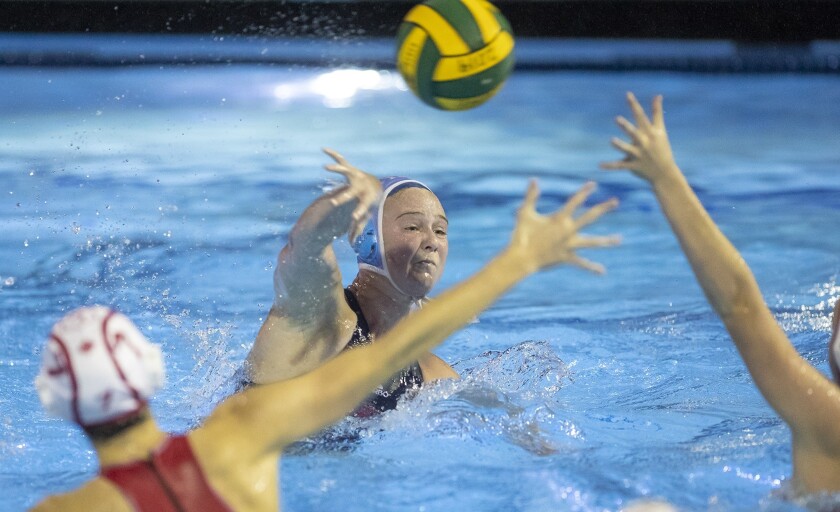 Sophie Wallace
Born: June 27, 2001
Hometown: Newport Beach
Height: 5 feet 8
Sport: Water polo
Year: Senior
Coach: Justin Papa
Favorite food: Italian food
Favorite movie: The "Harry Potter" series
Favorite athletic moment: Helping the SET 18-and-under Black team finish third last summer at the USA Water Polo Junior Olympics at Stanford University.
Week in review: Wallace scored a team-high three goals, including the go-ahead goal in the fourth quarter, as CdM upset No. 3-seeded Goleta Dos Pueblos 7-5 on the road in a CIF Southern Section Division 1 quarterfinal match on Feb. 7.
Twitter: @mjszabo
---
All the latest on Orange County from Orange County.
Get our free TimesOC newsletter.
You may occasionally receive promotional content from the Daily Pilot.