Some people were less excited than others about moving to the Sunset Conference.
Count Corona del Mar High softball coach Jordann Wakabayashi among those who expressed concern.
Only two years prior, the Sea Kings had ended an eight-year winless streak in the Pacific Coast League. Even with the understanding that CdM would be placed in the lower division, the Wave League, it meant that the Sea Kings would have games on their schedule against some of the best teams in the sport.
Wakabayashi needed players, especially a middle infielder, as she wanted to move Trasara Alexander into the role of being the team's every-day catcher.
Through word of mouth, Wakabayashi heard that such a player may come out to play softball, but the soccer season had to be completed first. When freshman Sydney Walls showed up to the diamond, she helped sooth some of the nerves that Wakabayashi and her team had about the upcoming campaign.
"Just having someone who had played a middle infield position before was really important for us because my shortstop and my center fielder, they are the ones who run this defense," Wakabayashi said. "All of our plays go through them.
"Sydney really is the anchor for our entire defense. Amerys [Barshtak] is great in center field, and she takes charge out there, but Sydney is the one who will turn around and talk to her outfielders during the game."
Walls' mother, Olga Delgado, played second base at Long Beach State. Despite taking a year-and-a-half hiatus from softball, Wakabayashi says that the effort and instincts are still there for Walls.
"She had a fantastic catch against Savanna on a ball that fell right behind the pitcher's mound," Wakabayashi said. "That was huge because they had runners on then. She's made a couple of diving stops on the infield, kept the ball on the dirt, saved us some runs.
"She is willing to sacrifice herself in order to keep this team in a very good position."
Walls said that she lives slightly closer to Newport Harbor, but she ended up going to CdM to follow many of the friends that she had made at Harbor View Elementary.
When I first came to the CdM team, everyone was really welcoming and kind of just cheered me on, even when I was rusty coming in.
Sydney Walls, Corona del Mar High freshman
There are Newport Harbor connections, though, too, and Walls had an opportunity to revisit those in the final of the Battle at the Beach tournament at Thurston Middle School in Laguna Beach on March 16.
Walls, who began playing softball at age 6, competed with a handful of the Sailors in Newport-Mesa rec-league softball, including Lindsey Blanchfield, Lily Larkins, Eliana Gottlieb and Alexis Amaro.
In an all-Back Bay final, Walls had a double and scored a run as the Sea Kings defeated the rival Sailors 8-2 in the Battle at the Beach championship game.
Over the weekend, Wakabayashi moved Walls to the lead-off spot, looking for more contact at the top of the order. That enabled Wakabayashi to drop the Harvard-bound Barshtak to the No. 2 spot, where her versatility as a speedy left-handed batter could be better used to keep an early rally alive for CdM (10-6, 0-2 in league).
"For me, this tournament was monumental," Barshtak said after her team pulled off what is thought to be the first tournament title in program history. "In the four years that I've been at CdM, we've never even come close to where we are now. I'm extremely proud of the team and just grateful to be part of the team. This tournament just showed us that we can ultimately just play at really high levels.
"If we just put our minds to do our best and play how we did in the tournament, we can ultimately win league and go far in CIF."
Walls has at least one hit in seven of her last nine games, and she has four multi-hit games this season. She also has a .962 fielding percentage, turning as many double plays as errors committed with two.
For the season, she has a .341 batting average with nine stolen bases. She has a .442 on-base percentage, which can be attributed to her six walks against four strikeouts.
A humble teammate, Walls thought that a number of her teammates have contributed to the Sea Kings' success. She was particularly grateful for her teammates, who supported her as she worked off the rust from an extended break away from the game.
"When I first came to the CdM team, everyone was really welcoming and kind of just cheered me on, even when I was rusty coming in," said Walls, speaking about the value of close-knit relationships as a team. "I think a lot of it is being able to cheer on everybody. It's nice having Makena [Tomlinson] because she's been a really good friend. I've known her since like third grade."
Walls comes from an athletic family. Both of her parents play sports, and she said her family enjoys bike rides to the beach.
Several players in the CdM softball program are multi-sport athletes, including Samantha Uehara, Alexander and Tomlinson, who also play basketball.
"I feel like doing sports just kind of helps you relax, in some sense," Walls said. "You have to work, and practice makes you good and everything, but it's kind of just a way to relieve the stress of life and just play."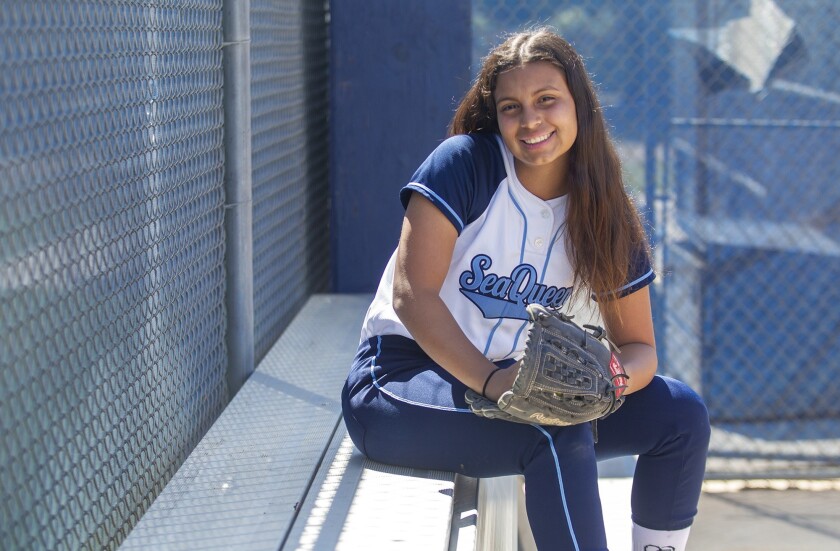 Sydney Walls
Born: May 15, 2004
Hometown: Newport Beach
Height: 5 feet 5
Weight: 120 pounds
Sport: Softball
Year: Freshman
Coach: Jordann Wakabayashi
Favorite food: Steak
Favorite movie: The original "Star Wars" trilogy
Favorite athletic moment: Walls looks back fondly on a strong fielding game she had in the Premier Girls Fastpitch Nationals as a member of the California Cruisers 10-and-under team. She made a couple of diving catches behind first base.
Week in review: Walls helped CdM defeat Newport Harbor 8-2 in the Battle at the Beach final at Thurston Middle School in Laguna Beach on March 16. Sea Kings coach Jordann Wakabayashi said it is the first tournament title in program history.
Twitter: @ProfessorTurner
---