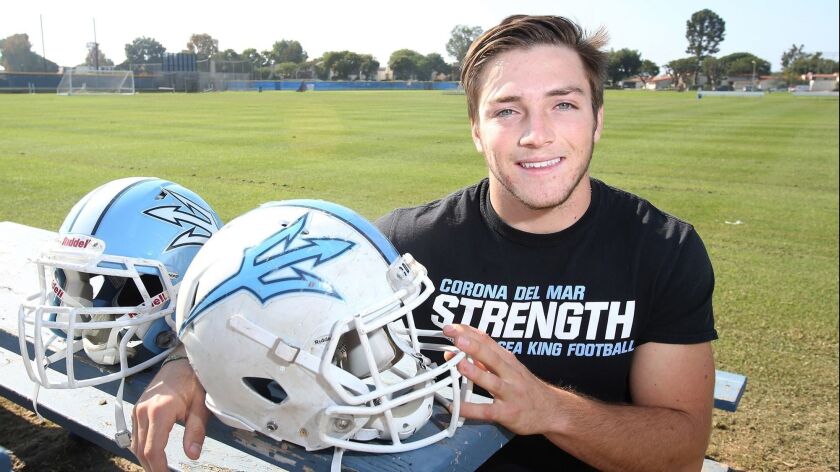 When the Corona del Mar High football team files out of its bus at any given game, Tristen Troutman isn't the guy you would peg as the catalyst of the Sea Kings' stout 3-4 defense.
The 5-foot-8, 175-pound defensive lineman is vastly undersized for his position.
Some people might mistake him for a backup or a senior who never plays, and that's because Troutman comes from the same mold that most all CdM defensive linemen are cut from.
"He looks like every other CdM nose guard who has played here for the last eight years," Sea Kings coach Dan O'Shea said. "If you watch him get off the bus, you will not be very impressed, but when the ball is snapped, he will take your breath away because he will not stay blocked. He has a relentless pursuit mentality to make every tackle."
That mentality has helped the senior nose guard become, as O'Shea describes, a "freakish" force on defense. Troutman is a big reason why the top-seeded Sea Kings (11-1-1) are playing in the CIF Southern Section Division 4 championship game against No. 3 Simi Valley Grace Brethren (11-2) at Simi Valley Royal High on Saturday at 7 p.m.
Troutman has recorded 41 tackles on the season, including five sacks, 11 tackles for loss, one fumble recovery and one forced fumble, for a defensive unit that is allowing 14.3 points per game. In his latest outing, Troutman finished with five tackles, one sack and two quarterback hurries in the Sea Kings' 49-17 win at Camarillo in the semifinals on Nov. 16, helping CdM advance to its fifth final since 2011.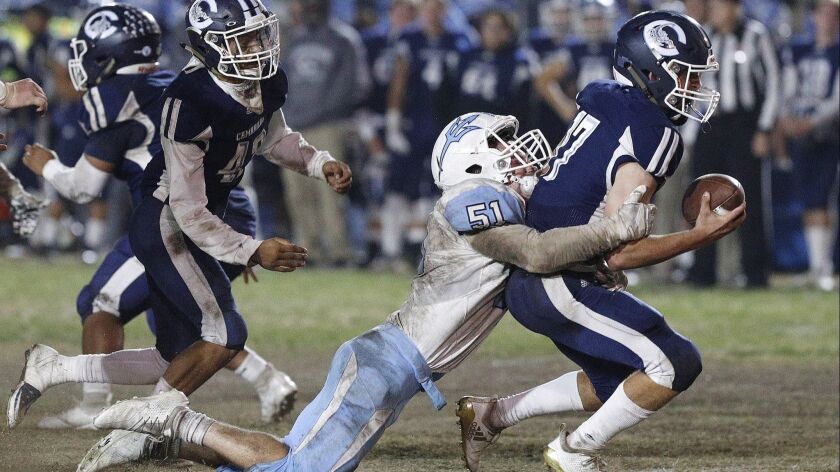 Troutman has honed in on two different aspects of the game to excel on the field. The first is his sheer will to make plays and operate with a high motor because of the fact that he is undersized for his position.
"I do have a chip on my shoulder because of that," Troutman said. "I think I'm underestimated a lot because of my size. They're surprised at how fast I am, and at the end of the game they will get tired [while] I'll still be going."
The second aspect, and perhaps most important part of Troutman's rise on the field, is him melding his natural speed at his size with technique under the tutelage of defensive coordinator Brian Pearsall.
"I definitely have an advantage with my first couple of steps," Troutman said. "I always keep my feet moving and stay active, because when I stop moving that's when they can get to me. Every snap I tell myself to fire off the line as fast as I can and that's when I'm at my best."
Pearsall, who missed last week's game due to illness, said in a phone interview that Troutman really hunkered down in perfecting the fundamental part of the game.
"He's really worked on reading what the opponent is doing," Pearsall said. "He's become almost perfect at ducking, dodging and spinning off of blocks coming his way. He's become really disruptive because teams can't figure out where he's going to go and how to block him."
Getting Troutman going on the field has never been an issue. All of the Sea Kings' coaches say he has always had a fierceness when it comes to his approach to the practice, film study and the weight room.
But the reason why that work hasn't come to fruition on the field until this year is because Troutman wasn't taking that same approach in the classroom. He was deemed academically ineligible for his junior year, missing the entire season because his grades weren't up to par.
We focused on the importance of getting up, getting to school and doing his homework. He's really bought in to that and has completely flipped his attitude ...
Brian Pearsall, Corona del Mar High defensive coordinator
"I just had no motivation for school," Troutman said. "It felt really terrible. Not just because I couldn't play football, but because I couldn't be there with the team fighting for everybody."
Instead of sulking on the sideline, Troutman found a different way to fight for his team. He changed his approach to schoolwork and became one of the best scout team nose guards a CdM starting offensive line has ever seen.
"Practicing on the scout team helped my pursuit of the ball," Troutman said. "Our offensive line last year had a lot of really big and good players on it, and going up against them really helped me, especially going up against a double-team made me better."
Pearsall described Troutman's renewed focus in the classroom, in which he's raised his grade-point average from a 1.8 to a 3.4, as one of the biggest 180-degree turns he's seen during his time as a high school football coach.
"We focused on the importance of getting up, getting to school and doing his homework," Pearsall said. "He's really bought in to that and has completely flipped his attitude and started applying himself in school. All of the teachers are saying he's a model student."
CdM has a running joke within its program that it relies on the mental capacity for alignment, assignment and technique to play really good football with kids who are slow, small and weak.
Troutman is neither, slow, small or weak. He has taken the ups and downs of his journey to not only make people take him seriously when stepping off the bus and onto the field, but to turn around his life off the field.
"This season, his senior year, means more to him than probably anybody else on this football team," O'Shea said. "He values every snap with an insatiable appetite to succeed and he has a relentless intensity that is very unique for a young man."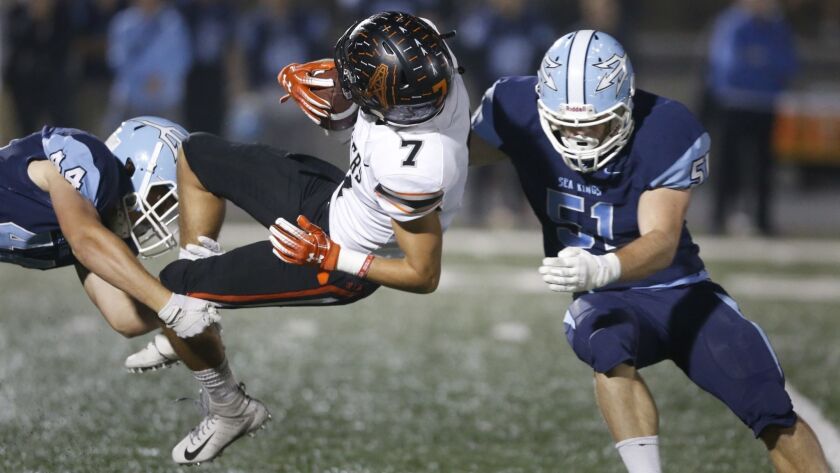 Tristen Troutman
Born: March 5, 2001
Hometown: Shamokin, Pa.
Height: 5 feet 8
Weight: 175 pounds
Sport: Football
Year: Senior
Coach: Dan O'Shea
Favorite food: Steak
Favorite movie: "Talladega Nights: The Ballad of Ricky Bobby"
Favorite athletic moment: Defeating rival Newport Harbor 62-14 in this year's Battle of the Bay game.
Week in review: Troutman recorded five tackles, one sack and two quarterback hurries in CdM's 49-17 win at Camarillo in the CIF Southern Section Division 4 semifinals on Nov. 16.
DEVIN UGLAND is a contributor to Times Community News. Follow him on Twitter: @Devin_Ugland
---