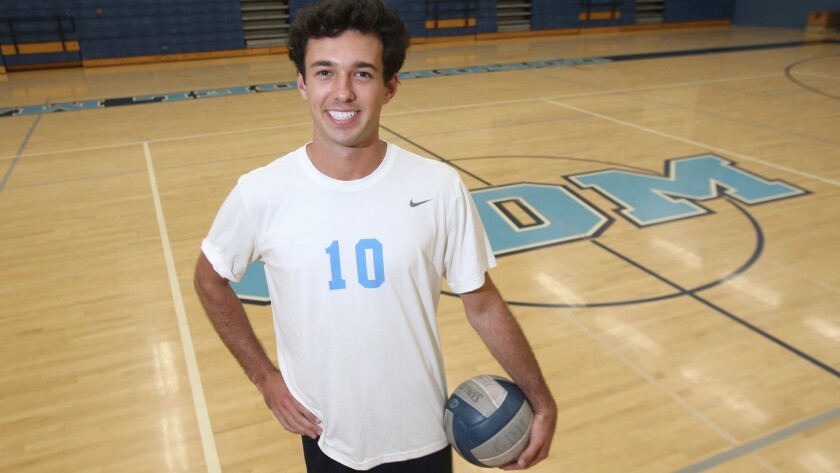 The Corona del Mar High boys' volleyball team will enter the CIF Southern Section Division 1 playoffs as the No. 3 seed in the bracket.
As the two-time defending champions in the section's top division, name recognition is not an issue for the Sea Kings.
What might have been a problem was the talent that graduated following last year's repeat performance.
Middle blockers Brandon Hicks (UC Santa Barbara) and Tyler Flood (NYU), opposite Kevin Kobrine (UCLA), outside hitter Brandon Browning (USC) and setter Patrick Paragas (UC Santa Barbara) went out in a blaze of glory, winning a Division 1 title and a CIF State Southern California regional Division I championship in their senior season.
Senior Adam Flood, a USC-bound outside hitter, was the only returning regular from the previous campaign, but the Sea Kings had several players that had been waiting in the wings.
Enter Nick Alacano, a left-handed opposite who had been practicing with the varsity team since his sophomore year. Bad luck had a lot to do with his timetable breaking into the rotation.
In his freshman and sophomore years, Alacano missed most of the high school season. He sustained a pair of ankle injuries when players came under the net and he landed on their feet.
Now that Alacano is getting his first shot to start for CdM, first-year Sea Kings head coach Sam Stafford, a former assistant for the program under Steve Conti, sees a young man who has seized his moment.
"I think he's taken advantage of it, and he has done a great job," Stafford said. "He is playing like I would hope any senior plays their senior year. He's playing like it really means something, and it really means a lot to him.
"He's come in every day, whether it's a match or a practice, and he's not the most talkative kid, but you can always trust that he is going to do his job, and he is going to do his job as hard as he can do it and as well as he can do it."
Alacano and Stafford have a relationship that crosses over into their time at Balboa Bay Volleyball Club. The senior opposite likes the fact that his coach wears his emotions on his sleeve.
Stafford could be seen banging on and tossing a clipboard during a tight fourth set in the Sea Kings' big 25-18, 21-25, 25-15, 25-23 home win over Newport Harbor on April 17. The victory handed the Sailors their first loss in the regular season over the last two years, and it eventually led to CdM (21-7) sharing the Surf League championship with Newport Harbor (32-1).
"We like having a coach that shows a lot of emotion during big games because it makes us realize how much energy we need to put into the game and when we need to get points," Alacano said. "It's also good if Coach gets on a certain player if they do something wrong because then they will know what to do the next time. It helps."
Alacano has settled into a prominent role with this Sea Kings team, but he has never been allowed to get too comfortable throughout his life. He said that he has moved 12 times into 12 different houses, compliments of his dad's on-the-go lifestyle in construction.
Although he will not be going to college for volleyball, Alacano said that he plans to study architecture at the University of Colorado Boulder next year. His sister, Sydney, also attends the university.
Left-handed hitters are hard to find, and CdM has two live-armed lefties from the service line in setter Bryce Dvorak and Alacano. They act as architects of the opponent's downfall, finding new angles to get teams out of system.
"In practice, it's kind of competitive with each other," Alacano said of playing with Dvorak. "When we're doing serving drills and stuff, we try to see what angle to hit the ball at, where to place it in the court, and what area to make sure that we can get people out of system. It gives us an advantage."
Senior middle blocker Matt Olson, another first-year starter and a club teammate of Alacano's, is looking at this season as an enjoyable final ride with his friends.
"It's just been a great journey playing with all of these guys," Olson said. "We won our first junior national championship when we were 14, and I think that was kind of the beginning of really a great thing for all of us.
"Playing with the same guys for a long time, you really build bonds with them, whether it's on or off the court. I think that we really vibe off of each other."
While the playing time was not always there, Olson believes that this year's team benefited from being mentored by the championship teams of the past.
"We all know our skillset, and we knew that we could make an impact," Olson said. "Last year, we just had a lot of super-talented guys that went off to college, and it was great we got to learn from them and practice against them, which made us even better.
"I think that by the time our senior season approached, we were really able to take advantage of what they had left for us."
Nick Alacano
Born: Aug. 2, 2000
Hometown: Newport Beach
Height: 6 feet 4
Weight: 185 pounds
Sport: Volleyball
Year: Senior
Coach: Sam Stafford
Favorite food: Cheeseburgers
Favorite movie: "The Lone Survivor"
Favorite athletic moment: Corona del Mar defeated Newport Harbor 25-18, 21-25, 25-15, 25-23 in a Surf League match at home on April 17, handing the Sailors their first loss of the season after a 30-0 start. Alacano had 12 kills, a block and an ace in the match.
Week in review: Alacano had a combined 25 kills in CdM's victories over No. 1 Newport Harbor and No. 6 Huntington Beach last week to help the Sea Kings clinch an automatic CIF Southern Section playoff bid out of the Surf League.
::
Support our sports coverage by becoming a digital subscriber.
For more sports stories, visit latimes.com/socal/daily-pilot/sports or follow us on Twitter @DailyPilotSport.
Twitter: @ProfessorTurner
---