Corona del Mar vs. Los Alamitos football game won't be completed, officially ends as tie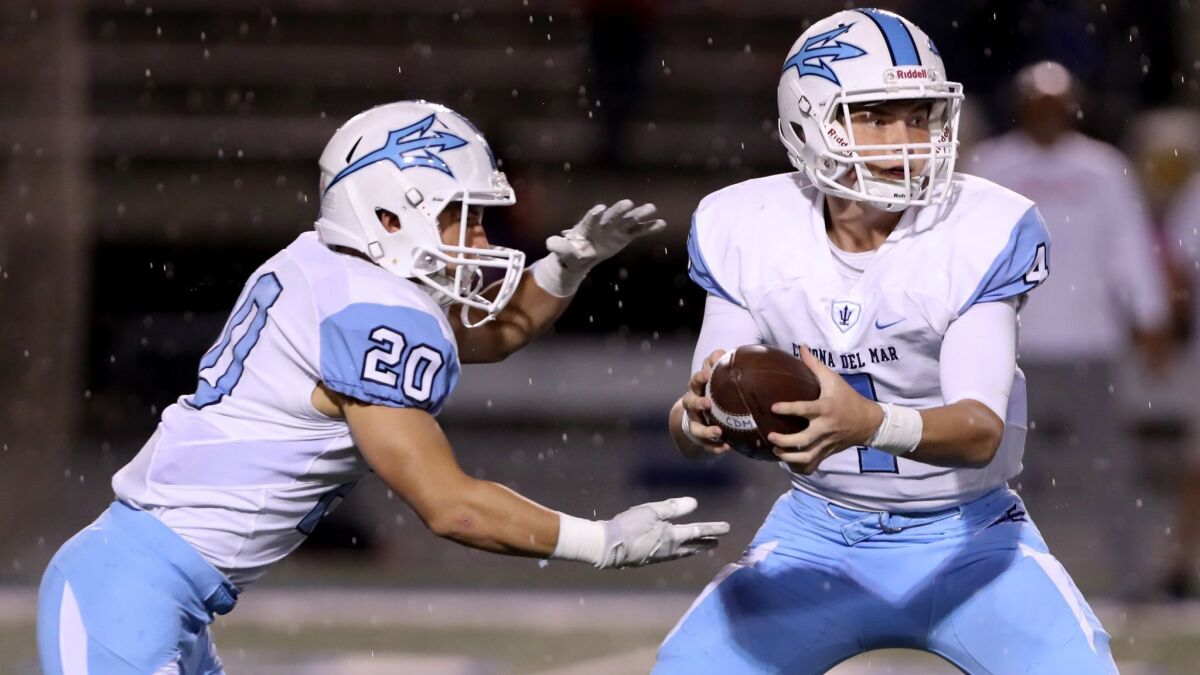 The Corona del Mar High football team wanted to win a title in its first season in the Sunset League. Defending champion Los Alamitos stood in the way.
But fans will not get to see a victor from the Sea Kings' game against the Griffins. The schools agreed Saturday that their game, which was postponed with 59 seconds left in the first quarter Friday night at Cerritos College due to lightning, will not be completed and will end in a 7-7 tie.
CdM coach Dan O'Shea said in a text message Saturday that "due to the inability to secure a proper facility to accommodate this game on such short notice, both schools have agreed to call the game a tie of 7-7."
CdM (6-1-1, 2-0-1 in league) and Los Alamitos (6-1-1, 2-0-1) remain tied atop the league with two games remaining.
O'Shea said in a text earlier Saturday that he was hopeful the game would be completed on Monday, but a location ultimately could not be secured.
Los Alamitos had originally announced that the game would be rescheduled for 1 p.m. Saturday at Los Alamitos High. Griffins coach Ray Fenton said the Griffins received approval from the CIF Southern Section for the new site.
"It was all good," Fenton said Saturday from Huntington Beach High, where he was scouting the Oilers' game against Fountain Valley.
But O'Shea said via text late Friday night that the programs had not come to an agreement. He said the Griffins' on-campus field, which does not have a press box, was not suited for playing a varsity football game.
"We have been waiting for over 90 minutes to our offer to play [on Saturday, Monday, Tuesday, Wednesday or Thursday] at 3 p.m., 5 p.m., 7 p.m.," O'Shea said around midnight on Friday.
O'Shea said that Veterans Memorial Stadium in Long Beach and Cerritos College were open, and Newport Harbor High was another possibility.
On Saturday, Fenton disputed the notion that the on-campus field, a turf field, was unfit to play on. He noted that Los Alamitos hosted Lancaster Paraclete in an on-campus game in 2016.
"We have a varsity football game, and it's a varsity field," he said. "We can play there … [We want to be there] right now, absolutely. I'm not kidding you. I'm devastated that we're not playing that game, sick to my stomach. We'll just keep trying to move on."
Fenton said the Griffins showed up on campus at 9 a.m. Saturday for a team meal, followed by film study at 10 a.m.
"We still had hope at that time that we could play, and we had to finally tell them [the game wouldn't be completed]," Fenton said. "It's unfortunate."
O'Shea declined to comment further Saturday. CdM athletic director Don Grable did not return calls or texts.
The tie is CdM's first since a 29-29 draw against Northwood in 2010.
The teams now move on to their fourth league games. CdM, ranked No. 2 in CIF Southern Section Division 4, plays Newport Harbor (3-4-1, 0-3) in the annual Battle of the Bay rivalry game on Friday at 7 p.m. at Newport Harbor. The Sea Kings and Sailors freshman teams play Thursday at 7 p.m., also at Davidson Field.
CdM, which has won five straight times in the varsity rivalry, is the designated home team for both contests.
Los Alamitos, ranked No. 6 in Division 2, plays at Huntington Beach (6-2, 2-1) on Friday night.
Twitter: @mjszabo
All the latest on Orange County from Orange County.
Get our free TimesOC newsletter.
You may occasionally receive promotional content from the Daily Pilot.