Newport Harbor High senior Delaney Knipp got into lacrosse, in large part, because of Caroline Farley.
Knipp originally planned to run track at Newport Harbor for a spring sport, but that changed in her freshman year due to some encouragement from her mother, Rhonda, as well as Farley.
"I'm still here," said Knipp, who has now played field hockey and lacrosse at Newport Harbor for four years.
Farley isn't still at Newport Harbor. She left after her sophomore year, moving to Florida to train at the IMG Academy with former Sailors coach Kaleigh Gibbons.
Knipp has had to try to fill her friend's shoes in scoring, even while playing as a midfielder for the Sailors. That means that the team captain is versatile. She switched from defender to midfield last year, which was a tough transition for Knipp, who had played defender in field hockey as well and always played defense or goalkeeper growing up playing soccer.
"It's a lot," Knipp said of playing as a midfielder. "You're pretty much doing everything you can do. You're trying to help the team on defense, trying to help the team score goals, and also working in transition. It's super-fun. It's really tiring, but it's super-fun to play, because you kind of get to try all aspects of lacrosse. You get to try offense and defense and all of it."
Knipp, who has signed with Kent State, has done well in all assets for Newport Harbor. She leads the team with 28 goals, and is second to sophomore Joelle Rothbard with 19 ground balls.
The Sailors clinched the Sunset League title with Thursday night's 8-6 win at Edison, improving to 3-0. Knipp scored twice, though coach Brooke Martini said she injured her knee in the first half and did not return.
Martini certainly hopes that Knipp is able to come back soon.
"She always works hard," Martini said. "She gives it 110% every practice, every game, and having that energy is what brings everyone else up. Everyone else is following that. That's kind of what's really been clicking for us, just keeping strong as a team."
Knipp's older brother, Tucker, played football for four years at Newport Harbor before graduating in 2017, and her younger brother, Joe, is a sophomore team captain on the Sailors' junior varsity boys' lacrosse team.
One of Delaney's best personality traits is definitely her perseverance … She doesn't give up, no matter what obstacles are thrown at her.
Zoey Palmquist, Newport Harbor High junior
The Sailors girls' lacrosse team has needed Delaney Knipp's scoring. Martini said that sophomore Reese Vickers, a transfer from Foothill who scored nine goals in the Sailors' 16-5 league win over rival Corona del Mar on March 21, tore her anterior cruciate ligament early in the following night's 15-6 victory at Los Alamitos.
"[Knipp] is a key player," Martini said. "She's strong in all areas. She's always been a really strong defender, and then last year when she started playing midfield, she was kind of like, 'I can't do this, it hasn't clicked yet.' Our Los Al game last year, it clicked. She scored like six goals that game."
Knipp had three goals and an assist in the win over CdM, and four goals and an assist in the victory over Los Alamitos. Beating the Sea Kings was significant for Knipp and the Sailors, who did it despite being a player down for the final 28:56 of the game after four players were issued yellow cards in the first half.
Knipp said it was her fourth victory in four years over the Sea Kings, along with senior attackers Mariana Miller and Ella Kenney. Each player has won the Battle of the Bay on varsity for three years. As freshmen, Knipp and Miller won the game on JV "Blue" (frosh-soph), while Kenney won it on the JV team.
"It's such a fun game to come out and win, especially with a team like this," Knipp said. "For a lot of our younger girls, this is their first varsity Battle of the Bay, and to be able to win it is a really cool experience for them."
The Sailors, who host Foothill on Saturday at 10 a.m. in a nonleague game, want to keep building toward the postseason. They made the U.S. Lacrosse Southern Section South Division semifinals two years ago, but lost in the first round to Trabuco Hills last season.
Newport Harbor can rely on Knipp if it wants to make another deep postseason run.
"When you watch her play on the field, it's amazing," said Sailors junior defender Zoey Palmquist, the other team captain. "She just is running through people. She's always charging. She just never gives up and never stops, and I think that's an amazing part about her, both on offense and defense. One of Delaney's best personality traits is definitely her perseverance … She doesn't give up, no matter what obstacles are thrown at her."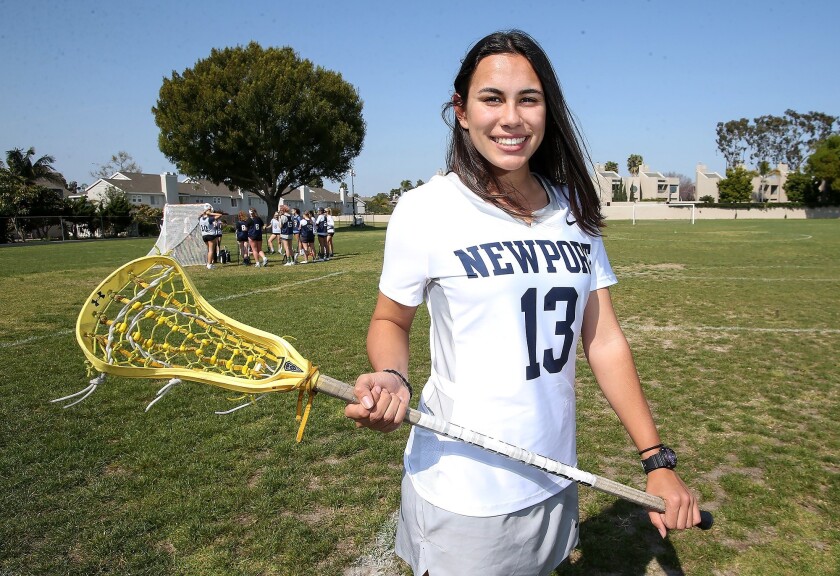 Delaney Knipp
Born: June 7, 2001
Hometown: Newport Beach
Height: 5 feet 6
Sport: Lacrosse
Year: Senior
Coach: Brooke Martini
Favorite food: Sushi
Favorite movie: "The Avengers"
Favorite athletic moment: Helping the Newport Harbor field hockey team win the Los Angeles Field Hockey Assn. Tournament of Champions as a sophomore.
Week in review: Knipp scored a combined seven goals as the Sailors opened Sunset League play with a pair of wins, beating rival CdM 16-5 on March 21, and Los Alamitos 15-6 on March 22.
Twitter: @mjszabo
---