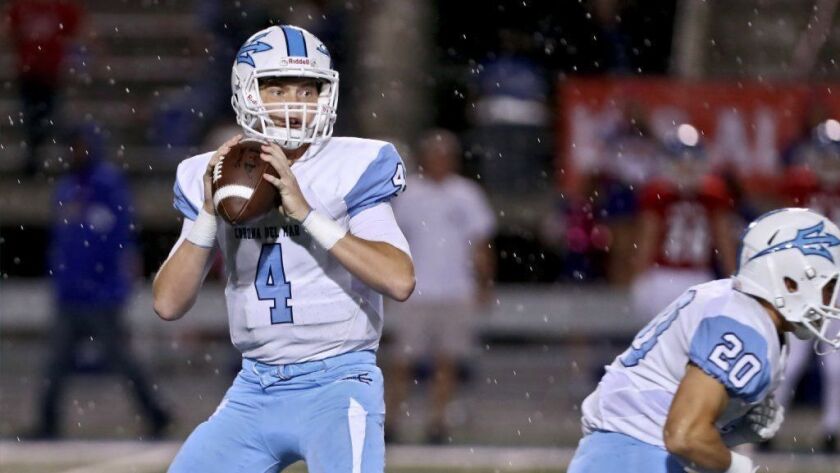 Corona del Mar High junior quarterback Ethan Garbers committed to the University of Washington football program on Monday.
The three-star pocket passer made the announcement on Twitter, saying, "I'm a DAWG!! #PurpleReign."
"I love the coaches up there," Garbers said. "When I visited, it just felt like a home vibe. Their coaching staff is a family, and they treat their players like family."
"It's good to have it over now," Garbers added. "I can just focus on high school football and winning a state championship next year."
Garbers accounted for 61 of his team's 65 total touchdowns in 2018. He threw for 4,135 yards and 55 touchdowns, leading the Sea Kings to the CIF Southern Section Division 4 championship game.
Sea Kings coach Dan O'Shea said that the stability of the program and the location are appealing aspects to the Washington program.
"Since Coach [Chris] Petersen got there, they just have turned that program around," O'Shea said. "They have become competitive on a national level. Within the Pac-12, you have the stability that he has brought to the program. He's been successful at Boise State.
"Looking at the landscape of college football, it's really important to go to a place where the coaching staff will be there long-term and develop him as a student-athlete."
At a Pac-12 rival, Garbers may one day have the opportunity to play against his older brother, Chase Garbers. Chase saw significant playing time at quarterback for Cal as a redshirt freshman last season.
"When we do play each other, hopefully we will be in college at the same time, so I'll have a chance to play him," Ethan Garbers said. "We always competed at Corona. I can't wait to compete at the next level against him."
Many will be intrigued by the possibility of the Garbers brothers facing each other in a college football game, but they are not CdM's only high-end prospects.
John Humphreys, a 6-foot-5, 210-pound wide receiver who doubles as a defensive back, and Mark Redman, a 6-foot-6, 245-pound tight end, are also being heavily recruited.
CdM has developed into one of the best public school football programs in Orange County, which happens to be a mission statement of O'Shea's.
"Our intent for the longest time is to be the single-best public school in Orange County in terms of high school football, and our quest continues," O'Shea said. "That's certainly a testament to the players and the community because we love the local kids and the neighborhood. We look forward to developing them as Sea Kings."
Twitter: @ProfessorTurner
---
UPDATES:
March 5, 10:10 p.m.: This article was updated with quotes from Corona del Mar's Ethan Garbers.
This article was originally published on March 5 at 4:20 p.m.
---