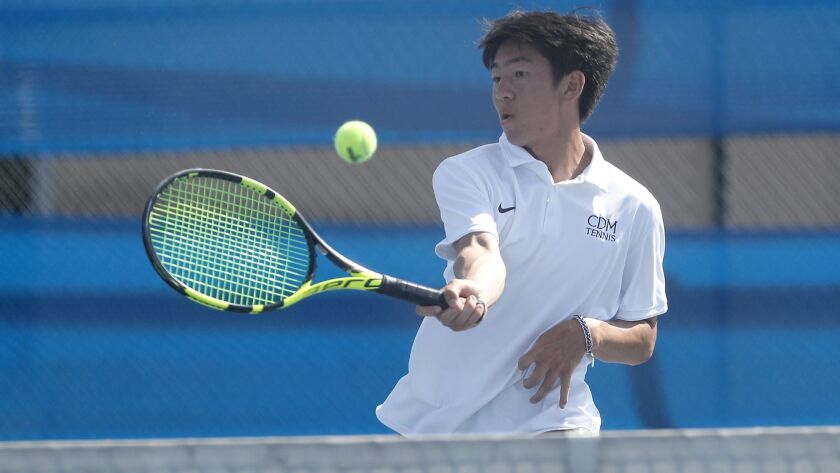 An exciting finish awaited spectators Saturday in the National High School Tennis All-American Invitational tournament championship match at Palisades Tennis Club in Newport Beach.
Top-seeded Studio City Harvard-Westlake edged No. 3-seeded Torrey Pines 5-3 to capture the title of the prestigious tournament. It is the first time that Harvard-Westlake, which won the CIF Southern Section Division 1 title last year, has won the National High School All-American and earned the Scudder Cup.
"It was fantastic," said tournament director Tim Mang, the former longtime Corona del Mar tennis coach. "One of the best finishes ever."
CdM finished sixth in the 16-team field. The Sea Kings went 2-2 in the tournament, and senior Kyle Pham made the all-tournament team. CdM beat Gilman (Md.) 5-3 in the first round before losing to eventual champion Harvard-Westlake in the quarterfinal 6-2.
The Sea Kings came back to beat Palos Verdes Peninsula 5-3 on Saturday before falling 4-4 (33-32 on games) to San Jose Bellarmine Prep in the tournament fifth-place match.
Atherton Menlo finished third in the tournament, and University was fourth. San Ramon Dougherty Valley won the Stan Smith Sportsmanship Award.
"The teams that flew in from all over the United States appreciated it," Mang said. "Palisades is a class tennis club. It's immaculate. The coaches and the kids were impressed, and hopefully they can get invited back. I only need to get six more teams for next year, and I have a choice of at least 20 schools right now that want to come in."
Twitter: @DailyPilotSport
---