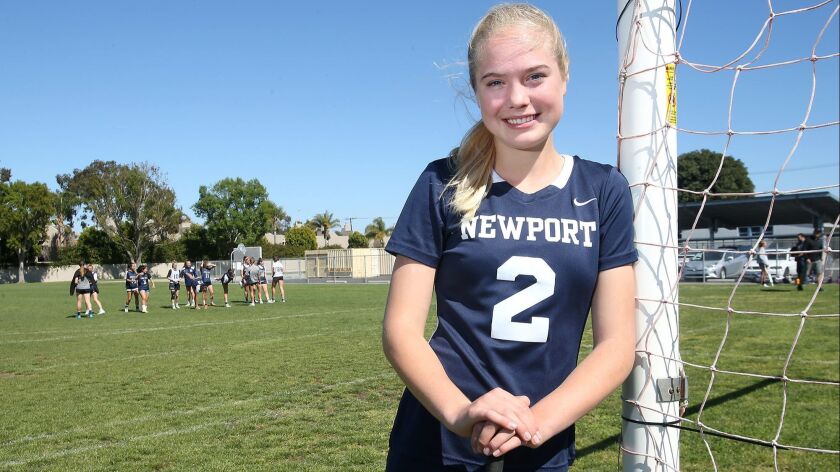 The Newport Harbor High girls' lacrosse team lost nine seniors from last season to graduation, and Caroline Farley was well aware of that fact coming into her sophomore year.
Farley earned increased playing time late in the season as a freshman, helping the Sailors reach the U.S. Lacrosse Southern Section South Division semifinals for the second straight time. But last year's team really was led by the seniors, players like team captains Jillian Rosten, Katie Hendrix and Caroline's older sister, Sarah Farley.
"Since we lost so many people, I was just hoping some people would step up this year," Caroline Farley said. "Once we got to who made the team, I realized I had to be one of those people."
Farley played attack as a freshman, which meant that her primary focus was scoring goals. This year she's a midfielder, which carries more responsibility. She has to help out on defense for first-year coach Brooke Martini, and she's also taking the draws, a responsibility that Hendrix had last year before leaving to play at Arizona State.
Farley hasn't been playing lacrosse for too long, less than three years. But she's standing tall for Newport Harbor, and it's not just because of her 5-foot-11 frame.
She leads the Sailors (4-7) with 37 goals and is winning the draws at a clip of more than 60%. Three of Farley's biggest goals came on March 23, when she helped Newport Harbor beat host Corona del Mar 9-8 in the Battle of the Bay game.
Farley scored twice early, helping the Sailors build a 4-0 first-half lead. The Daily Pilot High School Female Athlete of the Week then added her third goal with 1:16 remaining in the second half. The strike tied the score at 8-8 and set up senior teammate Kobe Richardson's game-winning free-position goal with nine seconds remaining.
"It was a little nerve-wracking at the beginning," Farley said of playing rival CdM. "Since we won last year, I was really scared. It was like, 'Oh, we won last year, so we have to beat them again.' It's such a rivalry.
"[Richardson] is just one of those people who sets up the play, so it was really uplifting when she scored [the game winner]. It was cool for her. She got a lot of the recognition she deserves."
Farley has also earned recognition. Martini calls Farley a natural leader.
She is following in the footsteps of her older sister, who now plays college lacrosse at Central Michigan University. Sarah played midfield, just like Caroline does. Caroline said her sister has a couple of inches on her.
"They run the same and have the same composure on the field," Sailors senior captain Adena Rothbard said of the Farley sisters. "They're really good at getting balls in the air, and using their height to their advantage."
Rothbard, a University of New Hampshire commit, said she sprained her right medial collateral ligament and ankle during the Sailors' overtime loss to Tesoro on March 13. She's most likely out for the season, and it was a big loss for Newport Harbor. At the time of her injury, Rothbard was second on the team in goals.
She's keeping the team composed, stepping up on defense and getting us on the scoreboard.
Newport Harbor High's Adena Rothbard
Rothbard, one of two team captains along with junior defender Elise Skytte, has still maintained an active role in practices and games. What she's seen has been young players, like Caroline Farley and her freshman sister, Joelle Rothbard, stepping up.
"Caroline is really doing more than the midfielder role would ask," Adena Rothbard said. "She's keeping the team composed, stepping up on defense and getting us on the scoreboard."
Martini said that Farley's success on the draws allows the Sailors to get the ball to their speedy players waiting on the circle, like Joelle Rothbard and junior Delaney Knipp.
"[Farley] has stepped up a lot, especially with Adena's injury," Martini said. "She leads by example. She's someone that works 110%, and other people see her working like that and it motivates them to work just as hard."
The Sailors' record may seem unimpressive, but they have played a difficult schedule. Three of their seven losses have been by a single goal, including Thursday's 14-13 home loss to Trabuco Hills in triple overtime.
"We still played good games, even if it didn't come out how we wanted it," Farley said. "We fought super-hard and wanted it, and that made us grow together as a team more."
It's a mature perspective from a player who keeps improving at a rapid pace. The goal remains to get back to the playoffs.
Farley said she believes the Sailors can do it if they keep fighting. If the team is to make another postseason run this season, she will undoubtedly play a big role.
*
Caroline Farley
Born: Nov. 23, 2001
Hometown: Newport Beach
Height: 5 feet 11
Sport: Lacrosse
Year: Sophomore
Coach: Brooke Martini
Favorite food: Sushi
Favorite movie: The "Harry Potter" series
Favorite athletic moment: When senior teammate Kobe Richardson scored the game-winning goal in the Battle of the Bay game last week.
Week in review: Farley had a team-best three goals and four ground balls as Newport Harbor pulled out a 9-8 win at Corona del Mar on March 23, winning the Battle of the Bay game for the second straight year.
Twitter: @mjszabo
---