High School Female Athlete of the Week: Eliana Gottlieb is someone to look up to at Newport Harbor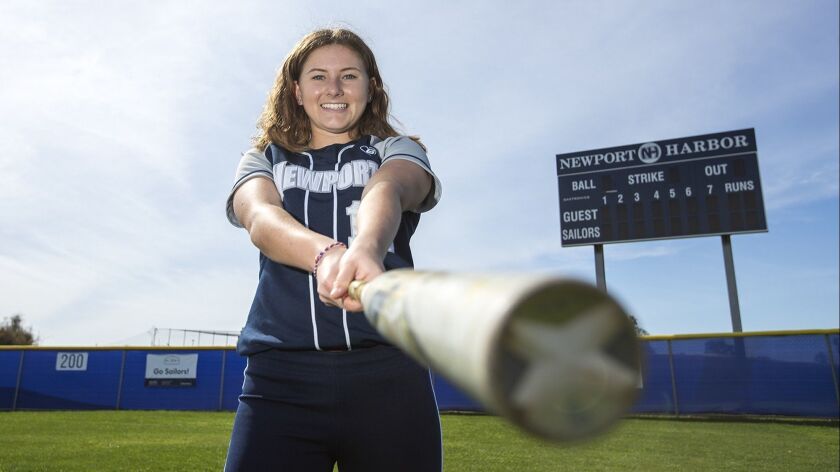 At Newport Harbor High, softball has not traditionally ranked as one of the sports that grabs the headlines.
The Sailors' last winning season came in 2010, when the team finished 13-12 overall, despite going 0-10 in the Sunset League.
Playing in a strong league that included softball powerhouses like Huntington Beach, Los Alamitos and Marina certainly contributed to the struggles. For a while, the Sailors had trouble attracting players to the program.
Then this season, the Sailors actually had to make cuts at team tryouts. The numbers are up, and Sailors coach Tom Blanchfield attributes much of that to a group of girls that joined the team last year and stuck with it.
Leading the group is sophomore Eliana Gottlieb, one of Newport Harbor's foremost travel ball players. She also plays for the Corona Angels Kim Howard, and she started playing up an age group four seasons ago.
Howard said that Gottlieb hit a home run in her first game at the 18U Gold level during the Surf City Thanksgiving Tournament, which is a Premier Girls Fastpitch event.
"I think what [Newport] Harbor has lacked for softball is a cluster of kids that incoming freshmen could look up to," Blanchfield said. "I'm talking about that cluster where walking down the halls of the school, you say, 'Well, that's Eliana Gottlieb. She's a sophomore now. She's a junior now. Wow, she's really good. I'd like to be like her.'
"I think that's one of the most important things in why the Norcos and the Los Als and the Huntingtons build that culture."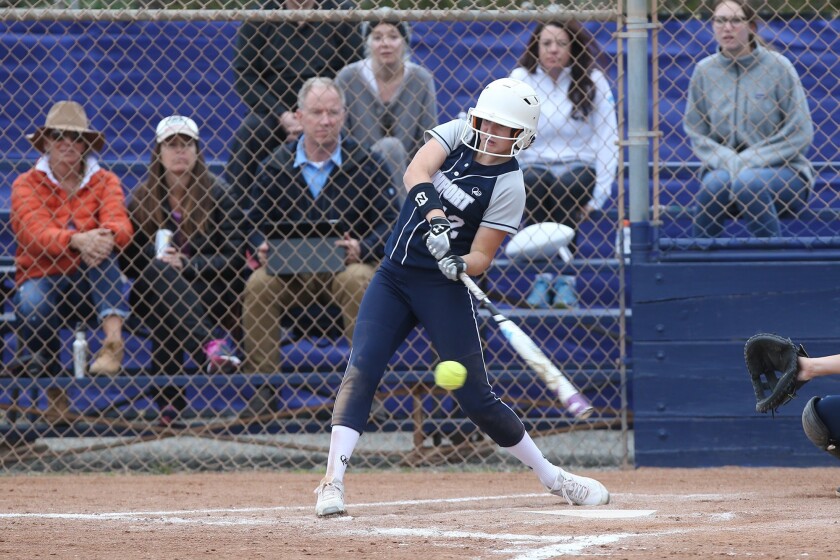 Gottlieb led the team in nearly all offensive categories last season, posting a .359 batting average with 15 runs scored, 11 runs batted in, five doubles and two home runs. She also walked nine times against just eight strikeouts.
As a sophomore, Gottlieb continues to provide an example for others on her team to follow. Blanchfield wants his team to run the bases aggressively, and he had no qualms when Gottlieb was thrown out at third base when she hit the ball to the outfield fence last week.
"I was like, 'That's my fault girls. That's my fault. I want you running hard,'" Blanchfield said. "[Gottlieb] plays enough high-level softball that she knows it's her job if she gets the ball to the wall to be digging it the whole way."
"Eliana can lead by her effort, her example and her execution," he added. "She does a fabulous job."
Over the Sailors' last three games, Gottlieb has gone four for five with five walks and a stolen base. Gottlieb has produced a .900 on-base percentage, and Newport Harbor has won all three games.
Gottlieb usually finds herself at first base or in the outfield. She wears many hats for the Sailors, but she only carries one glove, one designed for an outfielder.
Her versatility could inspire dreams of playing all nine positions in a game, but Gottlieb said that thought has never really crossed her mind. Players that throw left-handed normally do not play on the left side of the infield.
In the fall, Gottlieb ran cross-country. Isabel Glassen, who is also a sophomore, is one of the leaders in the girls' cross-country program at Newport Harbor, and Gottlieb said that she learned from trying out another sport.
"I learned endurance and stamina," Gottlieb said. "You have it in you to keep going. It's really mental, both softball and cross-country. Just tell yourself that you can keep going. Keep running. Don't stop."
Teammates Kendall Kelly and Lily Larkins also tried out tennis for the first time, as the Sailors' softball players immersed themselves in new things. Blanchfield thinks that a break from softball also kept his players fresh mentally.
One year ago, the Sailors had six freshmen come in and start right away. They were Alexis Amaro, Lindsey Blanchfield, Maxine McNerney, Gottlieb, Kelly and Larkins.
Five of them continue to start for the team, giving rise to the belief that Newport Harbor can build a program that can compete for a playoff spot in the newly-fashioned Wave League. The league includes Back Bay rival Corona del Mar, Fountain Valley and Laguna Beach.
"I think it's going to be super cool for the next couple of years to grow as a team," said Kelly, who plays catcher. "We've already seen so much improvement from last year.
"Our main goal is to just improve from last season. I don't think that's very difficult to do so. I think we're like one win away from beating our record from last year."
Newport Harbor (6-2) will look to surpass its win total from last season when it takes on Santa Ana (2-4) in Laguna Beach's Battle at the Beach tournament at Thurston Middle School on Saturday at 10 a.m.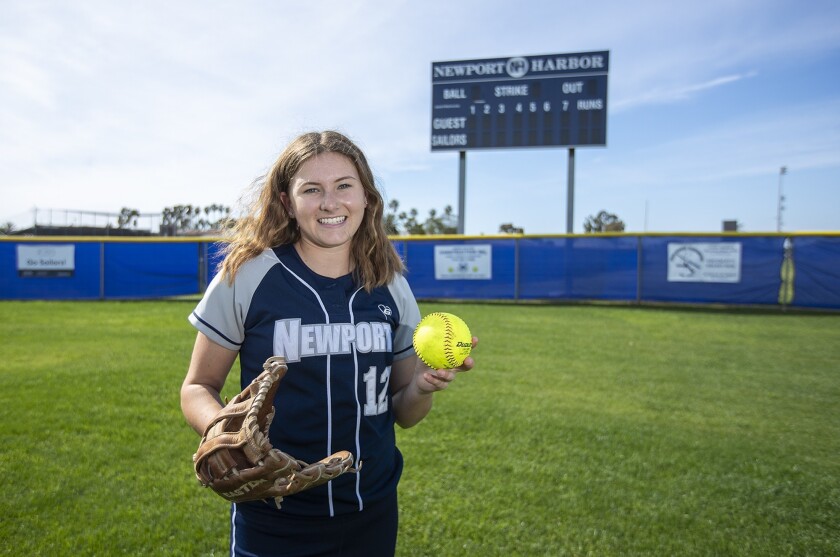 Eliana Gottlieb
Born: Feb. 4, 2003
Hometown: Newport Beach
Height: 5 feet 7
Weight: 135 pounds
Sport: Softball
Year: Sophomore
Coach: Tom Blanchfield
Favorite food: Chocolate
Favorite movie: "The Bourne Supremacy"
Favorite athletic moment: Gottlieb enjoys challenging herself by playing up an age group with the Corona Angels 18U team under Coach Kim Howard. Her club team played a doubleheader against the Chinese Taipei national team on Dec. 9.
Week in review: Gottlieb has gone four for five with a .900 on-base percentage over Newport Harbor's last three games. The Sailors have beaten Saddleback Valley Christian, Tustin and Century in that span.
Twitter: @ProfessorTurner
---
All the latest on Orange County from Orange County.
Get our free TimesOC newsletter.
You may occasionally receive promotional content from the Daily Pilot.