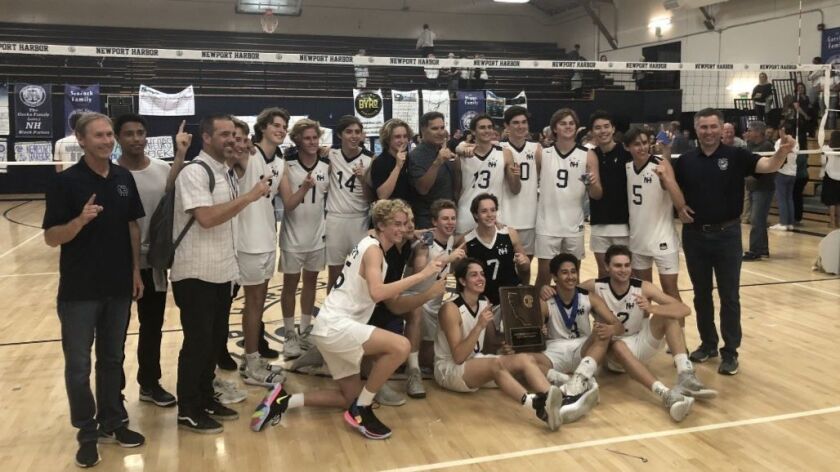 The Newport Harbor High boys' volleyball team capped an outstanding year Saturday with the CIF State Southern California Regional Division I championship after an impressive 18-25, 25-17, 25-12, 25-19 victory against Manhattan Beach Mira Costa.
Not only did the Sailors (39-1) beat the Mustangs for the second consecutive week after capturing the CIF Southern Section Division 1 title on May 4 at Cerritos College, Newport Harbor upended Mira Costa for the fourth time this year.
"This is just a huge sigh of relief," Pepperdine-bound Joe Karlous said. "It's pure happiness. All the 6 a.m. lifts, all the times we were [upset] at each other and then come together as a unit. It's pure happiness."
Things didn't get off to a good start for the Sailors, who lost to Corona del Mar in the 2018 section and regional championship matches. Newport Harbor was flat and Mira Costa took advantage to grab the first set.
The momentum didn't last very long. Newport Harbor quickly recovered and ran away with the match. An 11-9 lead in the second set grew to 14-10 and 20-15 before tying the match at a set apiece.
A 12-8 lead in the third set became 17-10 and Caden Garrido's block ended it giving Newport Harbor a 2-1 lead.
It was more of the same in the fourth set. The early 9-5 lead swelled to 15-7 before a small comeback from Mira Costa made it 23-18.
"In the huddle after we lost the first game it was along the lines of like it's time to go," Karlous said. "It doesn't matter what is in our way. Just go and go hard. The word is believe. That one word takes us where we want to go. We knew what they were capable of doing. Mira Costa is a good team. We just had to keep our foot on the pedal."
Mira Costa coach Avery Drost was impressed, too.
"Only one team [Corona del Mar] beat them all year," Drost said. "It's an incredibly difficult team to beat. We tried four times. We took them to five sets and had it 9-9 in the fifth earlier in the year. We had chances but that is a special group. They were a touch shaky in the first set and we started fast. They adjusted and their service pressure picked up. We weren't getting clean kills when we needed it."
Karlous stepped up his level of play and Dayne Chalmers was key for Newport Harbor, which advanced to the title match after outlasting Loyola in five sets on Tuesday.
"We served the crap out of the ball and all the little things added up to big things," Karlous said. "Side out, blocking, all the little things were huge."
Chalmers added: "This means the world to us especially after last year. It's good to go out the right way. We made up for last year in a sense. Our consistency and trust in each other was huge. We believed. Coach Rocky [Ciarelli] gave us motivation. He basically told us this is our very last chance. It has to be done now."
Drost was tremendously impressed with Karlous and Chalmers.
"Joe takes junk and makes good things happen," Drost said. "Chalmers uses the sharp angle well. They have so many good players over there. The gym was energized, the defense was gnarly and they covered the floor so well."
::
Support our sports coverage by becoming a digital subscriber.
For more sports stories, visit latimes.com/socal/daily-pilot/sports or follow us on Twitter @DailyPilotSport.
JACK POLLON is a contributor to Times Community News.
---