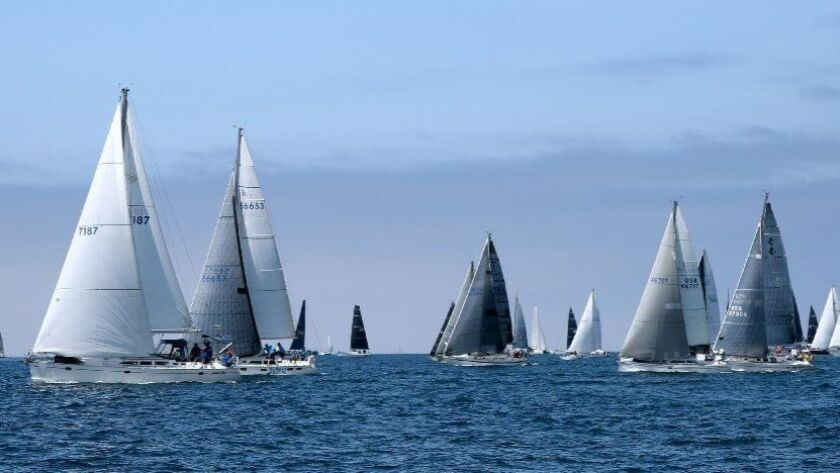 While Alive, an Australian-based Reichel Pugh 66 skippered by Duncan Hine, won the 72nd Newport to Ensenada International Yacht Race outright Sunday, several local crews had successful voyages.
Newport Harbor Yacht Club earned the Spirit of Ensenada Trophy, given out to the yacht club with the most winners, after coming away victorious in five categories.
The Jeff Deaver Trophy, which goes to the yacht club with the most primary first and secondary perpetual winners, also went to Newport Harbor Yacht Club.
David Team's Vesper, a ULDB-Maxi, highlighted the performance of the local boats, completing the 125-nautical mile course in 16 hours 41 minutes one second. The corrected time came in at 20:09:21.
Vesper won the Tommy Bahama Trophy (Overall Corrected Time), the President of USA Trophy (Best Corrected, All PHRF), the Jack Bailee Trophy (Best Corrected Time for a Newport Beach Club), and the President of Mexico Trophy (Best Corrected Maxi).
Also from the Newport Harbor Yacht Club, Jim Bailey's Destroyer (17:14:59 elapsed and 20:16:14 corrected) was second in corrected time for the Maxi class.
Balboa Yacht Club's Fast Exit, skippered by John Raymont, led the ULDB-B division, finishing the race with an elapsed time 23:31:49 and a corrected time of 23:25:34.
Carbon Footprint (James Devling), another boat from the Balboa Yacht Club, paced the ULDB-A class, coming in with an elapsed time of 20:15:04 and a corrected time of 21:42.34.
Alive sailed to the best overall elapsed time of 15:59:49 to take home the NOSA Trophy. In addition, Alive received the Amigo Trophy for the best corrected time by a first-time skipper, and its hardware haul was completed with the Lahaina Yacht Club Trophy for best elapsed time by all PHRF boats.
::
Support our sports coverage by becoming a digital subscriber.
For more sports stories, visit latimes.com/socal/daily-pilot/sports or follow us on Twitter @DailyPilotSport.
---