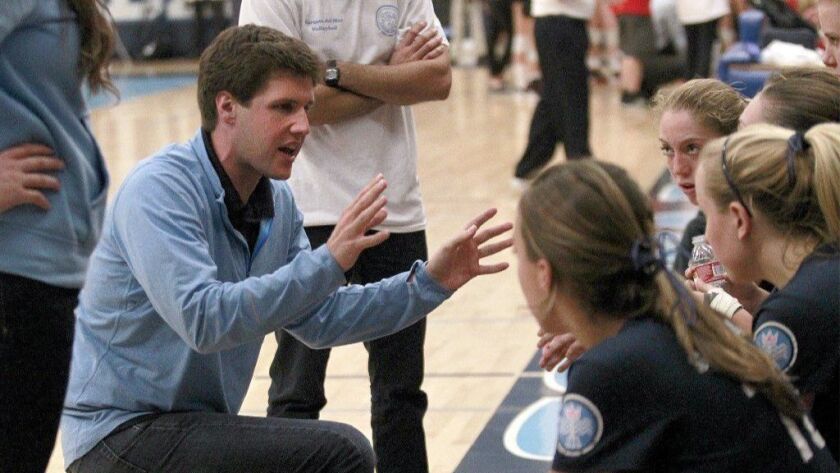 Steve Astor, who coached the Corona del Mar High girls' volleyball team for six seasons, has resigned, athletic director Don Grable said on Tuesday.
Grable said Astor had an opportunity to meet with and inform his team of the news a day earlier.
Astor, 34, said he plans to pursue coaching opportunities at the college level. He called the decision to move on from CdM "bittersweet," adding that he would miss the kids and the coaching community.
Astor compiled an overall record of 139-49 with the Sea Kings. He won six consecutive league titles, going 55-1 in those matches.
In addition, Astor's teams advanced to the CIF Southern Section semifinals twice and the quarterfinals three times. The Sea Kings earned berths into the CIF State Southern California Regional tournament the last two seasons.
He's amazing Xs- and Os-wise, but he is even better at trying to help kids become better people and better teammates.
Don Grable, Corona del Mar High athletic director
Astor said his constant goal was to build the character of his players, driving home the importance of concepts such as selflessness, humility and hard work.
"I think the kids just did a great job of understanding that it was about the process and not the results," Astor said. "I'm really big on process over results. It's cool to see that the kids bought into that because they see the wisdom in that also when it was presented to them."
The successes of the volleyball team only serve to complement the notion that Astor got his point across. He believes that the same morals that stood as pillars of character for his program will be effective elsewhere.
"We all understand the value of hard work," Astor said. "We all feel good when we work hard and then something comes from that. We have some real confidence that comes from that, just earned confidence.
"Kids and young adults see the same thing, and I think it works wherever you are. It's not a coaching thing. It's a life thing."
This past season, the Sea Kings went 25-13 overall, including a 16-match winning streak that saw CdM make a 6-0 run through the Surf League and reach the Division 2 quarterfinals.
CdM volleyball has seen a complete turnover of its head coaches in the last two months, as boys' volleyball coach Steve Conti also stepped down in November. The school hired Sam Stafford, a CdM assistant, to take over for Conti.
Grable said the search for a new girls' coach will begin Monday.
Grable said that Astor, a walk-on, was a great coach for the program, but he was an even better teacher of life.
"He's always just been an amazingly thoughtful and thorough coach," Grable said. "He's amazing Xs- and Os-wise, but he is even better at trying to help kids become better people and better teammates. He's really good at that, as well as making them into really great volleyball players."
Grable said there is a sadness that comes from seeing Astor walk out the door, but he added, "When you see your family members have an opportunity to do something that they really love, it's also a good thing."
"We know that he is going to be a great coach at the next level," Grable said. "We wish him the best."
Twitter: @ProfessorTurner
---