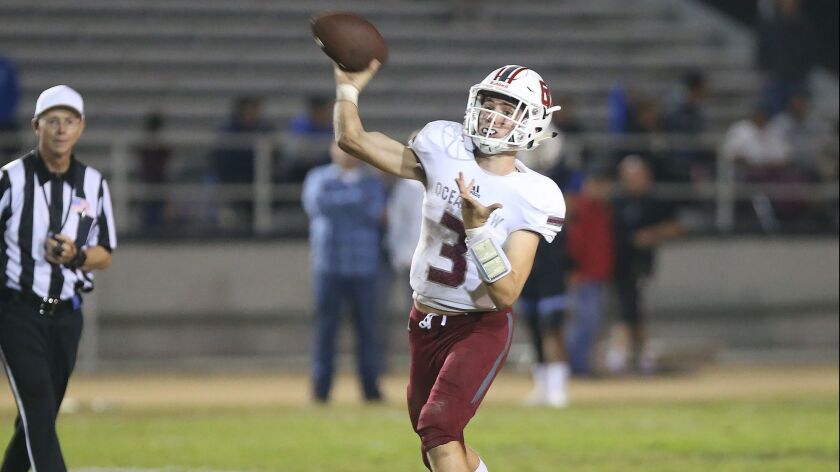 Ocean View High senior quarterback Noah Hickman split the Pac 4 League MVP award in football, while Laguna Beach senior wide receiver Sean Nolan shared the Offensive Player of the Year honor and Ocean View senior strong safety Kermel Anwell the Defensive Player of the Year honor.
Hickman and Anwell are two of seven Seahawks making the first team, and Nolan marked one of seven Breakers. Ocean View and Laguna Beach split the league title with Western.
Hickman and Anwell led the Seahawks (9-2, 2-1 in league) to their first league crown since 1989, their most overall victories in program history and a No. 4 seed in the CIF Southern Section Division 11 playoffs. Ocean View suffered a 30-14 loss at Irvine in the first round.
Hickman, who split the MVP with Western quarterback Anthony Munoz, passed for 1,649 yards and 24 touchdowns, with only two interceptions. Hickman rushed for 700 yards and 16 scores.
Anwell finished with 66 tackles, seven tackles for loss and five interceptions. He shared the Defensive Player of the Year honor with Western linebacker Jacob Domino.
Nolan, a three-time first-team selection, helped the Breakers (10-3, 2-1) win their first league championship since 2012 and reach the semifinals of the CIF Southern Section Division 12 playoffs. No. 2-seeded Laguna Beach's season ended with a 48-6 semifinal loss at No. 3 Lakewood Artesia.
Nolan had 70 receptions for 1,184 yards and 18 touchdowns, the first two are Laguna Beach single-season records. Nolan is also the school's leader for career receptions (155).
Nolan averaged 41.8 yards per punt, a Laguna Beach single-season record.
As a cornerback, Nolan intercepted four passes and recovered two fumbles. He also returned two punts for scores.
The other first-team picks from Laguna Beach included junior quarterback Andrew Johnson, Kai Ball, a senior receiver and cornerback, Shane Lythgoe, a senior running back and linebacker, senior defensive end Caleb Mostajo, Jake Harper, a senior defensive back and receiver, and senior kicker Noah Handel, who shared the Special Teams Player of the Year award.
Ocean View's other first-team members were senior receiver Will Earthman, senior lineman Kevin Blackmore, senior linebacker Alex Nieves, Rodrigo Adame, a senior defensive back and running back, and junior defensive end Josh Roberts.
Johnson completed 238 of 426 passes for 3,246 yards and 42 touchdowns, including 15 interceptions.
Ball had 49 catches for 765 yards and 10 touchdowns. The two-time first-team selection intercepted two passes.
Lythgoe, a repeat first-team pick, rushed 196 times for 892 yards and nine touchdowns. He caught 32 passes for 243 yards and six scores.
Handel converted six of 11 field-goal attempts and 52 of 55 extra-point kicks.
Earthman had 40 receptions for 661 yards and eight touchdowns. He rushed for 600 yards and six scores.
Blackmore, a right tackle and defensive end, totaled 25 tackles and five sacks.
Nieves, a repeat first-team selection, finished with 55 tackles and four tackles for loss.
Adame rushed for 470 yards and seven touchdowns. He made 15 tackles.
Roberts had 40 tackles, seven sacks and 11 tackles for loss.
The second-teamers were Ocean View senior receiver Naeco Logan, junior receiver Brandon Alcaraz, senior linebacker Jesus Ramirez, and sophomore cornerback Raelen Bruce, as well as Laguna Beach junior receiver Noah Diver, junior linebackers Sam Tyrrell and Connor Fink, and senior lineman Hunter Davis.
Twitter: @DailyPilotSport
---