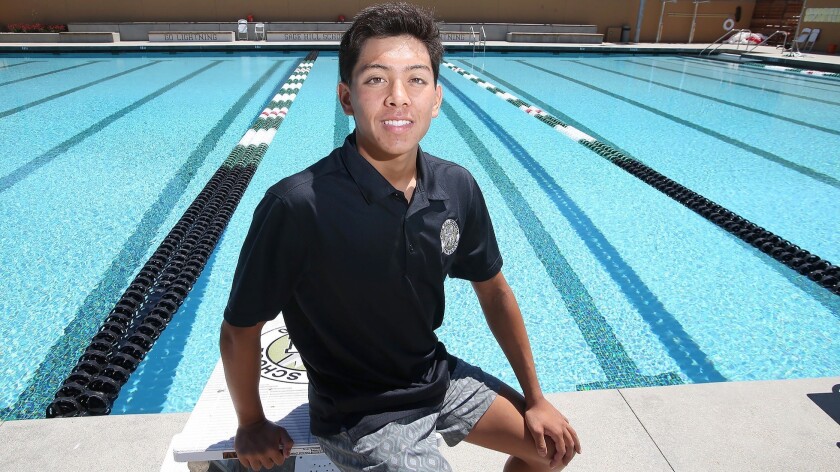 Sage Hill School senior Jason Schreiber will be the first to admit that he has a bit of a perfectionist side to him.
He got an early introduction to music when he began playing the trombone in the fourth grade. By the time he was ready to enter high school, Schreiber was already a wind ensemble-caliber musician.
Once a member of the Irvine Honors Orchestra, Schreiber eventually had to give up playing the trombone.
"When I came to high school, there was a conflict with one of my classes," Schreiber said. "I wasn't able to get into the wind ensemble classes because there was another class I was taking that only had one block period.
"That was an academic class. It was a math class, so I wasn't able to continue pursuing trombone."
Schreiber did stick with one of his activities, that being swimming. It is the one he says enabled him to play the trombone with a high level of performance.
"I think part of the reason why I could play trombone pretty well was because I did swimming," Schreiber said. "The lung capacity helped me. I was able to remain blowing for a long time and also reach high notes."
In a four-year career with the Lightning swim program, Schreiber made incremental improvements each season. After finishing sixth in the boys' 200-yard individual medley in the CIF Southern Section Division 2 swimming finals as a junior, Schreiber vowed to do everything that he could to win in his senior year.
Pavle Filipovic, then in his first season as the head coach of the program, had a conversation with Schreiber following the CIF finals. They discussed ways in which Schreiber could better position himself to touch the wall first.
"I think we put a little bit of emphasis on him getting physically stronger, putting some extra time in the weight room and doing some CrossFit," Filipovic said, adding that strength helps a swimmer become more efficient in the water. "He's obviously not a big guy. He's very technically sound. He's got a great stroke technique, but I also thought that he was missing a little bit of body mass and strength."
This season, Sage Hill moved from the Academy League to the San Joaquin League. It also moved down from Division 2 to Division 3, a development that Schreiber was excited about because it afforded the Lightning a better opportunity to turn out more CIF qualifiers.
For his part, Schreiber qualified for CIF in four events in his senior season – the 200 medley relay, the 200 individual medley, the 100 breaststroke and the 400 freestyle relay.
Schreiber delivered on his first-place promise to himself. He shredded the water to a meet record of one minute 49.33 seconds in the 200 individual medley in the Division 3 finals on May 2 at Riverside City College. He also won the 100 breaststroke with a time of 55.48 seconds.
The venue made the victories extra special for Schreiber. As a club swimmer, he had competed in the Summer Junior Olympic Championships at the Riverside City College facility since the age of 10.
"It was a place where I always raced, and I saw some fast Southern California swimmers there," Schreiber said. "I always had a good time with my teammates. It was the last meet of the summer, before people went on vacation and took a break from swimming. It was really important to me to always go to Riverside.
"Knowing that CIF was also going to be there, I was very happy to hear that because of that connection that I had to the Riverside pool. Not so much as a practice pool, but just a place where I had so many memories with my teammates from club, and also, now teammates from high school."
Schreiber derived satisfaction from finishing his career on a high note, particularly in defying the notion that moving down to Division 3 projected their performances to be of a lower tier to higher divisions.
"Swimming is a sport about time," Schreiber said. "Just because we moved down a division doesn't mean that I can't go as fast. I can still compete with those in Division 2 and those in Division 1."
::
Jason Schreiber
Born: July 6, 2001
Hometown: Irvine
Height: 5 feet 10
Weight: 150 pounds
Sport: Swimming
Year: Senior
Coach: Pavle Filipovic
Favorite food: Hamburgers
Favorite movie: "Forrest Gump"
Favorite athletic moment: The team-oriented Schreiber enjoyed walking out for the 400-yard individual medley final at the 2018 Speedo Winter Junior Championships and seeing his entire club team, the Nadadores, on the side cheering for him.
Week in review: Schreiber won two individual events in the CIF Southern Section Division 3 finals on May 2 at Riverside City College. He set a meet record in the 200-yard individual medley in 1:49.33. The Pennsylvania-bound senior also won the 100 breaststroke in 55.48 seconds.
::
Support our sports coverage by becoming a digital subscriber.
For more sports stories, visit latimes.com/socal/daily-pilot/sports or follow us on Twitter @DailyPilotSport.
Twitter: @ProfessorTurner
---