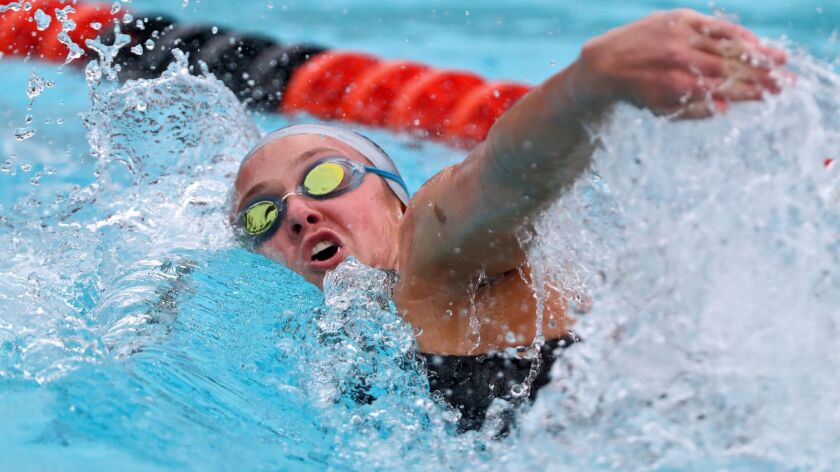 Twin sisters Ayla and Zoe Spitz won't be swimming together much longer.
The Newport Harbor High girls' swimming seniors have made different college choices. Ayla is headed to Cal, while Zoe will swim at Rice University in Texas.
Yet, on the high school stage, they are primed to help Newport Harbor deliver another big season.
There's a reason why coach Ross Sinclair listed "everything" as their stroke specialties. And Newport Harbor has hopes of winning the Surf League title and again placing high in CIF Southern Section Division 1. The Newport Harbor girls were fourth last year despite just having four swimmers — the Spitz sisters, Carly Yasko and graduate Dinny Stevens — at CIF finals.
Kiki Skibby, a water polo player bound for UC Irvine, is another key contributor for the team, which is 2-1 and 1-0 in the league after beating rival Corona del Mar 108-62 on Tuesday.
"Honestly, I just want to have a good season and do my best and swim well in all of my events, but also set a good example for some of the younger girls on the team," said Ayla Spitz, who won the 500-yard freestyle at CIF finals last year and was second in the 200 free. "As a senior, one of my goals is to get everyone excited about swimming, because a lot of these girls are used to water polo and not that used to going to swim meets every week. I want to get them excited about that."
Senior Makana Sanita and junior Reed Stemler lead the Newport Harbor boys in the freestyle events.
The Corona del Mar boys are led by junior Tanner Pulice (individual medley, backstroke and butterfly), senior Wyatt Genc in the breaststroke, senior Akira Morita in the IM and backstroke, and sophomore Carter Park in the butterfly.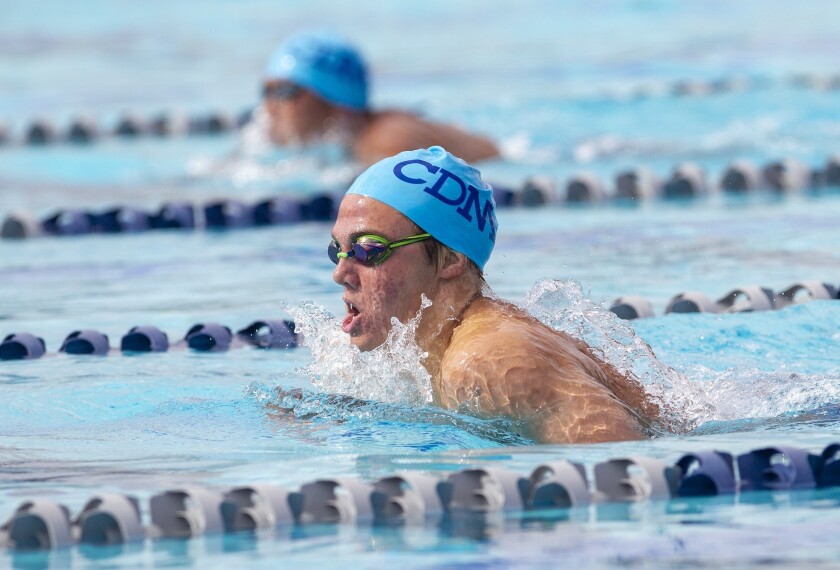 Sophomore Karsyn Cook and junior Leora Rose are top swimmers for the CdM girls.
Edison coach Matthew Whitmore said he sees the Chargers boys as contenders for the Wave League title. Edison is led by Whitmore's son, Taylor, a senior who is the three-time Sunset League champion in the 200 IM, while senior breaststrokers Marcus Dalija and Jakob Otte also contribute.
Delaney Lewellyn, a junior who specializes in backstroke, butterfly and sprint freestyle, is a top returner for the Edison girls. They also have talented transfer Emma Willmer from Kansas, who Whitmore called a potential league champion in the individual medley and the breaststroke.
Whitmore said the top league meet should be April 16 against Huntington Beach. The girls' team has sophomore Maddy Harris as a standout in the backstroke and freestyle, while sophomore Summer West is a force in the distance freestyle events.
"With the way Sunset League has done a new split, I believe the HBHS girls' team will have a much better season than years in the past," Oilers coach Candice Mason said. "We have a lot of depth this year, with the largest team we have had in years. My biggest concern is our meet against Edison being during spring break. We already have a lot of swimmers who will be out of town."
Senior butterfly specialist Sage Matsushima leads the Marina girls, while senior sprinter Madeline Sandstead is another valuable performer.
"Expectations for [Matsushima] include lowering her school records in the 100 fly and back, and placing top three at CIF for the fourth straight year," Marina coach Stephen Wight said.
Junior Stuart Holton leads the Marina boys in the butterfly and backstroke.
Costa Mesa has a young team on the boys' and girls' sides, but coach Tim Postiff likes his talent. Junior Aidan Blair has already automatically qualified for CIF in each event, and Will Harrington is a distance swimmer who Postiff looks to go under five minutes in his first year swimming the 500 free.
The Costa Mesa girls have junior Sey Currie and sophomore Sophie Blair leading the way on the girls' side. Currie is swimming the butterfly and IM, with Blair a distance swimmer.
The Mustangs swept the Battle for the Bell meet against rival Estancia on Wednesday for the fifth straight season.
Junior Sydni White leads Estancia on the girls' side, in the IM and backstroke.
Los Amigos coach Timothy Brogdon said that Joshua Nava (breaststroke and sprinter), Aldo Ibarra (distance) and William Molina (butterfly) are all top swimmers for his boys' team.
Twitter: @mjszabo
---