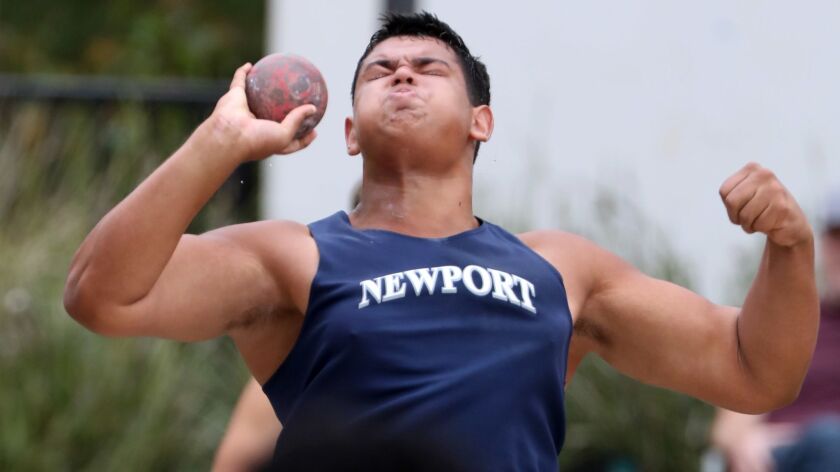 Newport Harbor High's Aidan Elbettar wants local track and field followers to know that this spring's show has already begun.
In a Sunset Conference quad meet at his home throwing ring on Wednesday, Elbettar took the national lead in the discus throw with a mark of 197 feet, four inches.
Elbettar made it a special afternoon, also establishing a personal record in the shotput at 61-4. The junior has produced 60-foot marks in two of his first three starts.
"The first time that I broke it at Santa Margarita [in the Eagle Invitational], it felt kind of cool," Elbettar said. "It was like, 'Hey, I'm the best thrower.'
"After the next two weeks, I got pushed down to seventh place, and just beating it again, I was like, 'I have people snapping at my heels to try to beat me again, so I just want to try to keep it.' "
Last year, Elbettar placed sixth in the shotput to earn a medal in the CIF State track and field championships at Clovis Buchanan High.
In January, Elbettar said on Twitter that he was "humbled" by the early interest he had received from Alabama, Army, Cincinnati, Franklin Pierce, Kansas State, Louisville, Miami, Navy, Oregon, TCU, UC Irvine and UCLA.
One of the area's top track and field standouts made his college decision in December. Marina senior pole vaulter Skyler Magula, who signed with Cal, has much expected of him as a returning state medalist.
Magula will look to build on a junior season that saw him win the Orange County Championships, as well as the CIF Southern Section Division 2 and Masters titles.
After placing fifth at state with a lifetime-best mark of 15-10, Magula said he wants to top 17-2 in his senior season. If he does so, he would surpass Jett Gordon for the Marina school record.
The reigning Daily Pilot Boys' Track and Field Athlete of the Year once said that he wanted to put his school's name up in lights, and he has had help in that department from Vikings junior Alejandra Rosales.
After making it to the Masters Meet last year, Rosales has continued to trend upward by improving his personal-best mark of 136-5 in the discus throw, good for second in the section.
Corona del Mar senior Cole White and Fountain Valley senior Keely Togafau are also throwers to watch.
The area's other returning Masters qualifiers include senior high jumpers Aiden Garnett (Edison) and Jack Wiseman (Huntington Beach).
All of the local Masters Meet bids came from the field last season, but a strong showing by area cross-country runners in the fall gives reason for optimism that local distance runners may make some noise on the track.
A buzz will accompany the Laguna Beach Trophy Invitational on Saturday morning. The Eric Hulst 3,200-meter invitational races will receive three automatic bids into the Arcadia Invitational national meet, with the winner of both races being guaranteed a spot in the invitational heat.
As the Division IV state champion in cross-country, the host Breakers will be heavily represented in the boys' 3,200 invitational heat. Laguna Beach will have Ryan Smithers, Cal Neilson, Mateo Bianchi, Logan Brooks and Sebastian Fisher in the race.
Additional locals competing will be Newport Harbor's Alexis Garcia, Ocean View's Edwin Montes and Corona del Mar's Joseph Cianfrani.
Fountain Valley, which advanced to the state meet in Division I in girls' cross-country, will have three runners in the girls' 3,200 invitational. Ashley Faller, Sara Feitz and Maddie Jahshan are slated to run for the Barons.
Costa Mesa's Diane Molina, a two-time individual state qualifier in cross-country as an individual, will also be among the Arcadia hopefuls.
"It's a good motivation," Molina said of the Arcadia bids. "Everybody wants to get into the Arcadia meet, and everyone wants to run that race because it's such a prestigious race. I'm just looking forward to getting some good times because there are some really good girls [at the Laguna Beach Trophy Invitational]."
Huntington Beach junior Xolani Hodel and Laguna Beach sophomore Majia Shaw provide all-around value in league meets with their ability to compete on the track and in field events.
Edison junior Cori Hoffer returns after sweeping the sprints in the Sunset League finals last season.
Senior Paige Damron should be a force to be reckoned with in the 300 intermediate hurdles.
::
Key Dates
Mar. 16 – Laguna Beach Trophy Invitational/San Clemente Triton Invitational
Mar. 22-23 – Beach Cities Invitational at Huntington Beach High
Mar. 29-30 – Trabuco Hills Invitational
Apr. 5-6 – Arcadia Invitational (national)
Apr. 13 – Orange County Championships at Mission Viejo High
Apr. 19-20 – Mt. SAC Relays at El Camino College
May 4 – CIF Southern Section Preliminaries:
Division 1: at Trabuco Hills High
Division 2: at Moorpark High
Division 3: at Estancia High
Division 4: at Carpinteria High
May 11 – CIF Southern Section Finals at El Camino College
May 18 – CIF Southern Section Masters Meet at El Camino College
May 24-25 – CIF State Championships at Clovis Buchanan High
Twitter: @ProfessorTurner
---