Marina boys' pole vaulter Skyler Magula picks Cal for college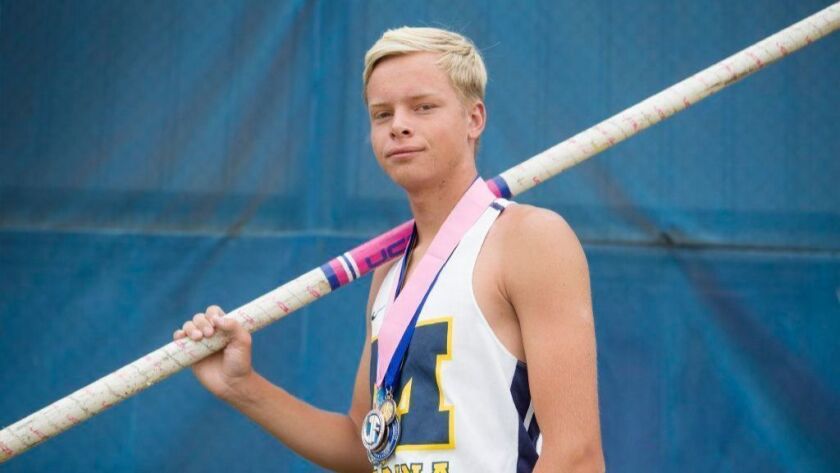 Skyler Magula, one of two returning state medalists in the boys' pole vault, went off the market in December.
The Marina High senior signed with Cal following an official visit to the school last month.
Magula, who has trained under his father, Kevin, as part of the Huntington Beach Higher Flyers pole vault club, said that he was looking for the right match for his next coach, and he also wanted to be challenged academically.
"I didn't really want to go to a school unless it had a good pole vault coach or it was an Ivy League or one of the top educations that I could get," Magula said, adding that he plans to pursue a major in computer science. "I got pretty lucky with Cal because the coach there, we agree on a lot of things, technique-based.
"Berkeley is pretty well-known for being one of the top public schools. That was really the deciding factor."
In his 18 starts as a junior, Magula walked away victorious 11 times. His wins included the Sunset League finals, the Orange County Championships, the CIF Southern Section Division 2 finals, and the Masters meet. Magula also set his new personal-best mark of 15 feet, 10 inches in placing fifth at the CIF State finals.
His brother, Michael, is a pole vaulter for Long Beach State.
Laguna Beach names Tommy Newton-Neal its boys' track and field coach
After spending the last two years as an assistant coach for the Laguna Beach boys' cross-country team, Tommy Newton-Neal has been named the head coach of the Breakers' boys' track and field team.
Laguna Beach boys' cross-country coach Scott Wittkop said he recently broke the news to his team, and Breakers distance-running ace Ryan Smithers endorsed the school's decision.
"What he has done for our program is incredible," Smithers said of Newton-Neal. "First of all, he understands what he is doing with every workout. I know that there can be coaches that just tell their [athletes] to go do a run, but everything he does has a purpose.
"This is why we peaked at the end of the season. He knows exactly what he is doing."
Newton-Neal, who previously ran collegiately at UC Irvine, became known for running with the Breakers during their cross-country workouts. A 2010 graduate of Laguna Beach, Newton-Neal helped the Breakers win a state cross-country title in 2009, and he was the runner-up in the 1,600 meters at the Division 4 finals in 2010.
This season, the Breakers rallied around the idea that they wanted to beat their coach's high school team, and Laguna Beach defeated San Anselmo Sir Francis Drake 68-97 for the CIF State Division IV cross-country title.
Locals named to Team USA Softball Junior Women's National Training Team
Jadelyn Allchin and Kelli Godin have been named to the Team USA Softball 2019 Junior Women's National Training Team.
Allchin, a senior, plays center field for Huntington Beach, which advanced to the CIF Southern Section Division 1 quarterfinals last season. The Washington commit also helped her club team, the O.C. Batbusters Stith, reach the championship game of the Premier Girls' Fastpitch Nationals 18U Premier bracket in July.
As a junior, Allchin hit .457, scoring 34 runs and stealing 18 bases. She also had 13 doubles, seven home runs and four triples out of the leadoff spot.
Godin, a speedy outfielder, was named the Orange County Register's Female Athlete of the Year as a standout in both softball and track and field at Mater Dei. The Seal Beach native was also named a PGF High School All-American. She will play for UCLA this season.
Twitter: @ProfessorTurner
---
All the latest on Orange County from Orange County.
Get our free TimesOC newsletter, coming in August.
You may occasionally receive promotional content from the Daily Pilot.