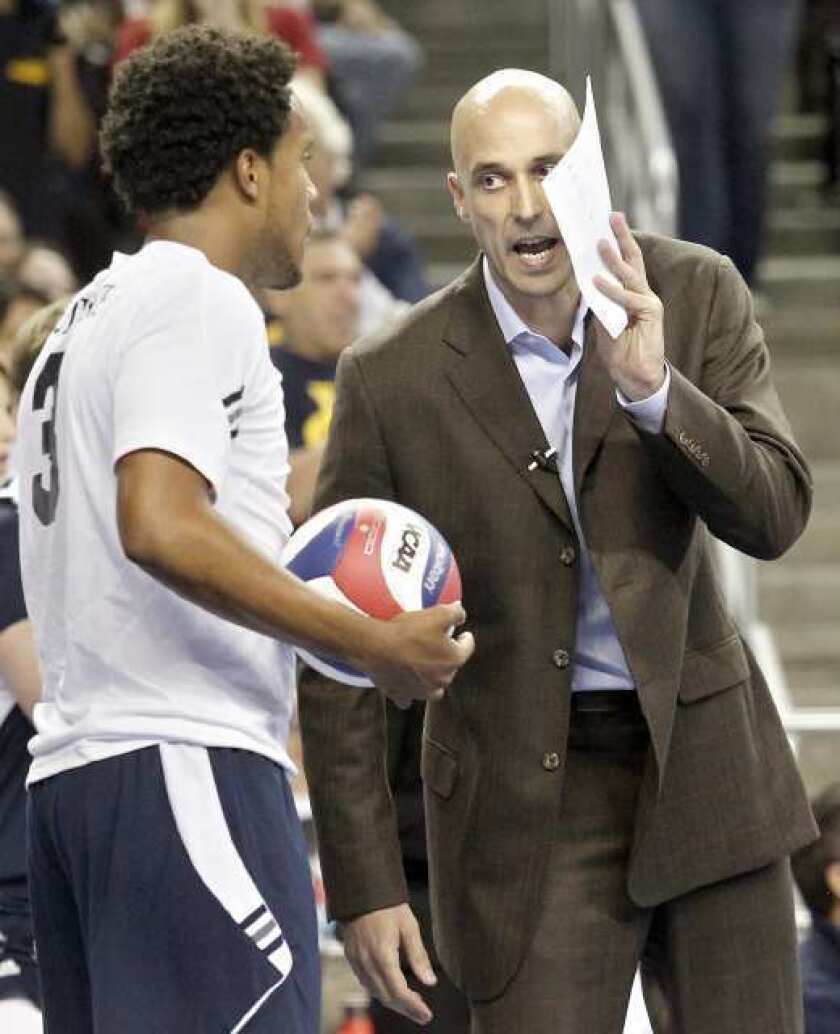 The rumors that had circled him for a decade, formed more ominous clouds in the last 12 months and became tangible clues Monday night, were substantiated Tuesday, when UCLA announced it had hired John Speraw away from the UC Irvine men's volleyball program.
For Speraw, a return to his roots meant tearing asunder a decade worth of foundation for what had become the nation's leading program, with three NCAA titles in the last six seasons.
But ultimately, despite continually touting Orange County as his version of volleyball heaven, home was, and now becomes again, Westwood, where he played and coached under the legendary Al Scates.
Speraw, 199-106 at UCI, which he guided to NCAA titles in 2012, 2009 and 2007, as well as a 2006 Final Four appearance, will take over for Scates, who retired after 50 seasons and 19 NCAA crowns.
"There were a few components to my decision making, but certainly one of those was being back on [the UCLA] campus and walking around, which I hadn't done in 10 years," Speraw said. "I have a great feel for the campus and the people there. It's the same personality, values and character as the people at Irvine, but this is a completely different financial situation [at UCLA]."
Speraw declined to relay specifics, but noted his UCLA contract is for more than five years. It also involves a "considerable" raise in salary.
"I will say that UC Irvine was very generous in trying to counter," Speraw said. "But what was difficult [for UCI] was to try to counter in all aspects of the UCLA program's budget, which is more than double what it was at UCI."
Speraw said the allure of a new challenge was also a factor and he felt that after 10 years, his work at UCI was done. Had all things been equal financially, he said he would likely have still chosen UCLA.
When Speraw choked up while talking about the post-final embrace with assistant coach Mark Presho early in Monday's postseason team banquet at UCI, the players took a mental note that a change may be in the offing. Speraw also elected to pass on making his scheduled closing comments at the banquet and, soon thereafter, informed his players by text message of an 8 a.m. Tuesday meeting on campus.
"We were pretty ready for it," senior All-American Carson Clark said of Speraw's announcement to the players at that Tuesday meeting that he had accepted the UCLA job. "We are obviously sad to see him go, but in the back of our mind, we knew that ultimately [coaching UCLA] has been his ultimate dream ... his ultimate goal in life."
Speraw had long been rumored to be the heir apparent to Scates, but his growing legacy at UCI, as well as his desire to also become head coach of the U.S. men's national team, combined to create uncertainty as to his future employment. Speraw, who made his decision to take the UCLA job on Saturday, was an assistant on the U.S. team that won gold at the Beijing Olympics in 2008 and will have the same role at the 2012 Olympics in London.
Speraw said his aspirations of becoming head coach for Team USA are postponed indefinitely.
"He always wanted to go back to UCLA, but that dream had been drowned out by the possibility of coaching the national team," said Jeremy Dejno, a first-team All-Mountain Pacific Sports Federation outside hitter as a UCI sophomore this season. "But obviously, UCLA offered him a good deal to pull him away from the legacy he created at UCI."
Speraw's legacy at UCI includes: MPSF titles in 2012, 2009 and 2006; National Coach of the Year honors in 2006 and MPSF Coach of the Year laurels in 2012 and 2006; a No. 1 national ranking during the season in 2012, 2009, 2007, 2006 and 2003; and a top-15 ranking in the American Volleyball Coaches Assn. poll for the last 118 consecutive weeks. During his tenure, UCI players earned All-American recognition 21 times and he was a finalist three times for National Coach of the Year.
"Looking back now, to have been to four Final Fours and won three of them, is way above and beyond what I thought possible when I came to Irvine," Speraw said. "We're all competitors and we want to win but, being honest, that's incredible for any team in any sport. I remember leaving UCLA 10 years ago and seeing an NCAA Championship trophy on someone's desk. I remember saying 'Whoa, it may be a while before I see one of those again.'"
But the players, Speraw and his assistants acknowledged that the UCI program became about more than winning.
"[Speraw] has meant everything to UCI volleyball," said Clark, a four-time All-American who was a big part of the 2009 national title winner. "The program was nonexistent on the national radar before he came here. He does such a good job with volleyball, but he also changed the culture here. He made us a family and he made us [players] all men."
Protecting that culture is a major concern for departing and returning players alike, Clark and Dejno said.
"Some guys want to be part of the committee to interview [prospective replacements]," Clark said. "I would like to be part of that, to make sure get the right person, the right fit."
Said Dejno: "There is a lot of responsibility on us as players to continue to hold the team together without Speraw and to try to create results. I think we can."
Dejno said David Kniffin, a former assistant who left following the 2011 season to become a women's assistant at Illinois last fall, would be his No. 1 choice to succeed Speraw. But Dejno said after a returning player called Kniffin Tuesday morning to tell him about Speraw's decision, Kniffin, a former setter for the Anteaters, indicated he might not be willing to leave his current position.
Presho, who coached around his schedule with a full-time job off campus, is not believed to be a candidate to succeed Speraw.
Speraw said he hoped both Presho and Kniffin would be considered, but he had not imparted those wishes to UCI administration.
UCI Athletic Director Mike Izzi said a national search will ensue for the next coach.
"I am confident we will be able to attract a high-quality pool of candidates with the foundation that [Speraw] has built at UCI," Izzi said in a statement. "We are extremely grateful to him for his outstanding efforts and the national exposure he brought to our program, and wish him the best in his future endeavors."
Those endeavors figure to include returning to UCLA, which won its only national title in the last 12 seasons in 2006, to national supremacy.
"[Speraw] said it wasn't about money, but that it was more about UCLA having the resources for him to get the coaching staff he wants to really make a dominant team over there," Dejno said. "UCLA got a lot better [by hiring Speraw]. But it may take some time to establish his system, so I don't think UCLA, which also lost three very good senior players, will be exponentially different next season. It will be interesting to see how it works out there."
Twitter: @BarryFaulkner5
---