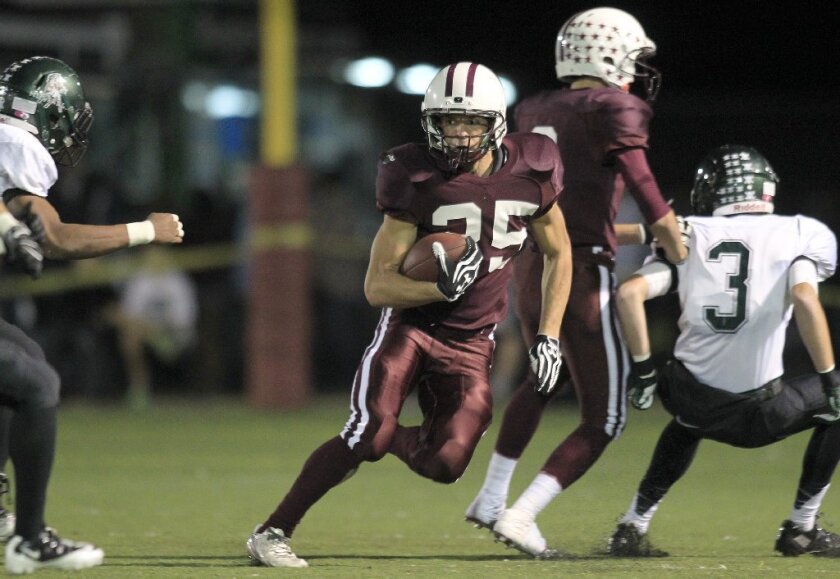 During the final half of the 2013 prep sports year at Laguna Beach High, league championships were plentiful. So, too, were individual achievements from the fields and courts, to the water.
Below are some of the key highlights turned in by Laguna Beach teams in the past three months.
—
September through December
Laguna Beach entered its 79th season of football under a new head coach, Corey Brown. The Breakers won their first three games of the season and were ranked in the Top 10 of the CIF Southern Section Southern Division poll, and finished nonleague play 3-2. They then began defense of their Orange Coast League title and won their first two league games, but losses in their final three games prevented a return trip to the CIF playoffs.
The Breakers scored 30 or more points in seven games, opened league play with three games scoring 50 or more points, and ended the year 5-5.
Jack Simon, in his first varsity season, set two new school records for a sophomore quarterback: most passing yards (996), and passing rating (117.3). Another varsity rookie, freshman kicker Bruce Knill, hit 25 point-after kicks to move into the eighth spot for conversion kicks in a season. He had 31 kick scoring points which ties him for No. 11 in a single season, and 14th on the all-time career list.
Then there was varsity veteran Nathan Lancaster who ended his career in November as the program's career rushing leader in several categories. On one, special Oct. 24 night at Jim Scott Stadium at Estancia High, Lancaster rushed his way into the Orange County football record books.
Lancaster shattered the Orange County record for single-game rushing yards when he ripped, roared and fought his way for 547 yards in a 62-56 overtime loss to Calvary Chapel. He also reached the end zone seven times on 30 carries. Lancaster broke the county record when he scored on a 68-yard run with 2:41 remaining in the fourth quarter.
"Amazing," and, "unbelievable," were the same two words both Brown, and former Laguna Coach, Mike Churchill, used when describing the speedy, 6-foot, 185-pound running back's performance against Calvary Chapel.
Lancaster said he had no idea that he had set the record. He found out after the game that he had, by 20 yards, eclipsed the old county record of 527 rushing yards set by Skyler Champion of Foothill in a 1999 game against Orange.
"I went online, and saw on the L.A. Times website, what I had done," Lancaster said. "To be honest, I was shocked. I didn't expect that many yards. I thought I had, maybe, 300 yards. I definitely was surprised."
Not only is the 547 yards a new county mark, they also now rank second in CIF Southern Section history, behind the 619 yards Ronney Jenkins of Hueneme ran for against Channel Islands during the 1995 season.
Also in that amazing performance, he set three other Laguna Beach single-game records: first-half rushing yards (291 on only 11 carries), touchdowns (seven), and points scored (44).
"Our [offensive] line was doing a great job, and so was (running back) Andres [DeLaRosa] who was kicking it out at fullback," Lancaster said. "They were opening up holes, and I just found them and took off. It was all clicking. Our entire team gave it their all out there, on every play, to the very last play. The only thing I take away from the game, is that we left everything on the field."
For the season, the Breakers produced 370 points in 10 games, the third-most points for a season in program history. Their five wins tie at No. 24 for most wins in a season.
—
•The Breakers won the fourth girls' golf title in school history and first for Head Coach Scott Finn, as well as the first title in the Orange Coast League. Laguna won its first league championship in 2007 by taking the Golden West League title with a 10-0 record. The Breakers were co-champs in the GWL in both 2008 and 2010. All three titles came under then-head coach Valorie Quigley.
The 2013 Breakers went undefeated (12-0) against league competition, marking only the second time a Laguna team has not lost a league match in a single season.
Laguna, which finished the regular season 13-4, represented the league at the CIF Southern Division Team Championships at Costa Mesa Country Club.
At the OCL finals tournament, junior Mary Kate Quellmalz, and senior Jackie McMahon, finished second and third, respectively, to qualify for the CIF Southern Section Ford Individual Regionals. In addition to Quellmalz and McMahon earning first-team all-league honors, Murphy Thompson finished seventh, Audrey Curtis ninth, and Leslie Dwight 11th, to gain second-team all-league status.
Both Quellmalz and McMahon qualified for the CIF Southern Division Individual Regional tournament in late-October.
"Head Coach Scott Finn and I are extremely proud of Mary Kate [Quellmalz] and Jackie [McMahon] both qualifying for CIF playoffs," Laguna Assistant Coach Sean Quigley said. "It has been a goal for each of them all season, and it's really satisfying as a coach to see players perform well under pressure and live up to expectations.
"The same can be said for our team. Going into the season we had five returning starters, so Scott and I knew this team had the skill and depth to win the league title. As coaches, we just had to get them practicing the right things, keep them focused and give them an opportunity to play up to their potential, which they did.
"So, overall, we're really stoked for the girls. These girls have basically been playing together as a team for the last two years and because of the commitment and effort each of them made this year, they will always know they earned the title of 2013 Orange Coast League champions."
—
•In the first year under new coach Raul Papaleo, the girls' volleyball team maintained a top-three ranking in CIF Southern Section Division 1A throughout the season, and the Breakers would claim their ninth consecutive Orange Coast League title. They did so in October by sweeping visiting Calvary Chapel.
The Breakers went to 8-0 in league and took a 17-9 record into postseason play. They have won 80-straight league matches and won a league championship for the 33rd time in 40 years.
"It's always a good feeling to win a league championship," Papaleo said. "It's my first year, and there was a little bit of pressure, as I knew that this program hasn't lost a league match in a long, long time. We still have two matches to go so hopefully, we can take care of business."
Laguna (20-10) took a No. 2-seeding into the playoffs but were eliminated from title contention following a second-round loss at San Juan Hills.
—
•Perhaps the greatest challenge facing the girls' tennis team in 2013 was a slew of injuries that prevented the Breakers from achieving their true potential. Despite losing one player (defending Orange Coast League singles champion, Brooke Michaels), early to a season-ending injury, and having other players out of the lineup due to injury, the Breakers still managed a perfect run (10-0) through OCL competition en route to another league title.
Laguna went into the CIF Southern Section Division 2 playoffs as the tournament's co-No. 2-seed, won its first two postseason matches before being eliminated by Beverly Hills in the quarterfinal round.
They finished the year 14-4.
"Injuries were a big part of our season but the girls played well all season long, and bounced back from those injuries," said Coach Don Davis who has led the program to three consecutive league titles. "I'm proud of this team and proud that we made our way to the quarterfinals."
The Breakers also dominated the two-day Orange Coast League finals tournament. In all-Laguna finals in both singles and doubles play, No. 1 singles seed Kira Hamilton, and the No. 2-seeded doubles team of Madeline Loomis and Sarah Nederlander, captured their respective division crowns.
Six Breakers also earned a spot for the CIF Individual Qualifying Sectionals in late-November. Making the tournament list were Hamilton (out due to injury), OCL singles runner-up Ashley Shelton, and the doubles teams of Nederlander/Loomis, and league runner-up Bailey Jaeger/Natasha Keces.
—
•The Orange Coast League championship again was secured by the boys' water polo team.
On the final day of the league and regular season in early-November, the Breakers, ranked sixth in CIF Southern Section Division 2, clinched the title by defeating visiting Costa Mesa, 18-4, in a game on Senior Day that decided the 2013 champion.
Laguna took a 17-11 record into postseason play. There, the Breakers defeated Damien, and No. 4-seeded Villa Park, to reach the division semifinals at the William Woollett Jr. Aquatic Center in Irvine. In the second of two division semifinal games, the Breakers took top-ranked champion Agoura to the limit, before falling, 8-6, to the Chargers who three days later, defeated Foothill to win its fourth consecutive section title.
The Breakers rallied from a 5-2 halftime deficit, to tie the score in the second half.
What did the second-half effort tell Coach Ethan Damato about his team?
"What I already knew. They are tough-minded, scrappy guys who never give up," he said. "They came out and played really well in the second half and got back in the game."
Laguna had its season end at 19-12. The Breakers also reached the semifinal round last year in their first year in the division, and was making an appearance in the semifinal round of the playoffs for the sixth time in Damato's six years as head coach.
—
A season-long goal of making a trip to Fresno on the final day of November, came to fruition for the boys' and girls' cross-country teams.
Both Laguna teams earned a ticket to compete at the CIF State Cross-Country Championships (Division 4) at Woodward Park Nov. 30, each by running to a top-five finish at the CIF Southern Section Cross-Country Championships finals the week prior at Mt. San Antonio College in Walnut.
The Laguna boys' team finished in second place in the Division 4 competition, and the Laguna girls' team took fourth in Division 4, at CIF finals.
The boys' team, which returned to Fresno for the first time in two years, turned in a team time of 1 hour, 21 minutes, 29 seconds, which Coach Scott Wittkop said was the second-fastest team time in school history.
"This was a team performance and I could not be happier for their success," Wittkop said.
Cameron Zuziak achieved All-CIF status with a run of 15:42 which landed the junior in ninth place. Wittkop said Zuziak's time was the second-fastest all-time time for a Laguna runner on the Mt. SAC course. Other finishes for the Breakers were: senior Casey Koprowski, 16:04, 16th place; sophomore Mason Pitz, 16:29, 37th; senior Veda Rebollar, 16:30, 38th; junior Grant Barton, 16:44, 50th; senior Ian Ring, 17:15, 79th, and sophomore Drake Butler, 17:24, 87th.
The Laguna girls' took fourth among 16 teams at CIF finals and in the process, set the all-time top team time (1:38:06) in school history at Mt. SAC, Coach Steve Lalim said.
The Breakers last qualified for the State meet in 2011 and finished in sixth place.
"I am so excited for the girls," Lalim said. "Our goal this season was to qualify for the State meet, and we met that goal. We've put ourselves in a position compete for a state title. Anything is possible at the State meet."
Freshman Kirsten Landseidel led the Breakers at CIF Southern Section finals with a time of 19:05 and a 15th-place finish. Other Laguna times included: junior Brenna Merchant, 19:28, 26th, sophomore Pearl Shoemaker, 19:36, 32nd; junior Natalie Kimball, 19:51, 40th; senior Eliza Romero, 20:06, 47th; junior Janie Crawford, 20:12, 52nd, and freshman Greer Jacobs, 20:16, 53rd.
Both Laguna teams headed to CIF prelims and finals competition having won Orange Coast League championships Oct. 30 in their last performances of the regular season. The Laguna girls have won the league title two-straight years, and in six of the last seven years.
At the OCL Championships, Kimball (18:19.32) won the varsity girls' race and paced six Breakers who finished in the top 10. Second place was taken by Merchant (18:23.29). Landseidel (18:36.07) was fourth, Crawford (18:38.57) fifth, Shoemaker (19:19.24) ninth, and sophomore Taylor Alvarez (19:22.16) took the 10th spot.
The boys' team ran its top seven runners once this year, at the Oct. 30 OCL Championships, and the Breakers captured the varsity team title. In the boys' varsity race, six Breakers finished in the top 10. Rebollar took first place and the title with a run of 15:18.22. Zuziak was third (15:27.44), Koprowski placed fourth (15:33.07), Butler (16:02.94) and Pitz (16:10.46) took the seventh and eighth spots, and Barton (16:23.24) finished ninth.
"The turning point for our season was our leadership retreat in July," Wittkop said. "That is where we defined what success means and they have worked hard every day to obtain that success."
---