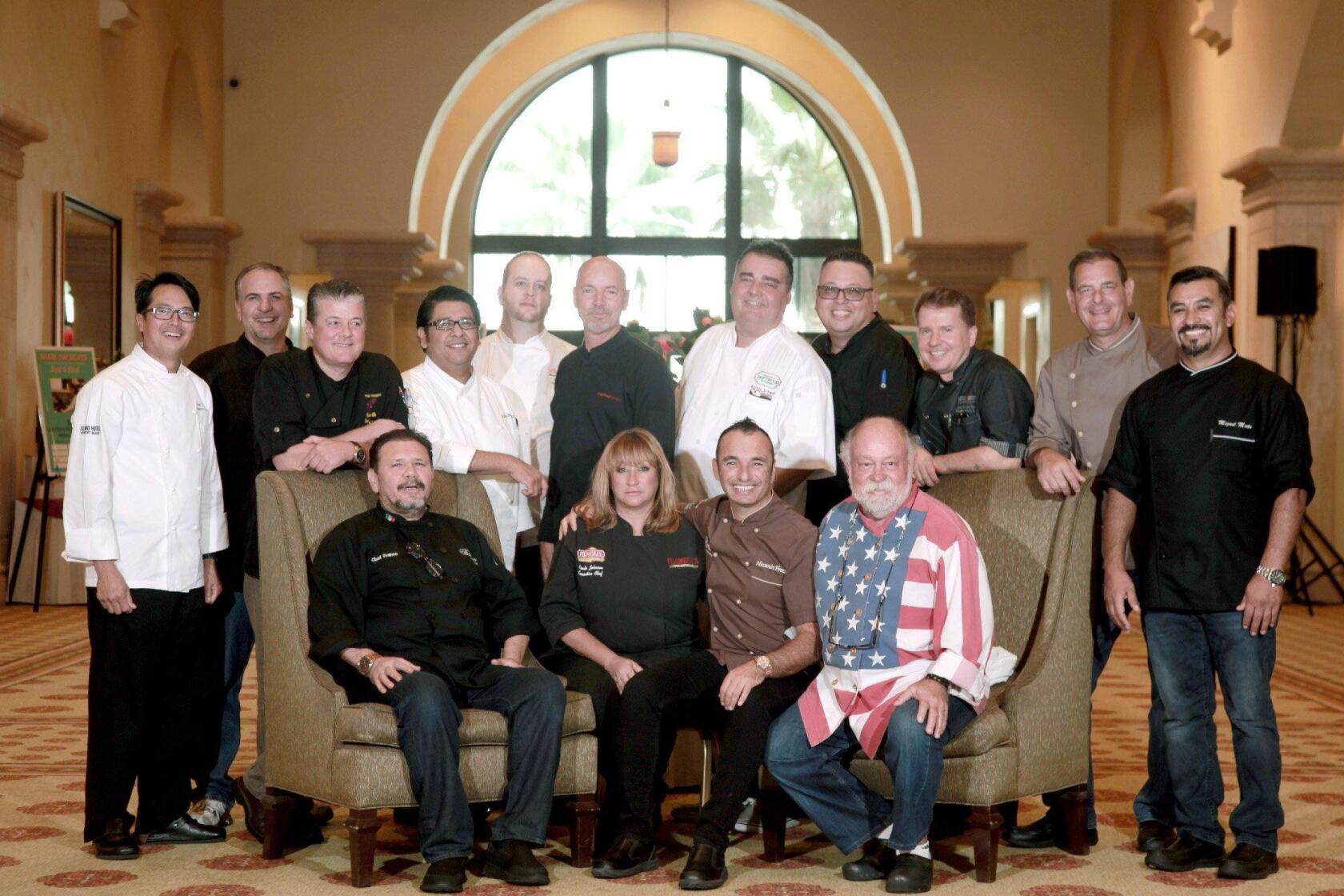 SOS Celebrity Chefs participating in the Share Our Selves annual Celebrity Chefs Dinner gather for a group photo.
(Hand In / Andy Templeton)
Share Our Selves supporters Ashlee Eagle, Victoria Rossman and Jake Rossman at Celebrity Chef Dinner.
(Hand In / Andy Templeton)
Supporting SOS at the annual Celebrity Chef Dinner are Simon and Kelly Terry-Lloyd, with SOS Foundation Board member Julia Coleman and husband Brad Coleman.
(Hand In / Andy Templeton)
Pam Shambra and Catherine Thyen at National Philanthropy Day luncheon.
(Hand In / Ann Chatillon)
Jim Mazzo, NPD-OC Co-Chair Julia Foster, Legacy Award honorees Tom and Elizabeth Tierney, Kelly Mazzo, NPD-OC Co-Chair Catherine Spear at 2016 National Philanthropy Day luncheon.
(Hand In / Ann Chatillon)
Outstanding Philanthropist Sandra Jackson, Outstanding Youth Vanis Buckholz, Outstanding Founder Laura Davick honored at National Philanthropy Day luncheon.
(Hand In / Ann Chatillon)
Tim Bauer, Executive Director of Development, Olive Crest Orange Region, Honoree Girl Scout Grace Cross, and Olive Crest Trustee Debbi Hensling.
(Hand In / Ann Chatillon)
Donald Verleur, Olive Crest CEO, Gary Taylor, Orange County Director of Children & Family Services, Grace Cross, an Outstanding Girl Scout and Role Model, and Dennis Kuhl, Chairman Angels Baseball.
(Hand In / Ann Chatillon)
Tim Bauer, Executive Director of Development for Olive Crest ,Orange County Region, Candace Cox, Heidi Lynn, Christie Frazier, Debbi Hensling, Karyn Shelly, Kylie Schuyler, and Chairman of Olive Crest's Board of Trustees Steven Bernardy.
(Hand In / Ann Chatillon)
It was a day to honor big givers. Philanthropists of Orange County came together to celebrate the 21st annual National Philanthropy Day over lunch at the National Grove of Anaheim.
The event, organized and hosted by the Assn. of Fundraising Professionals, drew more than 800 guests to honor an impressive roster of activists.
Co-chairs and judges Janet Ray and Rich Smetanka reviewed 107 nominations for the annual honors. Ultimately, nine awards were presented. Among those recognized were Elizabeth and Thomas Tierney of Coto de Caza, Sandra Jackson of Newport Beach, Nancy and Irving Chase of Irvine, and Laura Davick of Newport Coast. Corporate honorees are the Bascom Group, Irvine; Fluidmaster Inc., San Juan Capistrano; Pacific Life, Newport Beach; and Vanis Buckholz, Corona del Mar.
One of the O.C.'s most visible and generous activists, Sandy Segerstrom Daniels, managing partner at CJ Segerstrom & Sons, served as the event's honorary chair. Emcee duties were in the capable hands of PBS SoCal's Maria Hall Brown and KTLA 5 newsman Henry DiCarlo.
The O.C. chapter of the Assn. of Fundraising Professionals is one of 250 across the nation that represent some 30,000 citizens making a major impact day in and day out for others in need.
To learn more, visit npdlove.com.
A quarter century of caring
The 26th annual Share Our Selves Celebrity Chef Dinner unfolded at the Hyatt Regency Huntington Beach Resort & Spa, attracting a ballroom crowd of 300 donors being served amazing multiple-course dinners created by top chefs from O.C. dining rooms working together.
On the culinary team were Franco Barone, Michael Bech, Adam Feirman, Miguel Mata, Yvon Goetz, Alan Greeley, Linda Johnson, Manfred Lassahn, David Man, Eric Mikel, Alessandro Pirozzi, Rainer Schwarz and Paul Squicciarini. Highlights of the five-course feast included an appetizer of Skull Island Shrimp Escabeche, a pasta course of fresh orecchiette with spinach, topped with crispy pork belly, and a fabulous dessert cake made with Guanaja citrus cremeux and milk streusel orange cream.
The lavish dinner presentation was generously sponsored by leading community service providers such as Hoag Memorial Hospital and St. Joseph Health, and caring donors including Dr. Richard and Sandra Haskell, Michael and Diane Stephens, and the Frome family, among others.
Spotted in the crowd were organizers Gaye Besler, Karen McGlinn and Cindy Tusch, joining SOS sponsors Marc and Lura Harper, Geoffrey and Nancy Stack, and Larry and Dulce Kugelman.
A "fund a need" call for donations raised an impressive $48,000 in just five minutes for the SOS food pantry, which offers healthy food for homeless individuals and families in the O.C.
Learn more about the work of SOS by vising https://www.shareourselves.org/.
Olive Crest's Power of One luncheon
The Westin South Coast Plaza Hotel welcomed 340 guests of Olive Crest for the annual Power of One luncheon. Olive Crest VIPs in attendance included Kerri Dunkelberger, executive director, and Tim Bauer, executive director of development.
Olive Crest finds its purpose in caring for adopted and foster families, with special emphasis on assisting abused, neglected and abandoned children in crisis.
Recognized for their commitment to the cause, four awardees at the 2016 event were Dennis Kuhl, chairman of Angels Baseball; Gary Taylor, O.C. director of Children and Family Services; Grace Cross, a local Girl Scout raising significant funds for Olive Crest; and Safe Families for Children of Orange County.
The afternoon gathering featured an address by inspirational speaker Patrick Combs, best-selling author of "This Surprising Life." Local sponsors were Toyota of Huntington Beach, Union Bank, the Frome Family Foundation, HUB International and Jacobus Consulting, plus individuals including Howard and Olivia Abel, the Steven Bernardy family, and Jeff and Shannon Mathews, among others.
To learn more about Olive Crest, go to https://www.olivecrest.org/.
Romancing the grape
Wine dinners have become a staple of the good life. In the O.C., clubs, hotels, restaurants and many organizations sponsor elaborate seasonal wine invitations to delight the crowd.
The Balboa Bay Resort in Newport Beach announced that its 2017 Wine and Spirit Dinner Series will kick off Jan. 25 with a media reception in its signature dining room, Waterline.
Then, beginning Feb. 10, the annual series will feature a wine dinner with Justin Vineyards. The roster continues through the year with notable grapes from Joseph Phelps, Far Niente, Nickel & Nickle, Moet Chandon, Dom Perignon, St. Germain and more. The events will feature a gourmet dinner prepared by executive chef Rachel Haggstrom, along with presentations by vintners and other experts as well as celebrity guests.
The public is invited. For pricing and reservations, call (877) 259-8537.
B.W. COOK is editor of the Bay Window, the official publication of the Balboa Bay Club in Newport Beach.
---