Jury swiftly chooses death sentence for Wozniak in dismemberment and cover-up murders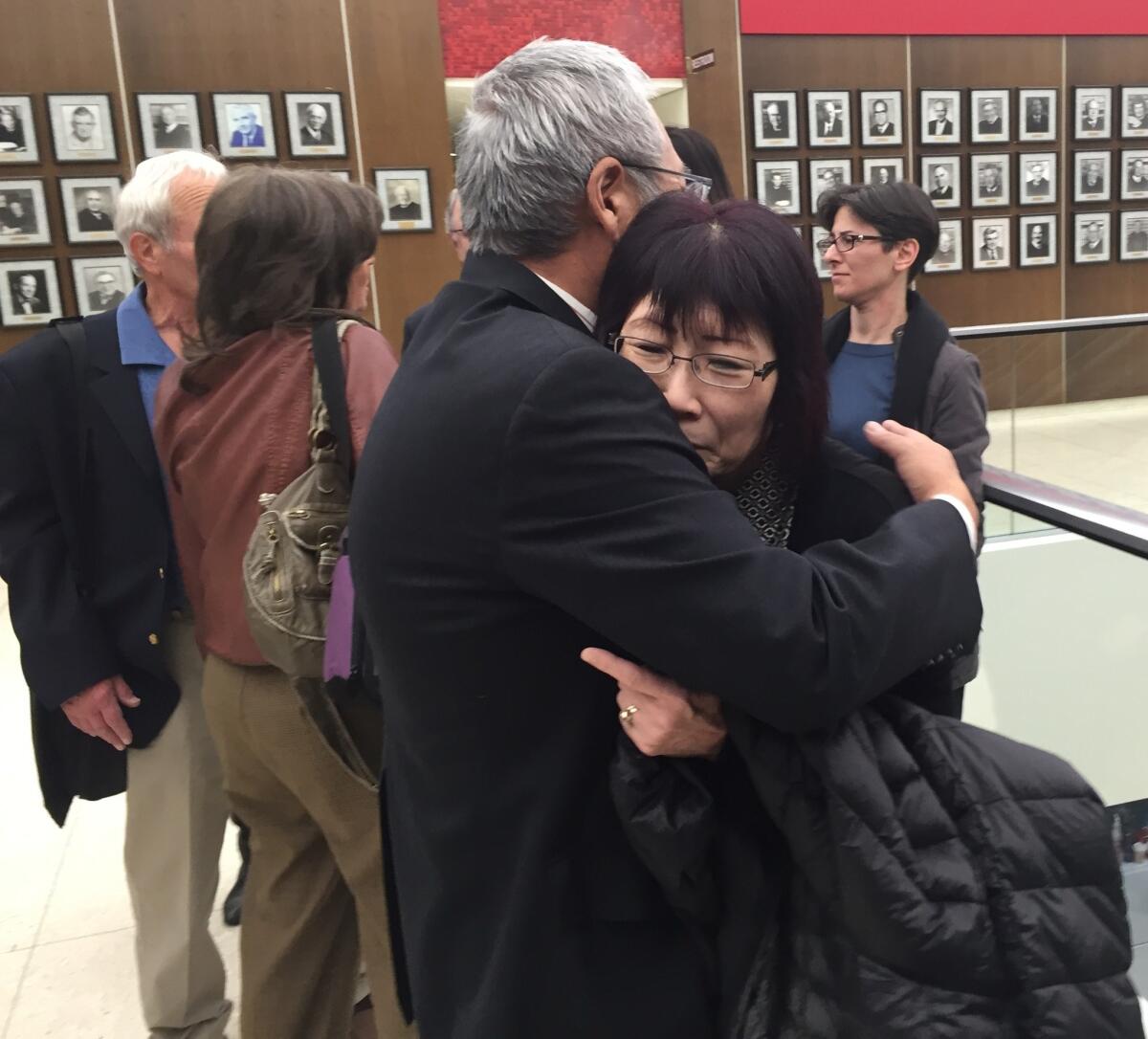 After just more than an hour of deliberations Monday, an Orange County jury recommended that convicted murderer Daniel Wozniak be put to death for two killings and a gruesome cover-up that included beheading one victim's body and staging the other to look like she had been sexually assaulted.
June Kibuishi, the mother of victim Juri "Julie" Kibuishi, sobbed against her husband's shoulder Monday afternoon as the verdict was read in Superior Court in Santa Ana. Had jurors chosen to spare Wozniak the death penalty, the alternative would be life in prison without parole.
Judge John Conley is scheduled to render Wozniak's official sentence March 11.
In May 2010, the body of Julie Kibuishi, 23, was discovered in a Costa Mesa apartment, shot twice in the head. Her jeans had been ripped away as if someone had tried to rape her. She still wore a tiara that her brother had given her hours before she was killed.
More than five years later, her mother clasped a ring hanging from a chain on her neck, the only item from her daughter's body that medical examiners returned to her.
"Now it's over," June Kibuishi said.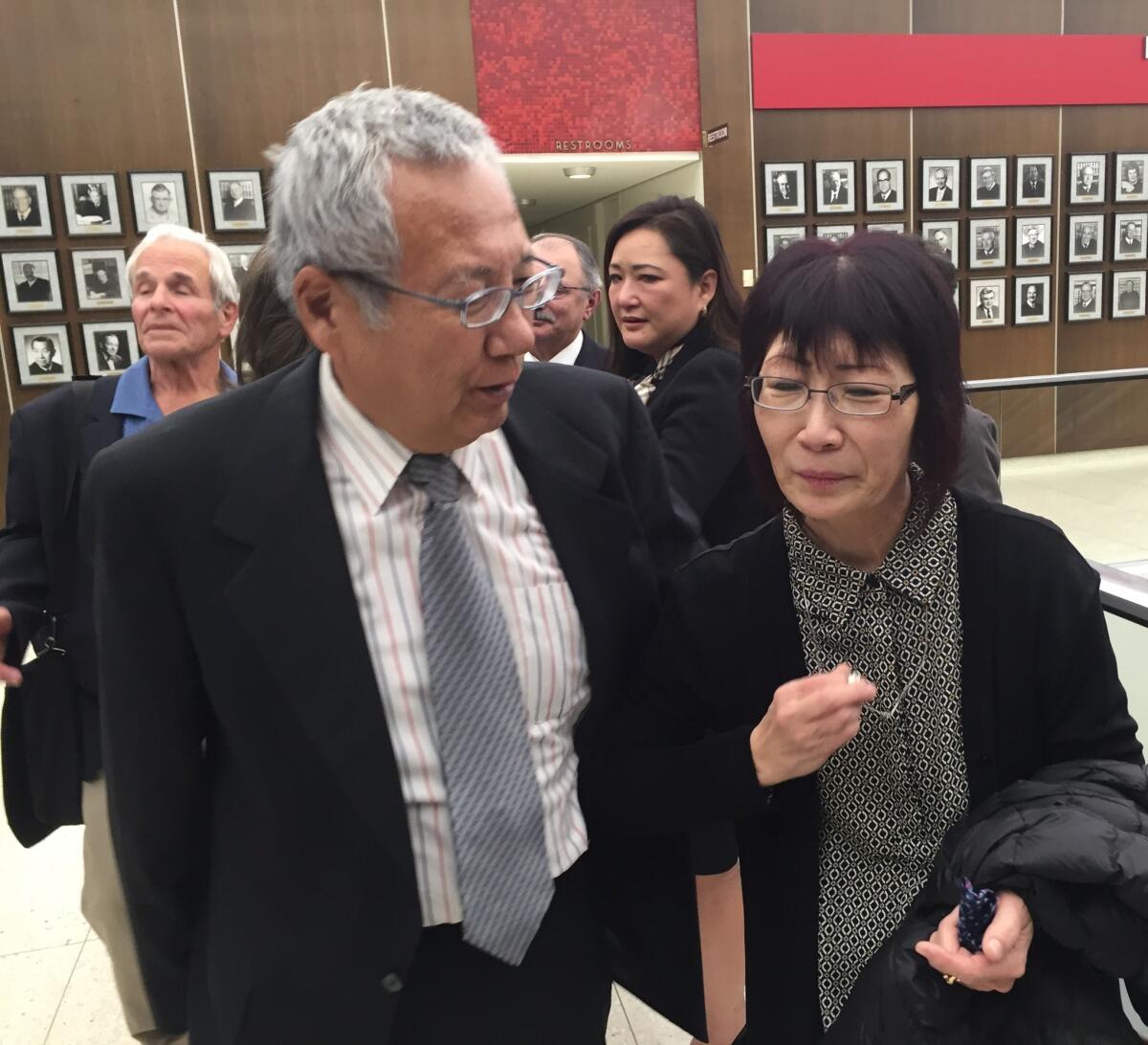 Wozniak, 31, a community theater actor from Costa Mesa, was convicted Dec. 16 of killing Julie Kibuishi and her friend, 26-year-old Army veteran Sam Herr.
The victims' families said Monday that they were relieved at the jury's swift decision on the sentence.
"One hour, that tells you something," said Herr's father, Steve.
After the verdict, jurors hugged the Herrs and Kibuishis in the hallway.
In a news conference, Orange County District Atty. Tony Rackauckas said he can't remember a jury returning a faster decision on capital punishment.
Jury forewoman Jenny Wong said the verdict was reached so quickly because of an "utter lack" of mitigating factors in the killings.
According to prosecutors, Wozniak was desperate for money to cover his rent and fund his upcoming wedding and honeymoon.
So Wozniak, they said, hatched a plot to kill Herr, his neighbor, to steal $62,000 that Herr had saved from his military service in Afghanistan.
On May 21, 2010, Wozniak shot Herr twice in the head in the attic of a Los Alamitos theater where Wozniak was an actor, according to testimony from detectives and a videotaped confession from Wozniak. He then used Herr's phone to send messages to Kibuishi to lure her to Herr's apartment, where he shot her to death.
The next day, according to prosecutor Matt Murphy, Wozniak returned to the apartment and staged Kibuishi's body to look like Herr had sexually assaulted her and fled.
Wozniak tried to hide Herr's body by using an ax and a saw to remove the head and some limbs before dumping the parts in a Long Beach park.
Police arrested Wozniak days later at his bachelor party after ATM withdrawals from Herr's account led them to him, authorities said.
When Wozniak learned in a jailhouse phone call with his fiancée that police would soon find the murder weapon, he admitted to both killings.
Jurors watched video of the confessions during Wozniak's trial in December.
"I'm crazy and I did it," Wozniak told detectives.
"Mainly it was the money, and it seemed so easy," he said when investigators asked why.
The detectives asked if there was any other reason.
"And lack of adventure," Wozniak said.
Wozniak's lawyers did little to contest his guilt, but in the penalty phase, public defender Scott Sanders made a case that Wozniak's fiancée, Rachel Buffett, bears some responsibility for the slayings.
Buffett, Sanders said, perpetuated a lie before the murders that Wozniak owed money to loan sharks who would harm him if he didn't repay them.
And Sanders highlighted police officers' testimony that they believe Buffett had a role in planning the cover-up, including Kibuishi's murder, though detectives have said they cannot prove it.
"You're going to see very soon, she's the smarter of the two by far," Sanders said.
Buffett has not been charged with either murder but is facing trial on charges of accessory after the fact on allegations of lying to police.
Wong said jurors rejected the idea that any involvement by Buffett could somehow minimize Wozniak's conduct.
"We felt that was just smoke and mirrors," she said.
Last week, jurors listened as the families described the pain of having their loved ones ripped from them.
Steve Herr testified that he clings to the image of his son's dismembered body stitched together at a mortuary. He said it is a reminder of the evil he believes exists in Wozniak.
"I never, ever want to forget it," Herr said.
He testified that he keeps the television on when he goes to bed at night to distract him from his anger.
After Monday's verdict, he said that only the next few weeks or months will tell if that anger will subside.
"I'll still be watching TV," he said. "I really do hope I can sleep better."
ALSO:
Man charged with murdering 19-year-old found at Irvine construction site
Man sentenced to 6 years for running Irvine brothel and others