Edison High business students are off to Washington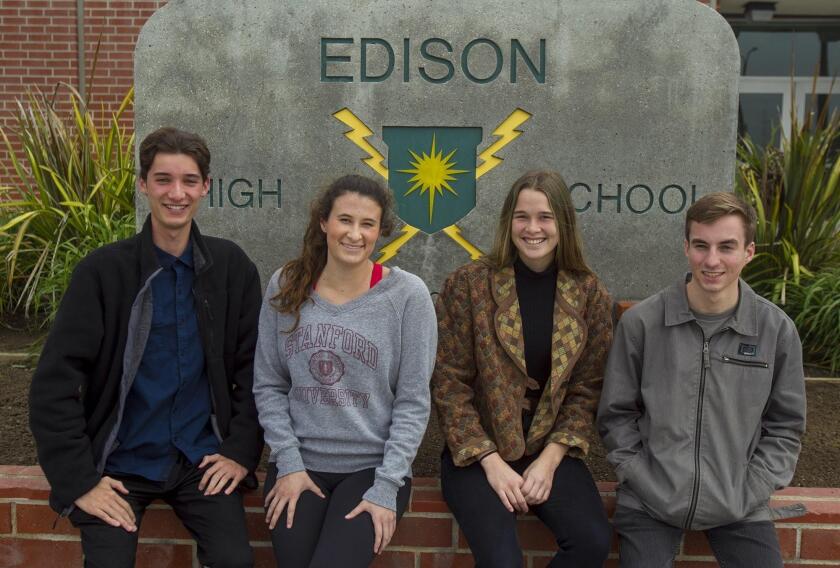 When students in Edison High School's Center for International Business and Communications Studies started to develop product and business ideas for their senior projects, Thomas Mays began work on something he could sell his classmates on — an eight-day trip to Washington, D.C., that they will embark on Saturday.
For nine months, the senior at the Huntington Beach campus put his writing, networking, time management, negotiating and presentation skills attained from Edison's center to use while planning the trip for him and his 35 fellow seniors in the program, plus three of their siblings, four teachers and three parent chaperones.
"Organizing the trip was definitely a project in itself," said Mays, who plans to major in finance when he attends college.
This is the seventh annual trip for seniors in the four-year CIBACS program, but it's the first time all will be attending.
"Some students [in the past] just chose not to go or they couldn't afford it," said CIBACS teacher Bob Strachan. "But what Thomas has done is develop a product at a price point that everyone can afford."
Each year, students in the program can apply to coordinate the trip. The destination depends on the teacher and the organizer.
Mays announced to his classmates in June that they would be going to the nation's capital.
"We all got pretty excited," senior Ryane Bradbury said. "It's something we've been looking forward to since freshman year."
Mays negotiated with airlines, hotels, restaurants and ground transportation and touring companies to arrange the six days the students will spend in Washington. He also gave two presentations about the trip to his classmates and their parents.
"One was to convince them on why they should go on the trip, and another was to let them know what they need to bring for the trip," he said.
"If it weren't for this program, I probably wouldn't even stand in front of 10 people to give a presentation, let alone a hundred," Mays said with a laugh. "It's given me the confidence and courage to do these things."
He also used contacts through school, family and Rep. Dana Rohrabacher's office to arrange visits for the class with American Council of Life Insurers President and Chief Executive Dirk Kempthorne and federal appellate Judge Raymond Chen.
Of the many skills students say they learn in CIBACS, time management is an essential one for their senior projects.
"A majority of us have after-school activities, jobs, sports," said senior Jordan Wetzel, whose project is to publish a book to help children who have lost siblings to cancer.
During their freshman year, students in the program are tasked with creating a marketing plan to take a real U.S. business to a foreign country and pitch the plan to the business owners.
During their sophomore year, they develop products to pitch to company executives. As juniors, they job-shadow or intern in fields they are interested in.
"We don't do it for the grade," senior Kevin Moreland said of the program. "We do it to learn how to do something useful."
Twitter: @AlexandraChan10
---