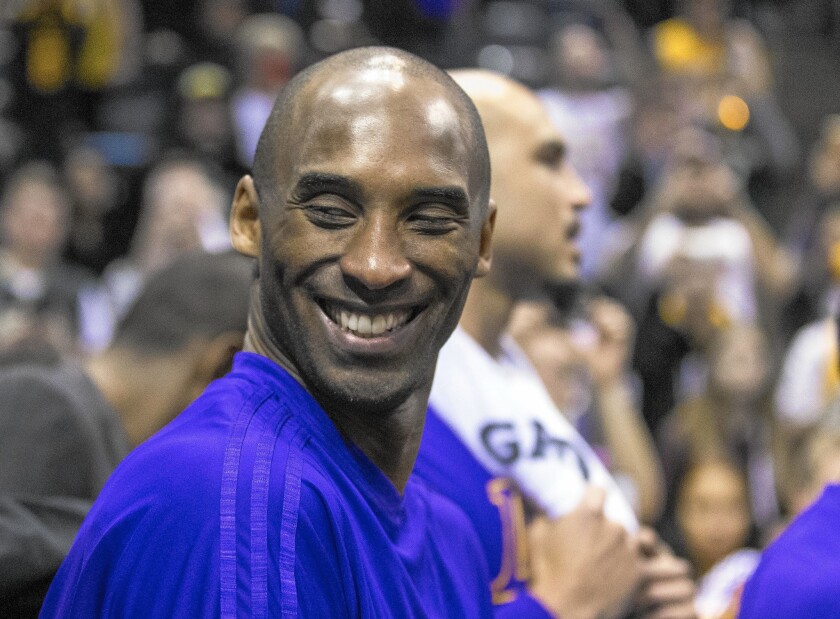 Lakers star Kobe Bryant has founded Kobe Studios, part of his Newport Beach-based Kobe Inc.
Bryant, a 17-time All-Star who plans to retire after this season, told the Orange County Register that Kobe Studios is an effort to tell the stories of others through a variety of media, including movies, books and "any area in which content is distributed and created."
"What my passion is now is creating the story," Bryant told the Register. "Creating the story and finding the best possible way, the medium which that story can live.
"Some stories will be created. Some stories will be fantasy in nature, others reality-based," he said. "But we will look for content that inspires a generation of people."
Bryant said that through Kobe Inc., he wants to grow brands that redefine the sports industry.
*
Irvine schools foundation honors 100 businesses
The Irvine Public Schools Foundation honored 100 businesses for their support of the foundation during the second annual Top 100 VIP reception Feb. 18 at The Resort at Pelican Hill in Newport Beach.
Companies on the list include Google, Broadcom, Kia, the Irvine Co., Hoag Hospital and FivePoint Communities.
Corporate giving to the foundation last year, including matching grant funds from the city of Irvine, totaled more than $2.376 million, according to a news release.
*
Z-Ultimate Self Defense opens Newport location
Z-Ultimate Self Defense Studios will have a ribbon-cutting ceremony at 4 p.m. Friday for its new location at 3421 Newport Blvd. in Newport Beach.
As a follow-up, the studio will host a free women's self-defense workshop from 1 to 3 p.m. Saturday.
*
Newport Corp. to be bought for $980 million
MKS Instruments, headquartered in Andover, Mass., plans to acquire Irvine-based Newport Corp. for $980 million, according to the Boston Business Journal.
The transaction is expected to close in the second quarter of the year, MKS Instruments said in a news release.
Newport Corp. is a "global supplier of advanced-technology products and systems to customers in the scientific research, microelectronics, life and health sciences, industrial manufacturing and defense/security markets."
The combined company is expected to generate $1.4 billion in annual revenue, according to the release.
The acquisition will be funded with a combination of cash and up to $800 million in financing, the Business Journal reported.
*
Floyd's 99 Barbershop coming to 2 new O.C. locations
Floyd's 99 Barbershop plans to open locations soon in Costa Mesa and Huntington Beach.
The Huntington Beach spot, at 18502 Beach Blvd., is scheduled to open March 11. The Costa Mesa shop, at 124-126 E. 17th St., will open later this year.
The Colorado-based chain, which bills itself as "The Original Rock 'n' Roll Barbershop," has 99 locations nationwide, each decked out with music decor.
*
Disneyland president joins UCI panel
Michael Colglazier, president of the Disneyland Resort in Anaheim, was recently chosen to chair UC Irvine's Chief Executive Roundtable, effective July 1.
He succeeds Kimberly Sentovich, executive vice president of stores and logistics for Gymboree.
The mission of the roundtable, which has about 70 Orange County business leaders, is to "build an alliance of business and university leaders to support the development and well-being of UC Irvine and the business community," according to its website.
*
Rescop opens office in Costa Mesa
Rescop, a Holland-based software firm, has opened a new office in Costa Mesa, according to a news release.
The office is in the Plaza Tower, 600 Anton Blvd., Suite 1100.
"We're excited to expand our activities and presence with an office in the United States," Bjorn Aalbers, Rescop's chief technology and operations officer, said in a statement. "The move was required to accommodate our growth in North America."
*
Local attorney joins professional group
Kyra Andrassy, a partner in the law firm Smiley Wang-Ekvall, which has an office in Costa Mesa, was recently named to the board of the Southern California chapter of the International Women's Insolvency & Restructuring Confederation, according to a news release.
The organization is "committed to the connection, promotion and success of women in insolvency and restructuring professions," according to a news release.
Andrassy will be the chapter's communications director.
*
Newport's United Capital acquires FlexScore
United Capital Financial Advisers LLC, a Newport Beach-based financial management firm, has acquired FlexScore, a online financial planning tool, according to a news release.
FlexScore was launched in 2012.
"FlexScore is the next big thing in dynamic and interactive financial planning, and we are absolutely thrilled to add it to our suite of online tools as we usher in the new industry standard," United Capital Chief Executive Joe Duran said in a statement.
*
Pedego Electric Bikes to open store in New Jersey
Irvine-based Pedego Electric Bikes will open a store in Spring Lake, N.J., on March 5.
The store will be run by father-son team Gil and Adam Levine, according to a news release.
"Pedego Spring Lake is bringing a new and refreshing kind of fun to town," Pedego Chief Executive Don DiCostanzo said in a statement. "We're very pleased with the beautiful Pedego shop that the Levines have created and with the community's enthusiastic response."
*
Community Preservation Partners acquires Indio apartments
Irvine-based Community Preservation Partners has acquired the 268-unit Summer Field Apartments in Indio in a $68 million transaction intended to rehabilitate the low-income units.
CPP, which specializes in affordable-housing rehabilitations, will invest $14 million for refurbishments, according to a news release. Construction will start in 2017 and continue through 2018.
The organization also will provide services to the residents including homework help for students, after-school care, computer training, resumé writing programs and job-placement services, the release said.
*
SeaWide remodels Costa Mesa warehouse, offices
SeaWide Distribution, a marine vessel electronics wholesale distributor, is undergoing a remodel of its Costa Mesa facility, the company said in a news release.
The warehouse and office space at 760 W. 16th St. are being expanded and renovated, allowing room for more inventory and staff.
"Our key focus has been to improve our stocking levels and delivery times," SeaWide President Keith Wansley said in a statement. "Adding greater warehouse space to our facilities allows us to provide quality marine electronics at the lowest possible price and the fastest possible delivery times."
—From staff reports
---