Kids take a 'fly-through' of a brain surgeon's virtual reality
When Davis Magnet School teacher Emily Matthews found out she'd be giving a lesson about the human brain as part of the science curriculum, she figured she should make it a hands-on experience for her sixth-graders.
And it seemed a no-brainer to invite Dr. Robert Louis, program director of the Skull Base and Pituitary Tumor Program of the Hoag Neurosciences Institute, to share with Matthews' class and two others how he uses virtual reality to prepare for surgeries.
Google virtual reality headsets were placed on students' desks at the Costa Mesa school Wednesday afternoon. But before they got to see a "fly-through" of the brain, Louis began with a presentation about his profession.
The Boston native described neurosurgery as a "relatively young field" that still has way to go in advancing with technology.
Before the modern tools used now, patients would be left with dramatic skull deformations because brain surgeons would shave the scalp and then cut the skull apart to remove a tumor. Now, surgeons can discreetly remove a tumor by slicing under a person's eyebrow.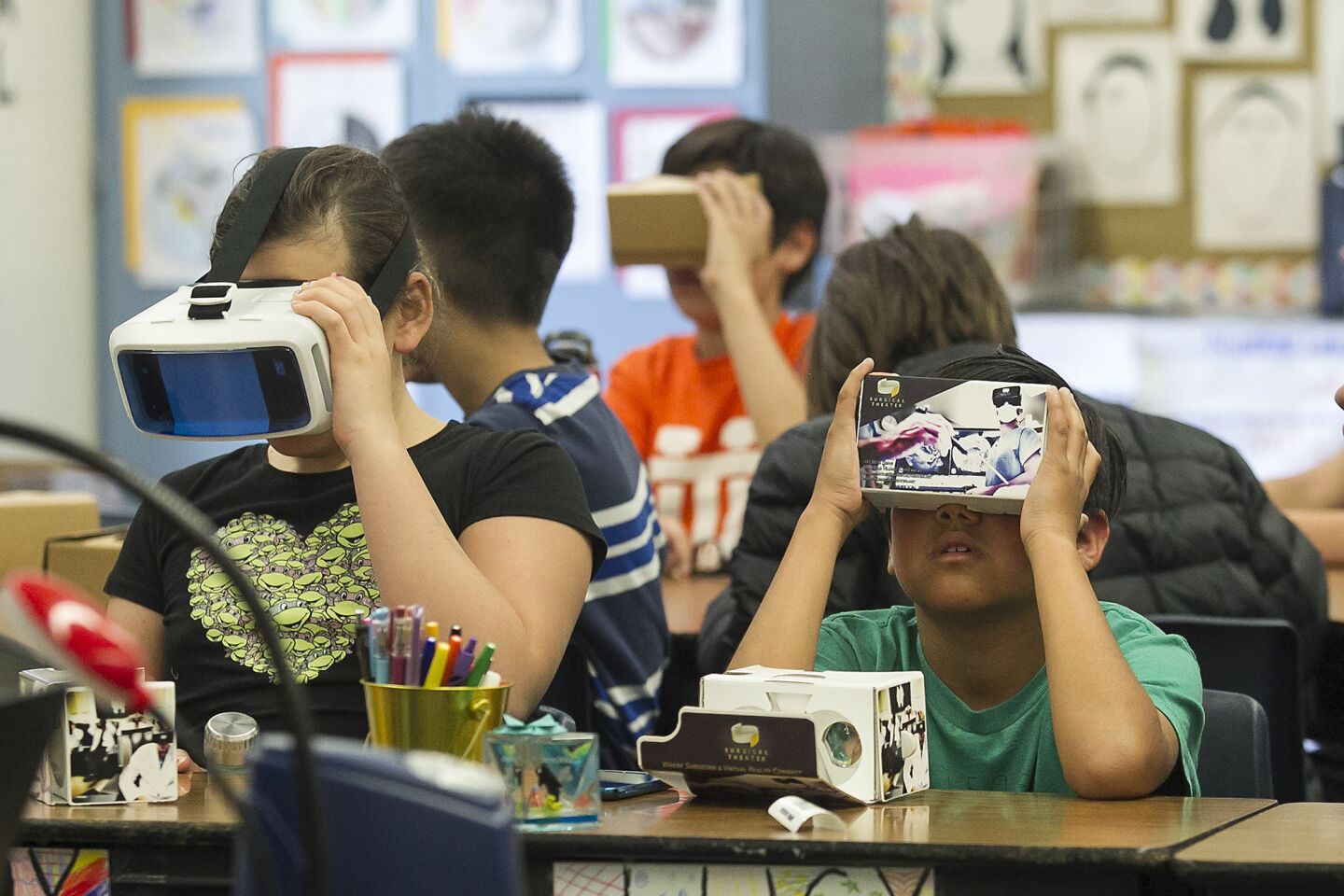 Davis Magnet School sixth-graders use virtual reality goggles to take a journey through the human brain, courtesy of neurosurgeon Robert Louis.
(Don Leach / Daily Pilot)
Dr. Robert Louis of the Hoag Neurosciences Institute shows sixth-graders at Davis Magnet School in Costa Mesa how he prepares for brain surgery using virtual reality technology.
(Don Leach / Daily Pilot)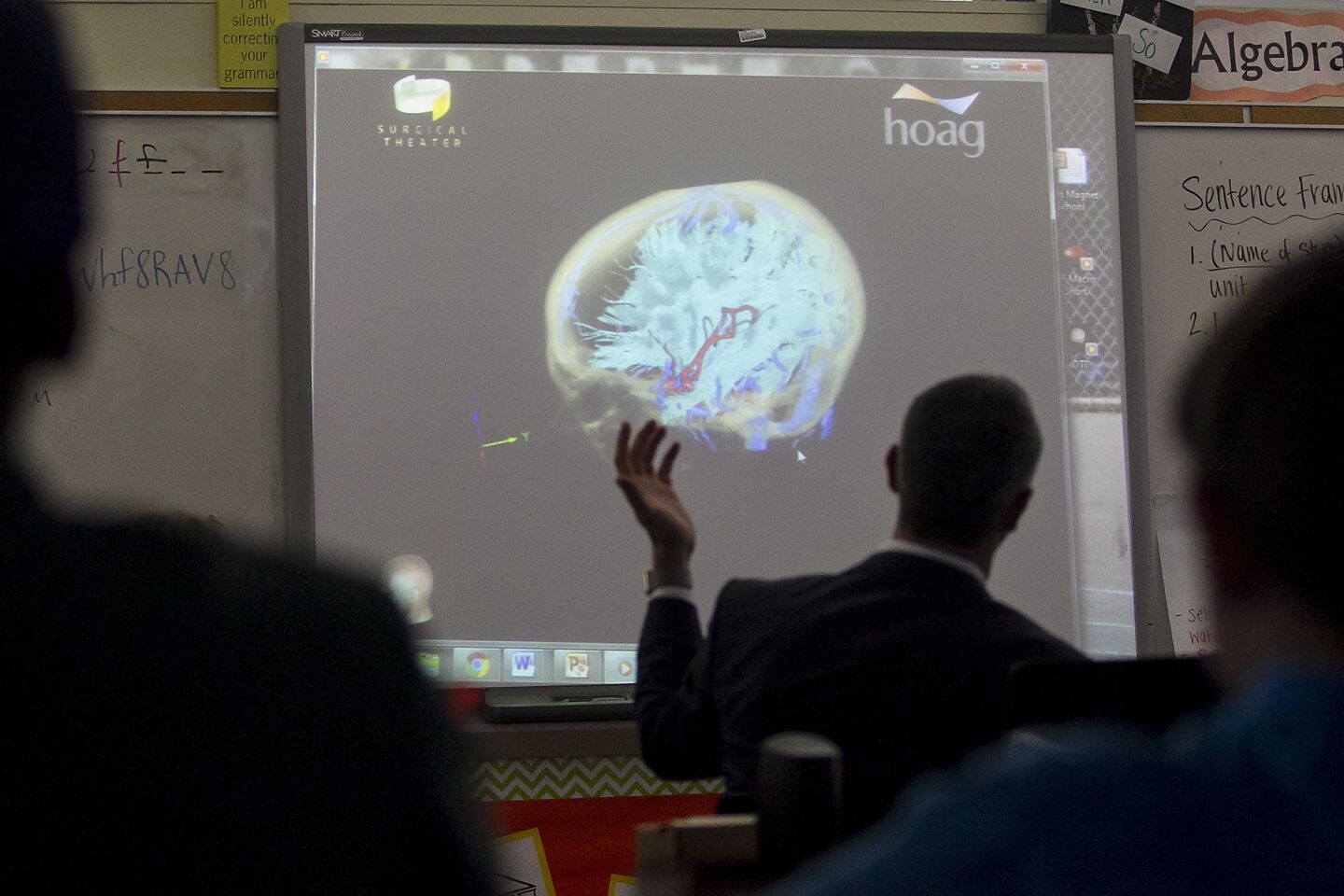 Dr. Robert Louis of the Hoag Neurosciences Institute shows sensitive areas of the brain using a virtual reality photo during a demonstration at Davis Magnet School in Costa Mesa.
(Don Leach / Daily Pilot)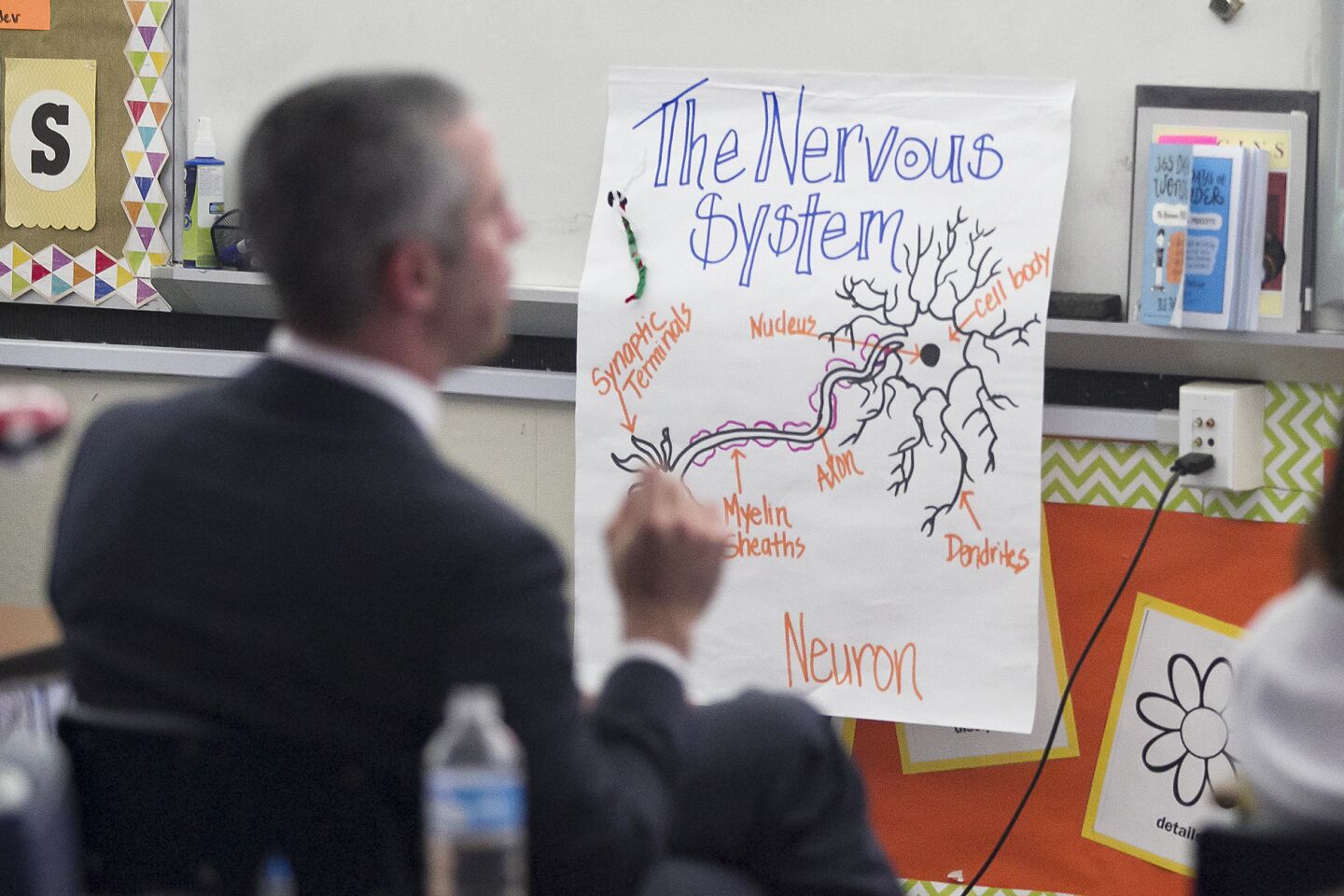 Sixth-graders at Davis Magnet School in Costa Mesa made a diagram of the nervous system for Wednesday's visit by neurosurgeon Robert Louis.
(Don Leach / Daily Pilot)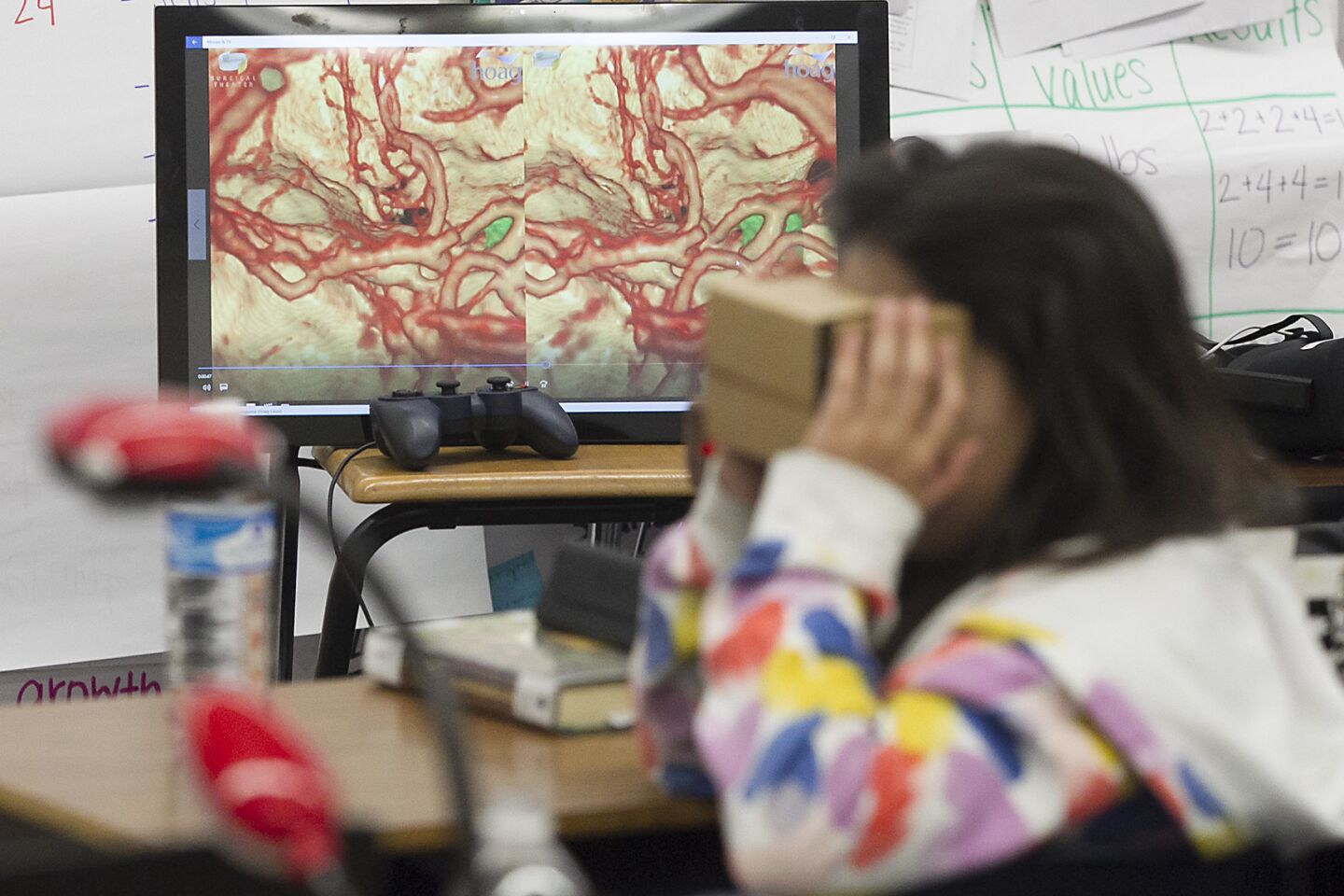 Davis Magnet School sixth-grader Solanah Seigel takes a virtual reality trip through the human brain during a demonstration by Dr. Robert Louis of the Hoag Neurosciences Institute.
(Don Leach / Daily Pilot)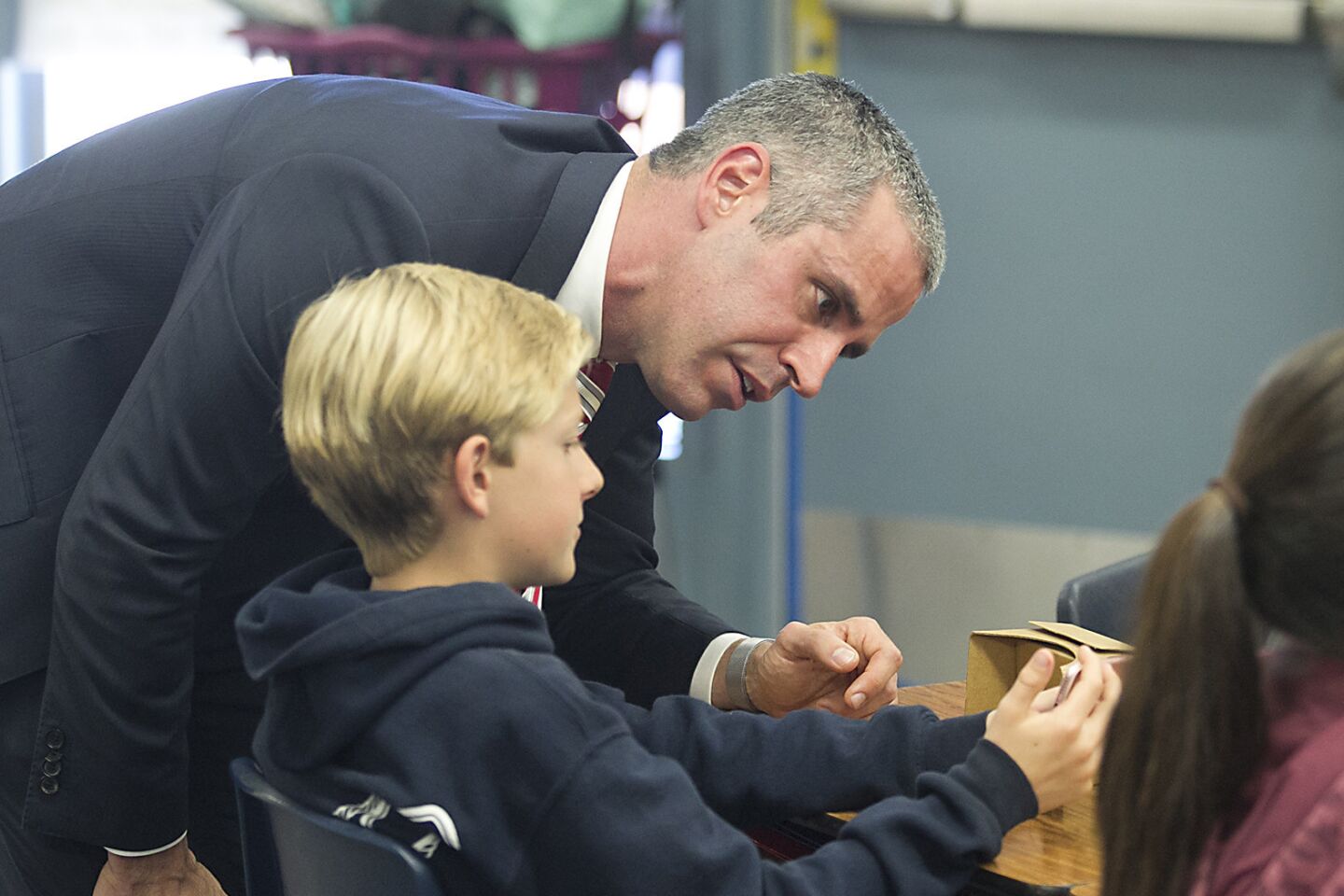 Neurosurgeon Robert Louis chats with sixth-grader Grady Starn during a program about the brain and neuroscience at Davis Magnet School in Costa Mesa.
(Don Leach / Daily Pilot)
"The goal is to sneak in and sneak out and leave patients as undisturbed as possible without anyone noticing — kind of like a cat burglar," Louis said.
A high-definition video showed a real-life example of a brain tumor being dragged out through a patient's nostrils, which instantly brought "ewws" and "whoas" from students and teachers.
Cutting-edge technology
Hoag, based in Newport Beach, is one of the few hospitals in Orange County to treat neurosurgery patients using the Surgical Navigation Advanced Platform, or SNAP. It fuses medical imaging with gaming technology and 3D virtual reality systems to help surgeons practice procedures before performing them on a patient.
To see inside a brain, surgeons can put on Oculus goggles equipped with motion sensors and "fly through" one of the body's largest and most complex organs.
Louis, who specializes in minimally invasive endoscopic transsphenoidal surgery, demonstrated how he would enter a brain through a patient's nose, as a student requested.
The sixth-graders crowded around Louis and shot video as he pulled himself past the brain stem and pushed toward the frontal lobes.
Before SNAP, preparing for brain surgery consisted of drinking a cup of coffee and relying on past knowledge, Louis said.
"Instead of two-dimensional models, we have virtual reality," he said. "I can see where arteries are, critical nerves are, fire pathways and visual pathways. I don't have to guess where they are based on knowledge, and now surgeries have become much safer."
It's a giant leap forward for surgeons, he added.
Inspiring a new generation
Students took their cellphones to class to use with the Google VR headset.
They placed the phones against a suction cup on the headset and then, looking through the headset's goggles, watched YouTube videos of surfers before seeing inside a human brain.
Looking through the headset was akin to peeking through a keyhole and seeing into a new world, according to Kaitlyn McGary, 11.
"It's like wanting to go somewhere, but you can't get there. But you can do it with the goggles," she said. "It was so cool."
Fellow student Grady Starn said trying on VR goggles wasn't anything new for him since he has some at home, but the experience was a "bigger step than watching a roller coaster in virtual reality video games."
Madison Stein, 11, said she was inspired to be a neurosurgeon by seeing how "technology is helping advance surgeries."
Louis said seeing students get excited about neurosurgery and virtual reality technology is the best part of sharing what he does for a living. He remembers being in sixth grade and seeing a neurosurgeon bring a cadaver's brain into the classroom to let students dissect it.
It's how his journey as a neurosurgeon began, and he said he hopes students were inspired by his presentation to do the same.
Twitter: @VegaPriscella