These are no ordinary rocks at Edison High - they're from NASA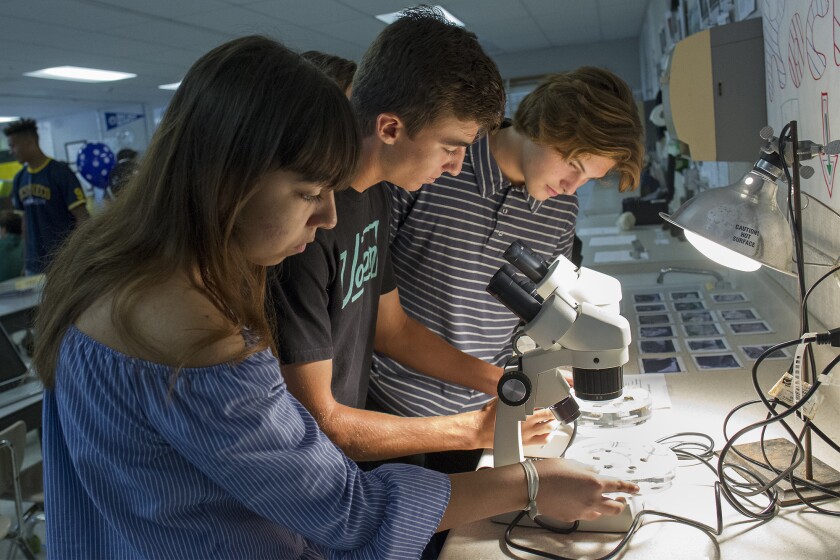 For the beginning of the school year, Edison High School teacher Bill Matheny wanted nothing more than to show his students how much science rocks — by using billion-year-old rocks, that is.
Matheny opened his classroom Thursday and Friday to students at the Huntington Beach school for viewings of lunar chips and soil samples that were brought back by astronauts of the Apollo program, a NASA program that sent American astronauts to the moon in spaceflights from 1969 to 1972.
The rocks are made available to K-12 classrooms through NASA's Lunar and Meteorite Sample Disk Program.
After Matheny applied for the program in May, he took the required certification workshop all teachers and instructors need before borrowing the rocks. The workshop, presented by NASA's Jet Propulsion Laboratory in Pasadena, shows users different lesson plans for the rocks and how to display them.
In addition to the lunar rocks and soil, meteorite samples from Antarctica, Mexico, Africa and Kansas were also sent to Matheny's classroom.
The first viewings of the rocks took place Thursday morning during Matheny's oceanography class. While the course is about studying large bodies of water, the science instructor said he likes to begin by introducing the class to the moon and space.
"We have to talk about where the ocean came from, but we can't do that without talking about the meteoroids and asteroids that formed them," Matheny said. "Everyone should get the opportunity to see a moon rock. I'm 58, and this is the first time I've seen one."
By his estimate, Matheny said the lunar samples are probably 3.5 to 4.5 billion years old.
The door to his classroom was kept open Thursday morning as administrators began to file in to take a look at the lunar and meteorite samples through microscopes. Students from other classes visited later in the day.
"When Mr. Matheny said we'd be getting them, I didn't believe it," said Scott McDonald, a senior in his oceanography class. "It's amazing that we, as students, get to see the oldest objects in the world."
Friday was the last day for classroom viewings. The samples are going back to NASA.
Twitter: @AlexandraChan10
---