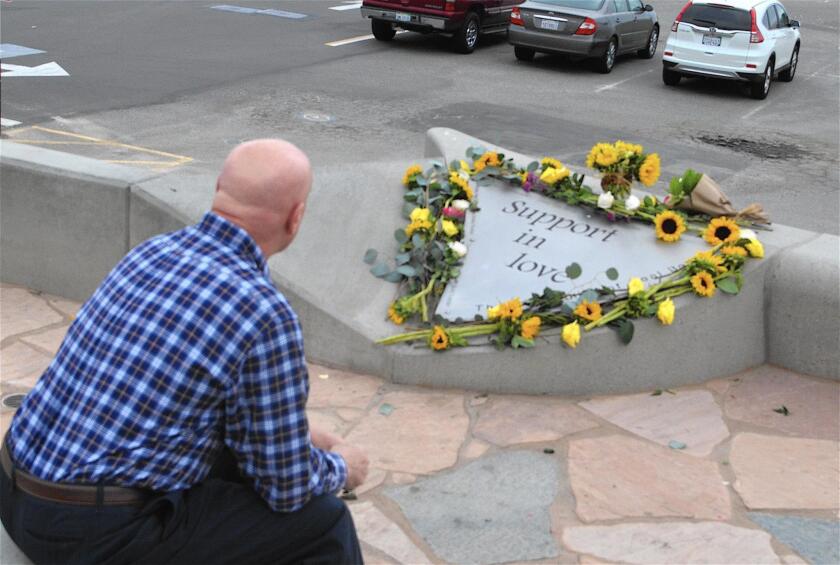 Families, friends and police officers congregated at Seal Beach's Eisenhower Park on Wednesday afternoon to remember the eight people killed five years earlier at a local salon in the deadliest shooting in Orange County history.
This is the first year people were able to gather at an official memorial created in the park by the city with the help of monetary donations.
Sunflowers and lilies decorated the heart-shaped memorial. Some visitors stayed a few minutes, others lingered longer with their memories.
For Bethany Webb, 55, this anniversary of the tragedy was tougher to deal with than in years past.
It might be because the memorial serves as a tangible reminder of her sister, Laura Webb, who died during the shooting at Salon Meritage, and her mother, Hattie Stretz, who was shot but survived.
"I've been sobbing all day," Webb said as she embraced a friend who joined her and 20 other people gathered near the memorial. "It seems like it's been forever since I last heard my sister's voice and held her."
Webb said she is angry and frustrated that the admitted shooter, Scott Dekraai, remains in Orange County Jail and is not in prison or on death row.
Before the killings, which occurred shortly after 1 p.m. Oct. 12, 2011, Dekraai had been involved in a child custody dispute with his ex-wife, Michelle Fournier, a salon employee and one of the victims.
His sentencing has been delayed since a judge ruled in March 2015 that prosecutors had shown a "chronic failure" to comply with orders to turn over evidence to the defense and had deprived Dekraai of his right to a fair penalty-phase trial. The judge removed the Orange County district attorney's office from the case but did not remove the death penalty as a potential punishment for Dekraai.
"I'm a sister and daughter of collateral damage," Webb said.
At a shopping center on Pacific Coast Highway, Salon Meritage opened its doors Wednesday and continued taking clients, just like any other business day.
Irma Acosta, owner of the refurbished salon, said clients scheduled for the day were new referrals and weren't present during the shooting five years ago.
Acosta did not schedule a memorial but said she continues to honor those who died by keeping the salon open. People stopped by throughout the day Wednesday to drop off flowers, she said.
Laguna Niguel resident Jim Biram, 63, stopped by Eisenhower Park to pay respects to his friend Dave Caouette, who was shot in his Land Rover outside the salon.
The two had been friends for six years through a shared passion of off-roading. Since the shooting, Biram said, he makes an effort to visit a location in Big Bear that Caouette was especially fond of.
"Dave was always a gifted leader," Biram said, choking back tears. "He was one of the good guys."
VICTIMS
The eight people killed in the Salon Meritage shooting Oct. 12, 2011:
• Victoria Buzzo, 54
• David Caouette, 64
• Randy Lee Fannin, 62
• Michele Daschbach Fast, 47
• Michelle Marie Fournier, 48
• Lucia Bernice Kondas, 65
• Laura Webb, 46
• Christy Lynn Wilson, 47
---