Kids try their hand with robotic surgery gear during Hoag visit
It's not every day that 11-year-olds get to perform surgery.
Or rather, perform surgical simulations with state-of-the-art equipment.
But Hoag Hospital in Newport Beach opened its doors last week to nine south Orange County preteens who had won awards at the VEX World Championships in Louisville, Ky., in April.
The students were part of two teams that represented John Malcom Elementary School in Laguna Niguel during the robotics tournament, where thousands of students from as far away as China and New Zealand brought robots they had created to perform tasks such as scooping up balls and launching them into a net.
Join the conversation on Facebook >>
Having graduated from elementary school, the students from the John Malcom teams are now dispersed among three middle schools.
But nine members of the two teams decided to form one group to compete at the Robotics Team Competition on Dec. 10 in San Diego, where they will build another robot and give a research presentation on robot-assisted surgery.
To aid their research, Dennis Chernekoff, a parent of two students on the team, got in touch with an old friend from high school, Tom Lonergan, executive director of the Jeffrey M. Carlton Heart & Vascular Institute at Hoag Hospital.
"We're getting a lot of information so when we're asked questions [at the competition] we can say that we have the experience" with the technology, team member Alexa Chernekoff said during her trip to Hoag.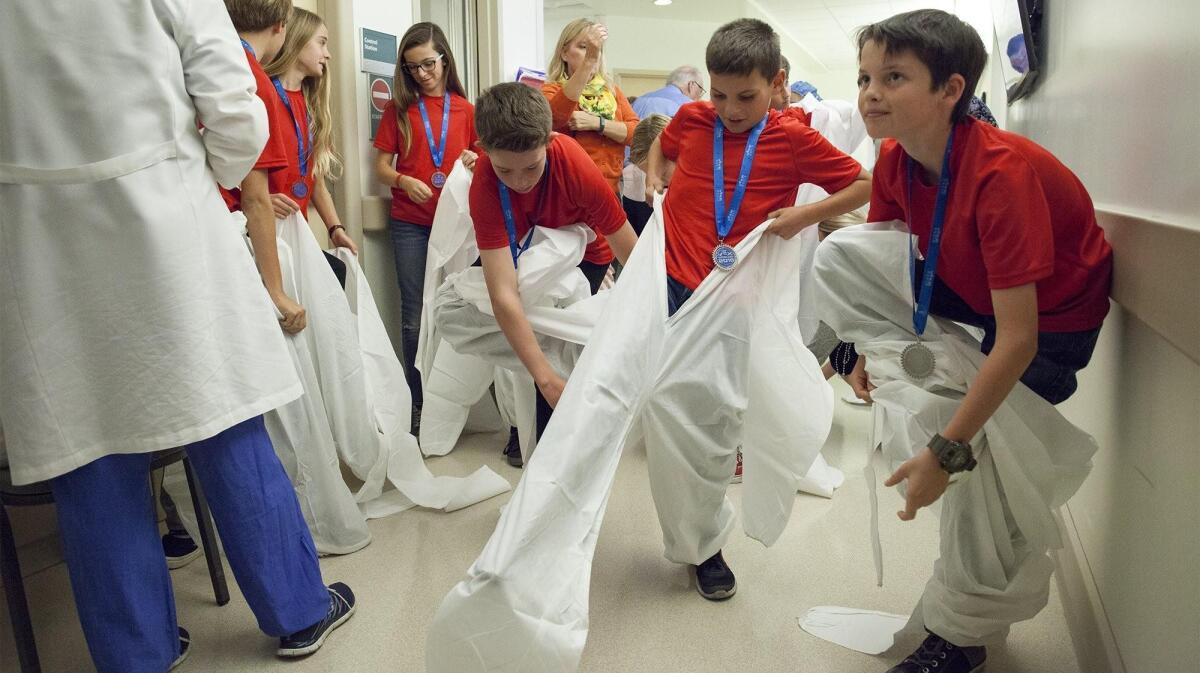 The students geared up in white surgical suits and hair coverings as Hoag surgeons took them into a room where they could get their hands on the Da Vinci Xi Surgical System — robotic technology that can translate a surgeon's hand movements into smaller and more precise maneuvers.
The 11-year-olds took turns inserting the robot's long, slim claws into small openings on a plastic pod. Hoag surgeons turned on a monitor where the students could see a tiny twisted bar within the pod.
The surgeons then presented the youngsters with a challenge — use the robot's console to operate the claws and move small rubber bands through the twists and turns of the bar.
The students smiled and fixed their eyes on the monitor as they watched their teammates take turns gliding the bands inside the pod.
"We've done some research, but it's not as interesting as the experience of physically doing something," said team member Agatha Ford.
--
Alex Chan, alexandra.chan@latimes.com
Twitter: @AlexandraChan10