Daily Pilot Cup founder Kirk McIntosh received the Costa Mesa Mayor's Award on Tuesday.
Mayor Steve Mensinger honored the longtime Costa Mesa resident during the week's City Council meeting.
"You're one of the people who make our city special," Mensinger said, according to a city news release. "For Kirk and his legion of volunteers to pull off a tournament of this magnitude every year is extraordinary."
The Pilot Cup, a youth soccer tournament, featured more than 200 teams this year.
It started 17 years ago with about 500 players and has since grown to more than 2,500, according to the news release.
McIntosh, who attended Tuesday's meeting with his wife, Sue, and some of his children and grandchildren, said the tournament wouldn't be possible without volunteers.
"As we all know, it's nice to be recognized, and I wish I could bring some others up here, as this event requires a lot of volunteer participation," he said, according to the news release. "But there is a lot of happy kids and happy families. I thank you for this award, and I'll share it with the other folks who should also be up here."
Costa Mesa Fire & Rescue unveils 90th-anniversary badge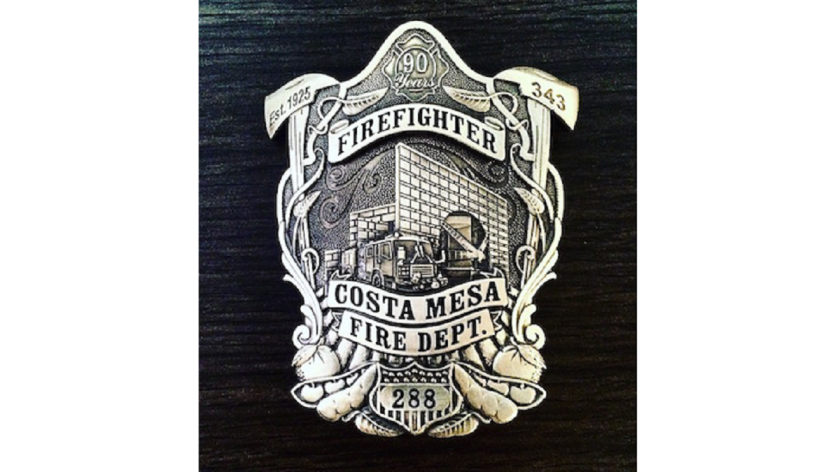 Costa Mesa Fire & Rescue personnel plan to wear a special badge on their uniforms for the rest of the year to commemorate the fire service's 90th anniversary.
"Like so many great ideas in the fire service, this one came from one of our talented firefighters, engineer Scott Purcell," Fire Chief Dan Stefano said in a statement.
Purcell worked with others on the design of the badge.
The badge's center depicts Costa Mesa's Segerstrom Hall. The badge is framed with images of lima beans and oranges to represent the farming history of Costa Mesa and Orange County. It also features an ax on both sides.
ALSO
The '20s are back in style at Newport's Envy Lounge
2 sought in break-in theft of 3-D printers at Costa Mesa warehouse
3 resident-driven initiatives placed on Costa Mesa ballot as city weighs competing measures
---