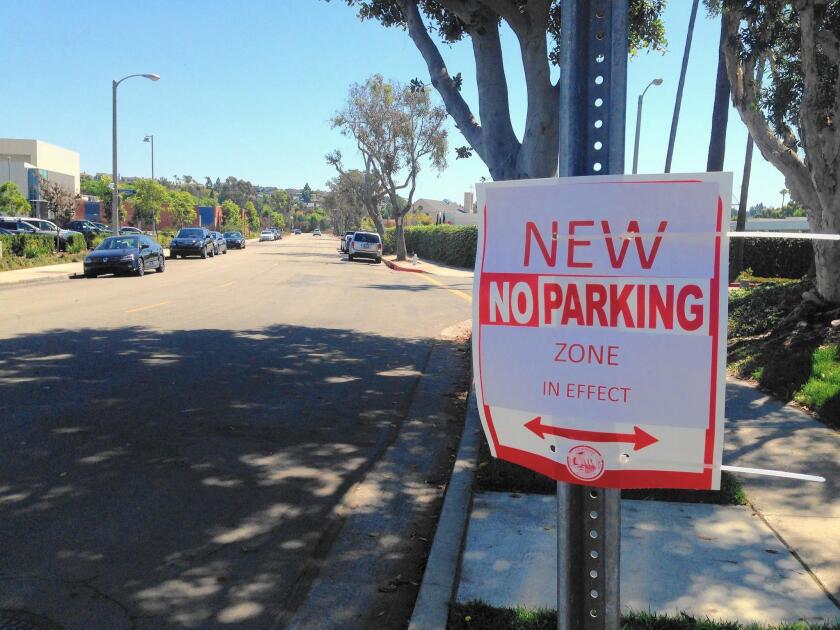 About a month after voting to curb parking on two streets around Corona del Mar High School, the Newport Beach City Council on Tuesday loosened the restrictions following a backlash from high school students and parents.
About 100 of them packed the council chamber Tuesday night to protest the council's August vote to prohibit street parking at all hours on the north side of Vista del Oro between Eastbluff and Mar Vista drives and on the west side of Mar Vista between Domingo Drive and Vista del Oro.
Officials had hoped the restrictions would force CdM students to park in designated campus lots instead of in front of homes in the Eastbluff neighborhood.
But students and parents said the ban made an already challenging parking situation at the high school nearly impossible.
In response, the City Council voted 6-0 on Tuesday, with Councilman Keith Curry absent, to remove the parking ban on the west side of Mar Vista between Domingo and Vista del Oro.
The council also opted to revise the parking ban on the north side of Vista del Oro between Eastbluff and Mar Vista to apply only to weekdays between 8:30 a.m. and 3 p.m.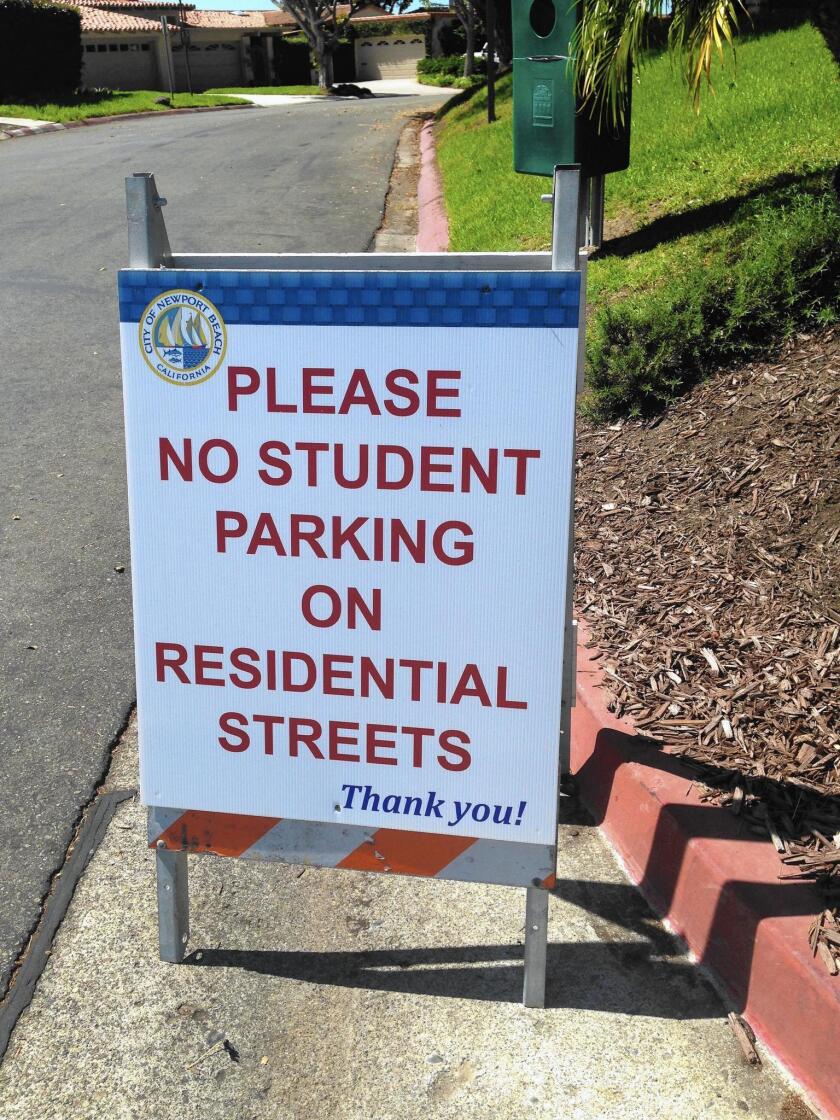 No-parking signs went up before the first week of school, and police issued warnings for illegally parked cars, according to city staff.
Students told of trying to park at school hours before classes started, only to find the lots already full.
CdM dictates that school seniors park in the lot next to the campus pool. Juniors have 50 parking spaces in the lot near the middle school. Younger students are not given designated parking. The remaining lots are reserved for staff.
"Our parking lots do not support our student body," said student George Adamson. "This issue has gone on for years and it's time for a compromise to be made. It needs to be fixed ... for the long term, not the short term, as it has been in the past."
Parking restrictions during street sweeping periods along Vista del Oro and Mar Vista will be placed on hold until city staff can come up with a plan to benefit Eastbluff neighbors and students, City Manager Dave Kiff said.
Street sweeping in the area likely will be moved to early Monday morning, since students typically have a late start that day, Kiff said.
In a separate action, the City Council approved an ordinance limiting non-permit parking on several other streets. Parking without a permit is limited under the ordinance to one hour between 7 a.m. and 4 p.m. on school days on Arbutus and Aleppo streets, Alder and Almond places and Alta Vista Drive between Aleppo and Aralia streets.
This isn't the first time the city has stepped in to try to solve parking disputes. For years, Eastbluff residents have raised concerns about students taking up curb spots and speeding, jaywalking and littering.
In 2013, the council established one-hour parking, except by permit, on Aralia Street between 7 a.m. and 4 p.m. on school days in an effort to eliminate student parking there.
Those involved say the parking issues underscore broader tensions between the Eastbluff neighborhood and the high school, which has grown in recent years, further straining relations.
Recently, the tension came to a head over a proposal to build an athletic complex at CdM. Many neighbors have been vocal in their disapproval.
Resident Sue Dvorak spoke in favor of the parking restrictions Tuesday night, saying they have improved safety around the school.
"For decades there has been a deterioration of safe and reasonable access," she said. "Repeated expansions of the [Our Lady Queen of Angels Catholic] church and the high school have increasingly paralyzed traffic and robbed residents of parking."
Councilman Tony Petros was critical of the Newport-Mesa Unified School District's approach to student parking at the high school and advised the students at the meeting to approach the school board for more on-campus parking.
Petros said the district hasn't addressed the need for additional parking in the recent plans for expansion of the campus.
"I've never once heard them say, 'Oh yeah, we need to provide parking for it,'" Petros said. "It's irresponsible. Please don't be deluded that this is the solution. This same problem is going to be back in the next few years."
Newport-Mesa spokeswoman Annette Franco said Wednesday that school and city officials are working to better utilize on-campus parking for students. She declined to provide specifics but said details of the plan likely will be revealed in coming weeks.
"We are extremely appreciative of the city's action last night," Franco said. "However, we need to do our part as well, and we're actively working to ... make sure that every space [on campus] is filled at all times to minimize impacts to the community and the city."
Twitter: @HannahFryTCN
---