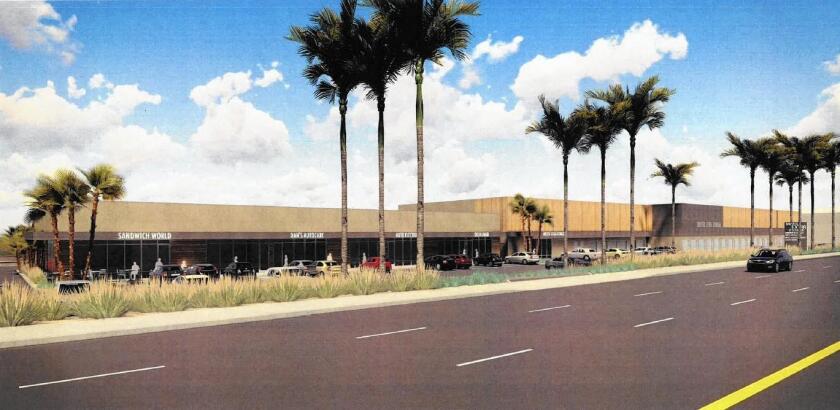 Four months after the Costa Mesa Planning Commission gave it thumbs down, a proposed self-storage project on Bristol Street is back — retooled and resubmitted for the city's consideration.
The most notable feature this time isn't necessarily what the project applicant hopes to build but what it proposes to maintain: some of the existing businesses that faced the wrecking ball earlier this year.
The reconfigured project on Monday's commission agenda still calls for demolishing much of the existing Autoplex strip mall at 375 Bristol St. to make way for hundreds of new storage units.
The current plan would retain 12,500 square feet — roughly one-third — of the existing retail space. The rest would be demolished to make way for 719 new storage units in a two-story facility on the 3.2-acre property.
The previous proposal called for leveling the entire strip mall and building 774 storage units, along with a freestanding 5,000-square-foot food hall.
The revised plan, a joint venture of property owners Sanderson J. Ray Development of Newport Beach and Costa Mesa-based Cardinal Development, scraps the food hall element.
"The new project is really more of a dramatic facelift on the property," project spokesman Paul Freeman said. "It doesn't have that same separate food hall element, but it will look a lot nicer, and it will be viable."
On June 13, planning commissioners voted 4-1 to recommend that the City Council deny the original proposal, saying developers should do more to work with business owners who would be displaced. Chairman Robert Dickson dissented.
"We wanted to look for redevelopment that made sense," Freeman said in a recent interview. "We heard what the Planning Commission said, to try and work with the tenants, and that's what we did."
Given the constraints of the site, particularly its proximity to John Wayne Airport, Freeman said finding "anything that works is a good outcome."
Among the establishments proposed to stay open on the site are Sandwich World and Sushi Imari — two restaurants whose proposed closure caused heartburn for some residents when the project originally went before the commission.
Automobile-related businesses also would remain.
"We've reached out to all the tenants and, while there's not room to accommodate all of them, we made plain that we wanted to know who had an interest in staying," Freeman said. "We do have signed agreements with a number of tenants as a result of that effort."
A collection of Autoplex business owners strongly opposed the original project and lobbied against it.
Dan Krogh, who runs Dan's Autocare Express in the Autoplex, was among them.
He told the Daily Pilot last summer that he had been unable to find space in Costa Mesa to relocate and was worried about possibly having to move miles from his customers.
In a letter to the city Sept.10, Krogh wrote that he appreciates the project's proponents working to address tenants' concerns.
"We believe the changes made to the original plan will make for a better and more successful project," he wrote. "It will help my business and the people we serve here in Costa Mesa."
If approved as proposed, the self-storage leasing office would be open from 8a.m. to 6p.m. Mondays through Saturdays and 9a.m. to 5p.m. Sundays.
Customers would be able to access the facility between 7a.m. and 8p.m. daily.
City staff is recommending that the commission endorse the revised project, which would still be subject to City Council approval.
Monday's commission meeting starts at 6p.m. at City Hall, 77 Fair Drive.
Twitter: @LukeMMoney
---