Next summer, 32 Estancia High School classrooms might finally get doors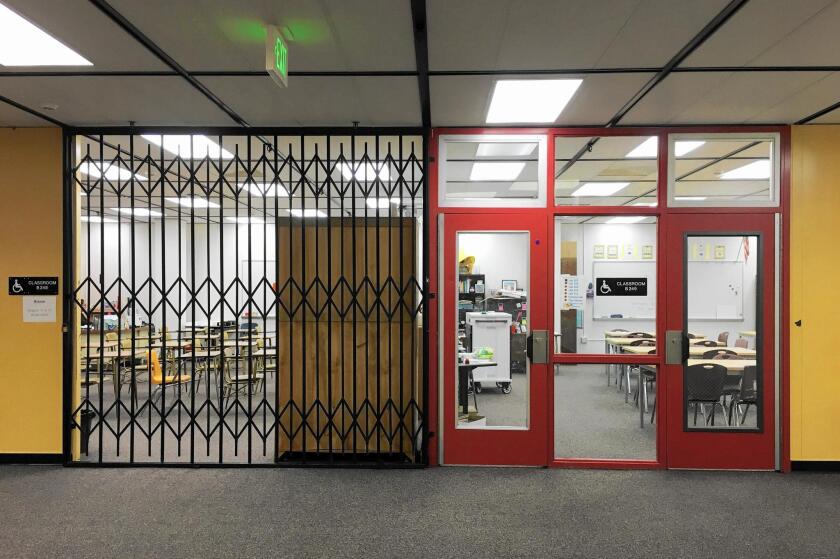 Teachers at Estancia High School who have stacked bookshelves and file cabinets along the door-less openings of their classrooms over the years may no longer have to put up their makeshift walls.
The Newport-Mesa Unified School District board this week approved an agreement with Irvine-based Studio + Architecture to prepare a project to put doors and storefront-style glass walls on 32 classrooms that now have open entryways.
Under the agreement, the design firm will prepare construction documents and submit the project to the Division of the State Architect for approval.
The district hopes to begin installing the doors and walls next summer.
A few of Estancia's classrooms already have the enclosures installed.
The Westside Costa Mesa campus, which opened in 1966, was designed with an "open school" concept in which its hallways feed into rooms through wide openings.
Instead of having doors, 25 classrooms in the academic wing and seven in the math and science wing have large openings that face hallways and common areas.
The open design was common in schools in the late 1960s and early '70s, according to Tim Marsh, the district's administrative director of facilities and support services.
But teachers soon found that noise could easily travel from the hallways and other classrooms, causing distractions during class, Marsh said.
Years later, the school installed folding metal gates that stay open during the school day and are closed when the rooms are not in use. The gates are meant to prevent items from being stolen, said district spokeswoman Annette Franco.
Twitter: @AlexandraChan10
---